The American public is increasingly concerned about the future of the environment: More than two-thirds of Americans now worry about climate change. Moreover, most citizens support some form of government action to address the impending climate crisis.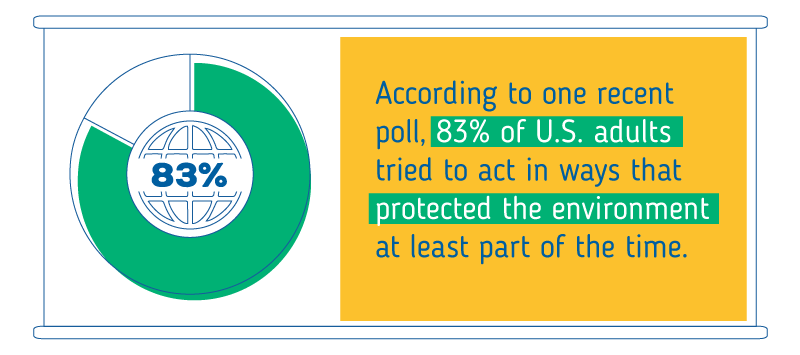 To some extent, these concerns shape individuals' daily behaviors: According to one recent poll, 83% of U.S. adults tried to act in ways that protected the environment at least part of the time. And consumers' environmental convictions are often evident in their buying habits.
Across the globe, informed consumers are demanding corporate accountability on matters of sustainability. Sound environmental practices are especially important to millennials and members of Generation Z – age groups that many brands and organizations are eager to court. Indeed, research suggests that sustainable brands typically outsell their competitors, meaning profit and environmental principles often go hand in hand.
In keeping with these trends, many businesses seek to implement green practices across their operations – and events are no exception. As key touch points for interaction with the public, events allow organizations to demonstrate their commitment to environmental causes. Additionally, large gatherings can generate stunning quantities of waste, making them perfect candidates for green upgrades.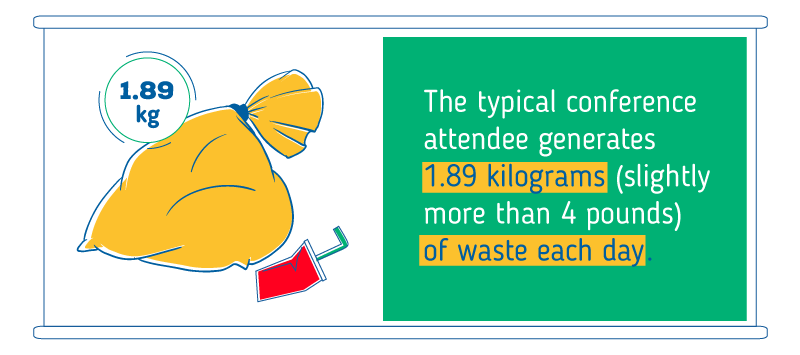 According to MeetGreen, an industry leader in sustainable event planning, the typical conference attendee generates 1.89 kilograms (slightly more than 4 pounds) of waste each day. That number doesn't include waste generated in the run-up to the event, such as the paper used in flyers or invitations, nor does that figure account for the environmental impact of attendees' transportation methods.
Recently, the event planning industry has begun to reckon with the waste it produces, moving toward more sustainable guidelines and standards. The reasoning behind this shift is clear: As organizations present themselves as allies to the environment, their events must go green as well.
If you're currently planning a large event, you may also be interested in incorporating sustainable practices. Whether your gathering will specifically address environmental concerns, or you simply wish to honor green principles, attendees will likely appreciate your efforts.
There's only one problem: When you're planning a green event, where do you start? Which measures are necessary to make your gathering as sustainable as possible? And how can you implement green practices without detracting from the event or compromising the experience for all attendees?
This guide is designed to cover all those questions, walking you through planning a green event and bringing it to life. From environmental jargon to recycling options, we'll help you get smart about sustainability at your big event. By the time you're done with this guide, you'll have all the information you need to throw an event that's great for the environment and everyone in attendance.
Green Events: Details and Definitions
Before discussing planning concerns, let's define green events more specifically. After all, terms such as "sustainable" can denote very different things in various contexts, and people bring their own understandings and expectations to any event.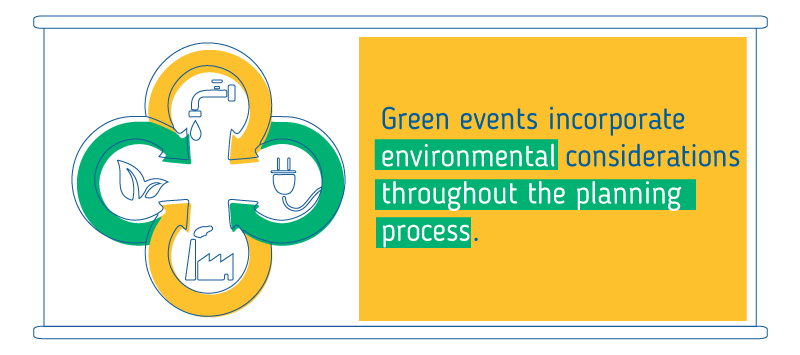 The Convention Industry Council (CIC) offers a helpful definition: Green events incorporate environmental considerations throughout the planning process. The goal of these efforts is to reduce or eliminate the event's negative impact on the environment through measures designed to minimize waste and energy expenditures.
This general definition covers a wide array of events, meetings, and gatherings: Ostensibly, any get-together can employ green principles to some extent. Many universities, for example, encourage their students and faculty to plan green events and meetings, even if these gatherings are typically quite small. On a larger scale, massive music festivals often claim to be eco-friendly, advertising sustainable practices such as carpooling incentives and carbon offsets.
In some respects, green events are defined more by the environmental intentions of their planners than any specific practice. Whether they live up to that designation, of course, is a matter that attendees will decide for themselves.
While "green" is a relatively flexible term, other environmental jargon refers to specific metrics and practices. Misuse them, and you could unwittingly overstate your green goals. Here's a handy cheat sheet to avoid confusion – or an eco-friendly faux pas:
Biodegradable: Any material that can decompose into its basic components under natural conditions (such as in a compost bin). Most waste with organic origins (such as food scraps or paper) qualifies as biodegradable.
Carbon Neutral: Any activity, event, or practice that releases net zero carbon emissions into the atmosphere.
Sustainable: A practice can be deemed sustainable if it protects or restores the Earth's natural resources for future generations. Sustainable practices preserve or enhance the quality of life for those who will occupy the planet in the years to come.
Eco-Friendly or Environmentally Friendly: An item, practice, or policy that inflicts minimal damage on the environment – or produces no negative impact at all.
Recyclable: Materials that still possess productive properties after their initial use. Typically, recyclable materials can be used to manufacture new products or materials. Familiar examples of recyclable materials include plastic, glass, and paper, but there are some lesser-known categories as well. Some types of oil, for example, can be recycled successfully.
Before utilizing any of these terms to market your event, make sure your rhetoric is rooted in reality. The last thing you want is controversy surrounding your claims, so only use jargon that you know to be accurate.
Additionally, the terms you use in connection with your event may reflect the organizations or venues involved. Many colleges, for example, use specific criteria to certify on-campus events as "green" or "sustainable." If you satisfy their standards, they'll typically provide a small "green event" logo you can use on promotional materials.
Likewise, many event sites employ their own guidelines to promote sustainability. While these standards are largely voluntary, they could provide a valuable foundation for your own green planning. For example, New York City's Parks and Recreation Department offers a comprehensive checklist for planning green events on park property. As a starting point for your event preparations, it's an excellent resource.
Finally, some entities provide international standards for sustainable events – although they probably won't be familiar to most attendees. For instance, the International Organization for Standardization has developed an extensive protocol for green events, with criteria regarding dozens of different planning concerns. While the ISO standard isn't widely known, it may offer helpful guidelines for planning massive green gatherings, such as concerts or conferences.
However your event qualifies as green, we encourage you to educate attendees about the nature of your efforts. By explaining the steps you've taken to make your event sustainable, you invite others to embrace your mission and understand their individual impact. That clarification might also help attendees make necessary adjustments, such as doing without as many paper materials.
Planning Your Green Event: Eco-Friendly Options
Planning an event is a multifaceted undertaking, and the complexities can multiply if you're expecting large crowds. Accordingly, we've elected to cover several separate dimensions of green event planning.
You may not choose to implement all of our suggestions in each area: To do so would require substantial effort and advanced planning. Yet, this information should enable you to evaluate sustainable practices and implement those that make sense for your event. As you assess these possibilities, keep in mind that each of these measures is a valuable step toward sustainability. Even if your event is imperfectly green, you can still take pride in your efforts.
Venue
In many cases, your event site will be a foregone conclusion, dictated by the demands of what you have planned or the audience you seek to attract. But if you can choose the venue for your event, consider a building that reflects your green values.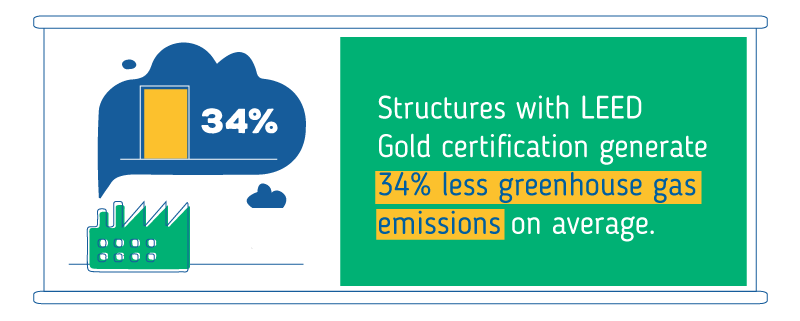 If you're planning an event in a major city, you may find several possible venues with sterling sustainability credentials. Look for sites that are LEED (Leadership in Energy and Environmental Design) certified. Relative to the average commercial building, structures with LEED Gold certification generate 34% less greenhouse gas emissions on average.
If a LEED-certified site isn't an option, you can still make an eco-friendly venue choice. Consider the proximity of the site to public transportation, or the distance to major hotels if you expect attendees from out of town. By picking an easily accessible location, you can seriously reduce emissions associated with your event.
Transportation
Transportation considerations are entwined with venue selection: As noted above, an ideal location will permit attendees to take public transit. In many cases, however, this simply won't be possible. If your location is particularly remote, or public transportation is lacking in your city, you'll have to consider creative alternatives.
If event attendees are visiting overnight, consider offering a shuttle to take attendees from the hotel to the venue en masse. If you plan to serve alcohol, this option could also prevent guests from attempting to drive while under the influence. You could also offer carpooling incentives, such as providing prime parking for those who agree to ferry others to your event.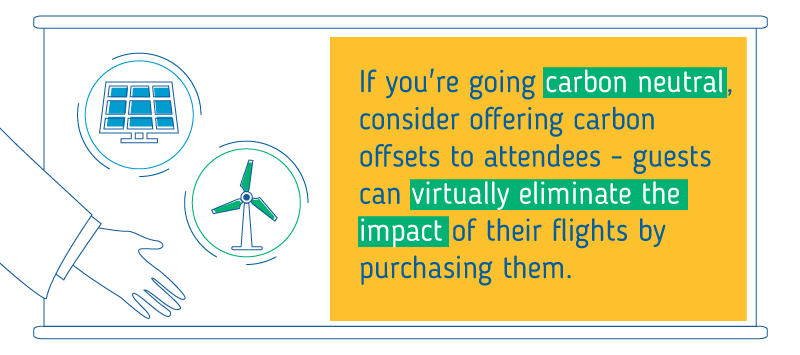 If attendees are coming from far and wide, the environmental impact of air travel can be difficult to mitigate directly. But if you're fully committed to going carbon neutral, you could consider offering carbon offsets to attendees. Guests can elect to buy carbon offsets equivalent to the impact of their flight, erasing the ramifications of their travel.
Communication and Promotion
If you're hoping to drive up attendance at your gathering, your first instinct may be to print a hefty stack of flyers. Alternatively, you could mail invitations to all of your existing contacts. Unfortunately, these techniques for raising event awareness entail significant paper waste.
Thankfully, digital alternatives are readily available – and possibly more effective. You can promote your event successfully through social media and other virtual channels (see our next section for specific suggestions). Additionally, you can track RSVPs, sell tickets, and correspond with interested guests entirely online.
Depending on the nature of your event, you may worry that a paperless approach will seem oddly informal. If that's your concern, simply communicate the rationale behind your eco-friendly choice. While attendees may prefer old-school communication methods, they'll see the absence of an invitation as a principled choice rather than an oversight.
Food and Beverages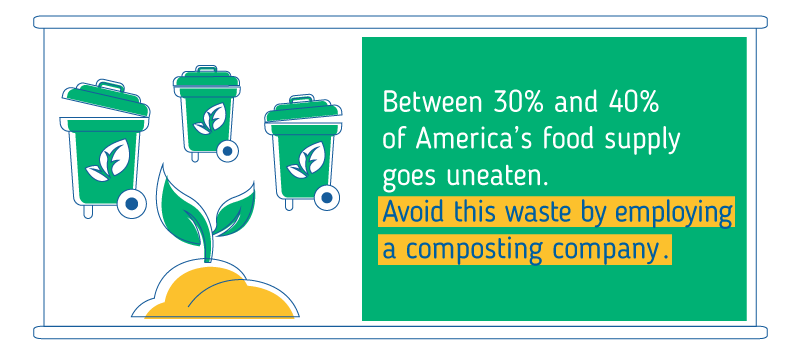 Food waste is a national travesty: Between 30% and 40% of America's food supply goes uneaten. Much of it ends up in landfills, and the environmental impact of producing unused food is staggering.
Catering for any event involves stressful calculations: You want to have enough food to satisfy each guest, yet this fear of running out leads many planners to overestimate – with perfectly good food ending up in the trash.
One way to avoid this wasteful scenario is to employ a composting company: Many provide event-specific services, including on-site staff to oversee the operation. Another possibility is arranging the delivery of leftovers to a local shelter in advance.

Recall, however, that green food policy extends beyond what's on the menu: Plates, cups, and utensils are essential elements as well. If reusable dishes and cutlery aren't an option, opt for biodegradable alternatives. Compostable options are easy to find and could be especially attractive if you're already planning to hire a composting company.
Finally, invite attendees to bring their own bottles and make sure they can access water easily. At any green event, plastic water bottles are bound to strike the wrong chord.
Recycling and Reducing Waste
Your event will inevitably produce some waste, so focus on making sure it gets to the right place. Clearly label compost, recycling, and trash receptacles, providing images above each can to avoid confusion. If necessary, separate glass and plastic from paper recycling as well. To underscore the importance of recycling, slap a "landfill" label over the trash bins.
As far as reducing waste in the first place, small measures can make a significant impact when multiplied across all attendees. For example, you can buy reusable nametags and ask to have them back once the event ends. Instead of providing attendees with thick informational packets, invest in building an intuitive, mobile-friendly event website with all the same information. If you do provide handouts, make them double-sided.
Conserving Energy
If your event requires extensive technology and lighting, you'll likely rack up a considerable energy bill. And while electricity costs are probably included in the price you paid for the venue, the costs to the environment are well worth addressing.
Even if you're vigilant about turning off lights around your own home, you may forget to do the same around the event venue. In some cases, event planners are simply unfamiliar with the location of switches, or reluctant to mess with a central light board. Once you select a site, get the staff to give you a full introduction to all your lighting options. If the venue staff handle the lighting, communicate your priorities to them assertively.
Promoting Your Green Event: Sustainable Strategies

In our digital age, event planners possess a wide array of tools to reach potential attendees. Virtual promotion is particularly important for green events, which typically aim to reduce paper waste. While you may want to avoid excessive mailings and flyers, there are plenty of alternative ways to raise awareness of your event.
Advertise on Social Media: Social media platforms offer sophisticated tools for marketing your event through paid ads, allowing you to target your audience in surprisingly specific terms. You can send advertisements to users who match specific demographic criteria, live in certain areas, or possess relevant interests. When promoting your green event, for example, you might want to target those who are interested in environmental causes. If your promotional budget is limited, start slow and assess your ROI as you go. Additionally, social media platforms present valuable opportunities for unpaid promotion. For example, creating a hashtag for your event costs nothing but can go a long way in terms of raising awareness.
Retarget Across Platforms: If a user checks out the website for your event but doesn't sign up to attend, you can still convince them to attend. Retargeting permits you to serve ads to people who have visited your site previously, maximizing the efficacy of your promotional efforts. Retargeting can be accomplished on many platforms, including Google Ads, Facebook, and Instagram. As the date of your event draws closer, a well-timed ad can make the difference for potential attendees who remain undecided.
Turn Participants Into Advocates: Consider those who helped you plan the event or individuals who currently intend to attend. Would they be willing to broadcast their plans within their own social networks, creating word-of-mouth buzz in person or online? Encourage them to tell others that the event will be eco-friendly. Associating the invitation with environmental responsibility could make it more appealing.
Raise Awareness at Similar Events: Seek out events with environmental themes occurring near you, and mention your own event at every opportunity. If organizers don't mind, you could make a brief announcement while you're there. They might even give you access to their email list or invite you to post on their Facebook page.
Reach Out to Relevant Organizations: Depending on the nature of your event, you may find interested individuals through local organizations. If sustainability is the focus of your event, find local environmental groups. If not, find organizations better aligned with your core content. The leaders of these organizations may offer to connect you with their members through email or social media.
Save Information for Your Next Event: Whatever you do, don't discard attendees' contact information once your event concludes. Moving forward, their emails and phone numbers could prove invaluable in building a loyal audience. By staying in touch after the event is over, you'll prime them to attend your next one. Additionally, you could ask them for feedback by sending a short survey. This information could lead to essential improvements at your next gathering.
Buyers and Sellers: How TickPick Benefits Both
Whether you're planning a green event or simply hoping to save some green on the next one you attend, TickPick has your back. Our platform provides unrivaled transparency, sparing both buyers and sellers from hidden fees and baffling bureaucracy.
Most importantly, our algorithms grade every seat in the venue on a scale from A+ to F, assessing variables such as proximity to the stage. By rating every ticket, we let buyers and sellers make informed decisions on how much each seat is really worth.
While there are plenty of ways to buy and sell tickets online, TickPick stands out by keeping things smart and simple. Skip the stress and uncertainty, and let us put you on the fast track toward a fair price. You can even buy and sell tickets entirely through our app – no paperwork or printing required. That's one certain way to make your event experience a little greener.
Sources