There are few holidays that go unnoticed in New York City, Halloween being the least of them. Every year, Lower Manhattan shuts down for the Parade, hundreds of club venues turn the lights down and welcome the best and most ghoulishly dressed, established theaters and performance spaces transform into haunted houses, and it doesn't stop there. From the kiddo-friendly harvest festival at Luna Park, to Pier 94's "Pier of Fear", there are hundreds of Halloween events in NYC this year. Here is a breakdown of what we consider the best of what NYC has to offer this Halloween.
Halloweekend Concerts
Dead & Company @ MSG
Grateful Dead members (Mickey Hart, Bill Kreutzmann and Bob Weir) have joined forces with Grammy award-winning artist John Mayer to form Dead & Co. So dead heads, make plans to head over to MSG this Halloween to see Dead & Co. play through the Grateful Dead's historic catalog of songs.
Pier of Fear @ Pier 94
For two nights, Pier 94 is turning into the "Pier of Fear", featuring DJ sets by Armin Van Buuren (Oct. 30th), Skrillex (Oct. 31), and more. Costumes recommended, but make sure they're dance-friendly, because these DJs will definitely be keeping you up on your feet.
The New Deal @ Best Buy Theater
Can't be bothered with the Halloween fuss and just want to see one of your favorite indie bands instead? The New Deal will be returning to New York City with their innovative electro house and trance music for one night only, so if you're looking to dance with a not-so-rowdy crowd, head to Best Buy Theater for some EDM with a "human element".
Haunted Houses
Nightmare Horror Show @ The Clemente
Rather than the annual Nightmare Haunted House, the theatrical Halloween event which takes place at the Clemente, artists/designers will instead be hosting Nightmare Horror Show: New York's Most Terrifying Theater Festival at the same location. For 4 weeks, 8 new mini horror productions will premier, with 2-3 productions happening every night. Even the most jaded theater-goer will find these brand new productions fresh, entertaining, and undoubtedly scary.
The Ride Inspector's Nightmare @ Coney Island
This theater experience of horror begins with Chief Ride Inspector Patty McKay's retirement, and spirals into the nightmares associated with his career. The Ride Inspector's Nightmare warns it's future patrons that there will be "100% disturbing with dirty language, disturbing imagery, adult content and audience abuse", so approach with caution.
Blood Manor @ Varick Street
New York City's premier Haunted House is back. Blood Manor will have its doors open to brave patrons from now until the beginning of November, which includes a "Lights Out" night, the "Blood Crawl", and "Paranormal Activity Night". Blood Manor isn't for the faint of heart, but if you're up for a few frights, head to the terror-themed rooms of Blood Manor this Halloween.
Halloween Murder Mystery @ Mount Vernon Hotel
A fictional murder mystery is taking place this year at the historic Mount Vernon Hotel, and you have a chance to solve it. Collaborate with others or go about it alone as you wander through Mount Vernon's halls through candlelight (yes, you heard correctly) collecting clues. How quickly will you uncover the truth? If you loved Clue as a kid, this Halloween event was made for the adult "you".
Parties
Nightmare on MacDougal Street @ Sono 
Sono Nightclub, previously known as The Pink Elephant/ Mach 8, is the only premier nightclub located adjacent to NYC's annual Village Halloween Parade. With multiple bars, lounges, and a dance floor where you can bust your best Halloweekend moves, Sono is a party you definitely don't want to miss. And since it's located in the Village, the crowd will certainly be dressed to kill, and ready to party.
Brooklyn Colony Hallow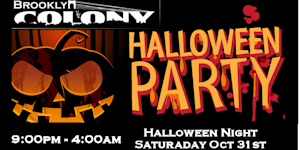 een Party
For those of you who don't want to deal with the Manhattan hustle during the holiday, head over to Brooklyn Colony for a "Kill or Be Killed" Halloween costumeparty! The classic no-frills bar is offering a flat admission rate of 25$ for entry, live music, "bloody" jell-o shots, and 2 free "ghoulish" drinks. All in all, a pretty great deal for Halloween night festivities.
Hot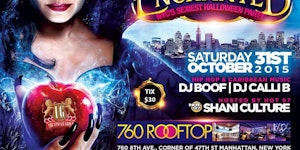 97's Sexy Halloween Ball
New York City's most popular hip-hop radio station is hosting their annual Halloween party in Times Square. The party will be hosted by Hot 97's regular DJs, including EBRO, Laura Stylez, and Rosenberg, with music provided by Kast One and Boof. One upside of attending a party near Times Square is that you can dress as crazily as you want without really being noticed, and trust us, with a $500 cash prize on the line, you'll want to go all out.
Haunted: A Halloween Glow Party
This year, the Theater District will host "Haunted: A Halloween Glow Party", a night full of neon, glow in the dark robots, and decked out go-go dancers. With two-stories of music, masquerade, and and horrifying design, the Halloween Glow Party will perhaps be the best and most festive rave you attend all year. Did we mention there was a costume contest? Just make sure it can be seen in the dark. Check out the info link for a VIP Groupon deal!
Spooky Mansion @ The Paper Box
The Wild Honey Pie, an NYC based online music mag, is hosting an "immersive concert experience" at The Paper Box in Brooklyn. "Spooky Mansion" will run for four nights and feature the walking dead, live DJs, and bands all inside a haunted warehouse. For a Halloween experience unique to what your friends will be up to, we suggest heading over to The Paper Box for a super creepy time.
Costume Contests
Village Halloween Costume Ball @ TNC
Theater for the New City is bringing their annual Halloween Costume Ball back for its 35th year. Over 1,400 attendees will gather for a sensational Halloween buffet brought to you by local eateries, a variety of artist performances, jazz bands, jugglers, theater, and of course, the costume contest. At this staple celebration, contestants compete for titles such as "Most Bo-Toxic", "Most Ironic", and "Most Born Again, and Again, and Again".
80's and 90's Costume Extravaganza @ Dewey's Pub
Dewey's Pub is changing things up a little this year by hosting an 80's & 90's themed Costume Extravaganza. Every year, this party sells out, which ought to tell you something about how fun it is. The Counterfeiters, NYC's premier 80's/90's cover band, will be performing multiple sets throughout the night, in addition to 2 hrs of drink specials, and a costume contest with some pretty great prizes. Buying tickets in advanced is strongly recommended.
Cantina Rooftop's Haunted Halloween Party
This party ranks high on our list of go-to's this Halloween, as it also offers open-air, unparalleled views of Manhattan from its high perch on 48th street. Cantina Rooftop's A Midsummer Night's Dream Halloween brings the most elegantly dressed together in one place for a night of dark fantasy, Shakespearean-inspired drama, and above all, a costume party to determine who was the fairest of them all.
Webster Hell, NYC's Official Parade After-Party @ Webster Hall
Dubbed as the official after-party to NYC's famed Village Halloween Parade, "Webster Hell" has some pretty big shoes to fill, namely their own, as this event is known to be pretty epic. For just one time a year, all four floors of Webster Hall transform into a "twisted mausoleum" filled with incredible, heart pumping music, scary spectacles, and a party crowd unlike any other. And if you need another reason to go, "Webster Hell" is awarding perhaps the biggest costume contest cash prize in the city of $5,000. Expect some pretty stiff competition, some CVS make-up and a wig certainly will not make the final cut.
Kiddo Friendly
Boo-tiful Halloween Bash @ Gymboree Tribeca
For you Manhattan mommies, the Tribeca Gymboree is hosting their annual "fab kids"event this fall: the BOO-tiful Halloween Bash. Labeled as "the most fashion-forward Halloween kids' party in Manhattan", the BOO-tiful Halloween Bash will feature family portraits, pizza and refreshments, dancing, and mommy-and-me manis. The BOO-tiful Halloween Bash is definitely something your child will go to school talking about the next week!
Friendly Boo and Harvest Celebration @ Riverside Park
Lisa and Lee, the two moms behind Think n' Fun NYC, will be hosting their annual Halloween event at Riverside Park. There will be live music, friendly ghosts, and pumpkin-based activities to keep your little ones busy on their favorite fall night. There will be a mini-parade for the kids in costume, so be sure to bring the camera for some truly adorable photo-ops.
Halloween Dog Parade
Though this is a canine-focused event, it is thoroughly enjoyed more by the family supporting their dog in drag. Kids get quite the kick out of walking their pets through the masses of other spookily-dressed dogs. The annual Halloween Dog Parade, hosted in Tompkins Sq. Park, is considered the biggest dog parade in the world. And if you pair your child's costume with your dog's, your more likely to qualify for a winning prize!
Gravesend Inn @ Downtown BK
The Gravesend Inn is the perfect Halloween event to attend for kids who have never been to a Haunted House before, but think they are ready for the thrills. The Gravesend Inn's theme-park quality provides quite a bit of fun alongside the frights, and having been a longtime staple in NYC, the establishment is a no-risk choice for your child's first "PG" Halloween experience.
Halloween Harvest @ Luna Park (Coney Island)
Every weekend through November 1, Coney Island's longstanding Luna Park is hosting Halloween Harvest, a fall festival offering Luna Park's historic rides, "creepy crawly crafts", a booth to guess the weight of Jack the Giant Pumpkin, face painting, and more! A day at Luna Park's Halloween Harvest will hand down be a great time for the little ones.
We hope this helps you plan the perfect 2015 Halloweekend, whether you're single and looking to party, or a parent of two tikes anticipating their Halloween candy haul. Be safe, be scary, and get ready to have a blast on the weirdest holiday of them all.