13. Horror On the Hudson [October 27th]
This Halloween everyone will vie for your attention with their nightlife offerings, but there's only one venue in the city that's guaranteed to pack the house and sell out well before the big party weekend rolls around – Hudson Terrace. Going out in New York City is all about taking in the city, and the view that Hudson Terrace offers will give you just that. Horror on the Hudson Terrace is THE event that everyone's been chattering about for weeks. Now you finally have a chance to buy your tickets. Music, cocktails, and an atmosphere that's incomparable, there's no end to the entertainment in sight. Be sure to dress up, because some of the best costumed bodies in the city will be on display. We all probably have our costumes in mind, but we may not know where we'll spend the night. Here's your chance to be a part of the party that everyone wants to get into.
12. Paul Oakenfold's House of Horror at Kiss & Fly[October 26th]
He's a legend. A man that's delivered hits for years and has worked with artists from Madonna to Cee-lo Green, and this Halloween, he's making his return to the Big Apple for one of the most anticipated events of the year on
one of the biggest nights of the year. Known to bring in A-listers and New York City's socialites, this Halloween Kiss and Fly will bring a world-renown DJ whose profile continues to grow to this day – Paul Oakenfold.
It's hard to find someone who's not familiar with his name or his music, but if you happen to be one of those people, you finally have a chance to bare witness to his true awesomeness. Labeled "House of Horror," this event goes down on Friday, October 26. Rather than waiting for the actual night of Halloween, folks will be lined up in their costumed gear to prepare to dance to the electronic sounds of Oakenfold until the sun creeps up on New York City. Be sure you muster up enough energy for this night, because once he gets behind the ones and twos, you're going to need all of it.
11. Capitale's Devils Debauchery Ball[October 27th]
You are cordially summoned to join Manhattan's beautiful angels, demons and the lost ones in between as we delve into the opulent world of incomparable hedonistic revelry at its finest. Deep within the inner sanctums of Manhattan's most divine private event spaces rises Capitale's Devil's Debauchery Ball, an event that will surely be the talk and toast of the New York City. Lose yourself surrounded by decadent debauchery, hellfire energy, sinful escapades and naughty masquerade… You might just spot a celebrity in costume too. Past sightings have included, Heidi Klum, Jay-Z, Sean Diddy Combs and Zac Posen.
10. Halloween Goes Hollywood at Madam Tussaud's [October 27th]
When a big holiday party creeps up in New York City, there's a buzz in the air that excites everyone in the city. There's only one holiday in the year when you can truly act out of character and dress up as one of your favorite dead politicians, superheroes or athletes – Halloween. Sure, New Year's Eve is definitely one of the biggest nights of the year, but the weather's a lot better when Halloween rolls into town. This year, there's no denying that some of the top nightclubs, bars, and lounges in the city will all be hosted epic parties, but there's one massive venue that's known to really bring the best entertainment to the table on a big night – Madame Tussauds.
9.  Maxim Devils Cut Halloween [October 27th]
Maxim – a name associated with sophistication, sex appeal, and unadulterated fun. We all know that the biggest party holiday of the year is just around the corner, and everyone's looking to see where Maxim will be hosting their party this year. Well, here's what you've been waiting for.
This year, Maxim's Devil's Cut Halloween event at Millesime will once again bring in New York City's sexiest partygoers dressed in festive gear and ready to blow the roof off of the venue. If you've been a part of a Maxim event before then you know what you should be getting yourself into. If you're one of the unlucky few that are clueless to this event – skip the rest of this description, buy your ticket, and thank us later. Teaming up with Jim Beam's infamous Devil's Cut brand is a match made in heaven. Only a select number of venues across the nation will be hosting Maxim's Devil's Cut Halloween party, and Millesime has been chosen as the premiere destination in New York City to make it happen. Considered one of Manhattan's chicest restaurants, Millesime will be transformed into a festive destination with costumed bodies taking the energy in the space to another level.
8. Halloween Meltdown at Hammerstein Ballroom [October 27th]
On October 27th, 1983, It all started out as a Halloween party to remember, it was also the 20th anniversary of the Hammerstein Nuclear Reactor, but little did the attendees know that they were about to meet a most gruesome fate… As warning sirens pierced the night, plumes of thick radioactive smoke enveloped them as the ground shook feverishly, chaos set in as breathing became more difficult, they frantically searched for a way out of the danger zone… Stumbling through the ominous gloom, they saw shadows of swaying figures growing nearer all around them, they could hear the guttural moans of what they believed were other survivors searching for help, but something wasn't quite right, something was in fact very wrong… Defying all logic and reason, they chose to ignore their instincts, allowing themselves to become closer and closer to the unknown, when the reality of their destiny finally set in, it was too late, the only thing left they could possibly do was join together in one final moment, and party as if it was their last night on earth.…
Now exactly 30 years later on October 27th 2012, the Hammerstein Nuclear Reactor will be secretly reopened, a very exclusive Halloween event is scheduled to commence there, safety measures have been revised in order to reduce the risk of another unspeakable tragedy but no one can be too certain… Tickets go on sale Thursday September 6th at noon…. if you dare… Featured artists are Nero, Adventure Club, Fareoh and Alex English.
7. Lucky Strikes Lanes & Lounge "Monster Bowl" Halloween Party [October 27th]
There's only one time of the year when you can dress up, act out of character, and indulge in the best that nightlife has to offer in New York City – Halloween. Considered to be one
of the most anticipated nights of the year, you can't compare the experience you get in Manhattan to anywhere else in the world. With a slew of bars, lounges, and nightclubs located throughout the city, there's no shortage of entertainment. But with so much thrown at you on a night like this, it could be a little difficult to decipher the good from the bad and ugly. That's where HalloweenEvents.com comes in. Listings only the best Halloween events that the city has to offer, it makes it a lot easier to narrow down your focus.
This year, they're putting together yet another epic event for Halloween in New York City, and it's all going down at an entertainment venue that's truly unique – Lucky Strike. Prepare for The Haunting of Gotham at Lucky Strike this year, a Halloween that's like none other in New York City. It's a bowling alley, restaurant, and lounge all rolled into one. Prepare to don your favorite costume as a DJ mixes in some beats so you can dance the night away at Lucky Strike. This is set to be one of the biggest events of the year, so look into tickets while you can, and opt in!
6. Haunted House Tour at Pier 94 [October 26th]
Halloween is no soft holiday; it's not for teddy bears, smooth jazz, or, frankly, wusses. So this year in New York, get ready to go HARD. RPM and HARD are proud to announce THE HAUNTED HOUSE TOUR, the legendary promotion companies' first collaboration, and the most fearsome Halloween party this side of the Mississippi. Set at New York's Pier 94 – the site of Avicii's epic New Year's party – the party brings together EDM's most dangerous artists, swinging razor-sharp beats and dropping atom bombs of bass on the West Side harbor. Featured artists are Knife Party, Tommy Trash, Kill the Noise, Style of Eye, Baauer, and Destructo.
5.    The Official Haunted Mansion Party [October 27th]
For one night only, Bowlmor Times Square will transform itself into two mammoth floors of
decadent debauchery at its finest delivered with loads of class and in the spirit of Halloween, a ton of trash. Just remember, you can say or do just about anything – just don't use the "B" word (Bowling) as Bowlmor's been converted into THE biggest party scene of the night. What's your party principle? Cash bar, open bar, bottles, models and more. On this fabulously freaky night, the choice is yours so indulge your inner sinner and give in to sin. You can always redeem your wicked ways tomorrow.
Step out of the elevator onto the THIRD FLOOR where you'll be greeted by pulsating beats enticing you to dance, prance, romance and fist pump your night away.  And for the VIP in you, give yourself privileged access to the The Mansion Lounge, the 3rd floor's VIP area. Be sure to bring the green because this is the cash bar floor.
There's only one way to go and that's up…to the FOURTH FLOOR, that is. Reserved for open bar ticket holders, the libations are free flowing between 9pm-2am! In true VIP fashion, spoil yourself rotten and treat yourself to premiere VIP access: The Executive VIP Lounge.
4. Webster Hell – The Official NYC Halloween Parade Afterparty [October 31st]
Since 1886 the people of New York City have entered the mysterious and hallowed walls of Webster Hall and commenced in a notorious display of exhibitionism,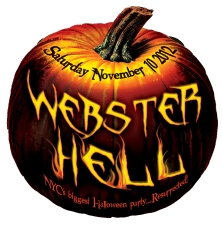 consumption and debauchery. By the turn of the century, Webster Hall was known to many as The Devil's Playground. This Halloween, 126 years later, the Devil rises to dance amongst the people for one very special night…
Webster Hall presents the official NYC Halloween Parade Afterparty. WEBSTER HELL is a once in a lifetime event. All 4 massive floors of Webster Hall transform into a twisted mausoleum filled with heart-pounding dance music. Sensual fire performances mesmerize the crowd as flying Vampires soar high over their heads in the Grand Ballroom. Thousands of revelers, hidden behind masks and disguised as freakish inversions of their former selves, eagerly attend what is hands down the biggest Halloween party in NYC every year.
Plus, a $5,000 Best costume contest!
3.  Times Scare Haunted House [October 27th]
Sometimes it's good to have a good laugh. But others it's even better to have a good scare. That's where Times Scare's Haunted House comes in. We're far too accustomed to enjoy haunted houses only when Halloween comes around. But throughout the year we're constantly seeking the same thrill, and the neighborhood bar certainly isn't going to cut it. The Haunted House at Times Scare is one experience that constantly keeps locals and visitors alike coming back for more. Just when you think you may know what lurks around the corner, there's always an even bigger surprise in store the next time you visit. Some of the most talented actors in the city are a part of this experience, and trust us when we say this, they're just dying to scare you.
2. Halloweekend PubCrawl NYC [October 26th]
It's nearly here New York…one of the biggest and most anticipated parties of the year, and we're not talking about New Year's Eve. Halloween has to be one of the most long awaited parties, simply because it's the only
holiday in the year where we can dress up like fools and visit our favorite bars. This year is going to be a little extra special for you as PubCrawls.com is putting together the biggest organized PubCrawl that Manhattan has ever seen. Get ready to visit some of the best bars that New York City has to offer, all in one day, while enjoying some insanely good drink specials! It's all going down on Friday, October 26, so start your countdown folks.
Get ready to enjoy some great drink special that'll keep the party going all night long! The producers of the world's largest PubCrawl are ready to yet again break into the record books with this very special event in New York City. Get ready to dress up and comb the streets of New York for the best bars that are all a part of this special PubCrawl! Meet new friends, enjoy some great drink specials, and visit the best bars in town! It's all part of the entertainment on this special Halloween PubCrawl in Manhattan. This is gonna be one party that you'll never forget, so be prepared! Word of advice: get your tickets while your till can.
1. NYC Halloween Parade  [October 31st ]
The Greenwich Village Halloween NYC Parade is a massive night time parade that takes place along Sixth Avenue in Manhattan on October 31st. It is an annual event that is one of the craziest and most exciting Halloween celebrations in the United States. The Greenwich Village Halloween NYC Parade lets anyone who is wearing a costume join in on the march, and it features some of the coolest costume designs and large-scale puppets that are put on public display through the streets. Participants 19 and over can join the official parade after-party – the Webster Hell Halloween Party to continue celebrating throughout the wild night!
What to Expect: Halloween NYC
Parade is one of the most surreal and eye-catching holiday events held in New York City.
Wild: The Greenwich Village Halloween Parade is one of the wildest experiences in New York City. It draws over a million people to the parade each year, and features a wide selection of costumes and massive puppets that are marched around which require multiple people to animate.
Creative: Some of the most creative costumes and displays are paraded around Greenwich Village on Halloween each year. One of the impressive displays from 2010, as an example, what a giant puppet of a dinosaur skeleton which required more than a few people to support its movements.
Everyone Gets Involved: While the Halloween NYC Parade in Greenwich Village is more controlled than it used to be, it is still a very open-ended event where everyone who attends can get involved in the march.
Inside Knowledge: The Greenwich Village Parade first took place in 1973, when it was just a door-to-door activity from a puppeteer and a mask maker. Within just a few years, it evolved into the festive parade that is has become today.
Event Hints:
Dress Up: This is a very festive New York parade. Get into the spirit and dress up, and you can join all of the other costumed parader supporters who will be walking in the parade along Sixth Avenue.
Don't Park Near Sixth Avenue: Your best bet for getting to the Halloween NYC Parade is to park near a subway station that can get you closer to Sixth Avenue in Greenwich Village. Parts of the village area are closed off and pedestrian traffic during this evening is an absolute nightmare.
Be Ready For a Long Night: The Halloween NYC Parade is fun, but make sure you have for plan for the night and after the event. There will be a lot of people in the area, so make sure to bring water as it will most likely be very hot. Also make sure that you know which subway station gets you to your car or hotel, as navigation in Greenwich Village during this festive New York parade can be difficult.
Here's what went down last year at the Parade as well as the Official Parade Afterparty at Webster Hell! Don't Miss out!