Glamping At Firefly Music Festival
Find the Cheapest Firefly Music Festival Tickets
We're not all cut out for roughing it. Some of us need that touch of luxury, privacy, and um, occasional air conditioning if we're going to spend four nights in a tent. And hey, there's nothing wrong with that! Fancy people need music festivals too.
Thank goodness Firefly Music Festival has created lots of great options for those festivalgoers who prefer a little less of the great outdoors and more cushy extras.
As with any accommodation, there's a range of how luxurious these glamping options run, so we've broken them down to see which one fits your needs best. You'll have to consider your budget, the number of people you're traveling with, and how much many of these extras you need for your perfect festival experience. It's also a good idea to read up on forums about the glamping experience ahead of time to see what past festivalgoers have said. That way you'll know what you're getting into and if it's worth it for the money!
If you still need 'em, grab your Firefly Music Festival passes or see what TickPick has on offer. We're the Official Fan Exchange of the festival and we've got passes for each day.
Basic Glamping
For $899, you can step your camping game up and get just a little fancy. With Basic Glamping, you'll be allotted a 20' x 40' space with a private tent and space for one car from Thursday to Monday at Firefly. There's room for up to four people, and instead of the cold, hard ground, you'll be sleeping on cots with the pillows and blankets provided.
What else? Basic Glamping gets you a preferred check-in location and shower fast passes (for a private shower) so you don't have to stay dirty for long. You'll also get access to The Hub where you'll find camping entertainment, activities, and shopping options, plus a place to charge your phones, buy ice, and refill your water.
You won't get power or AC with Basic Glamping though, so keep that in mind when browsing this option!
Infield Glamping
This is where things start to get a bit more plush. Well, for a music festival anyway. If you choose Infield Camping, you'll get a 20' x 40' camping space in the prime infield location from Thursday to Monday. Your private tent will have AIR CONDITIONING, which in the middle of June could wind up being a godsend. You'll sleep on cots with blankets and pillows provided and you'll even have your own power source… so you don't have to like, wait in line to charge your phone.
You'll also get extras like preferred check-in, private restroom facilities, shower fast passes, and access to the Infield Lounge. Like everybody else, you'll also be allowed one space for your car and access to The Hub. This option works for groups of two people or four people.
For two-person Infield Glamping, it'll run you $999.
For four-person Infield Glamping, it'll cost $1099.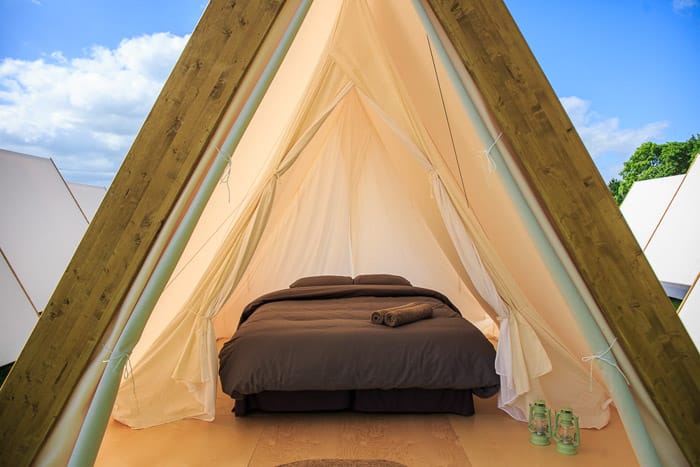 Peak Glamping
Traveling as a couple or a twosome who prefer the finer things in life? Check out Peak Glamping. It comes with a REAL bed!
From Thursday to Monday of the festival, you'll be sleeping in a private two-person tent with air conditioning. This triangle-shaped tent is made of canvas but it has a real floor – none of that awkwardly rocky or sloping ground you get with a regular tent. You'll get a 20' x 40' campsite with room for one car and preferred check-in location. The highlight, perhaps, is the real queen bed with full linen package, plus a bedside table, power source, and lamp.
You'll also get access to private shower and restroom facilities, along with 24-hour concierge services – who knows what they can offer you, but it might be nice to have! You and your buddy will also receive one complimentary food and snack voucher each day.
Finally, you'll get entry to the exclusive Glamping Lounge. And like everyone else, you'll have access to areas where you can buy ice, refill your water supply, and charge your phone (if you're not doing that in your private tent, of course).
Peak Glamping was $1299 and is SOLD OUT.
Premium Glamping
This "tent" looks like something out of a fairytale… so we're not sure you can even classify it as camping in any form. Anyway, here's what it entails:
You'll get a private, air-conditioned tent for you and one other person. This tent looks pretty big in the photos, and it'll be located on a 20' x 40' patch of land with space for your car and preferred check-in location. You can choose between a queen bed or two twin beds, depending on what sort of duo you're in. You'll also get a full linen package with that.
This option comes with a power source so you can charge your own devices, plus a lamp to keep your tent lit. You'll have private shower and restroom facilities that are air-conditioned as well as access to the exclusive Glamping Lounge. There's also complimentary food and snack vouchers for each of you (one per day), plus a 24-hour concierge service.
Read more about Premium Glamping here!
Guesthouse Glamping
This option comes with its own bathroom and shower! Yes, inside your tent! What?!
Yeah, this is the most luxury glamping option that Firefly offers. From Thursday to Monday, you'll have a private tent for two with air conditioning. Yeah, yeah, you'll get that 20' x 40' space with room for your car and preferred check-in, but your canvas tent will have a real floor and its own private bathroom and shower. Which is honestly amazing. You'll also sleep in a queen bed with a memory foam mattress and luxury linens. So it's basically nicer than a hotel…
These "guesthouses" have their own power source, a lamp, and a stocked mini-fridge. After you eat and drink everything in the mini fridge, you'll also have one complimentary snack and food voucher to use each day (one per person, that is). Just like many of the options above, you'll have access to the exclusive Glamping Lounge and places to buy ice, get water, and charge your phone. We wouldn't blame you for just having out in your own little guesthouse oasis though…
Not for no reason, Guesthouse Glamping was priced at $5999 and it's SOLD OUT!
More FireFly Music Festival information
If you think you might be heading to Firefly this year, check out all the cheapest ticket options available on TickPick, the only no fee ticket marketplace.