Did you even go to Miami if you didn't party on the beach? The glorious sunshine and white sand beaches of Miami are just a couple of reasons that people are so hyped about the Super Bowl taking place in South Florida this year. And Rob Gronkowski is most definitely one of those people! The recently retired Patriots tight end is taking full advantage of his free time during this year's Super Bowl weekend and throwing a massive party on Miami Beach. While the fun-loving, three-time Super Bowl champ won't be on the field this year, he is gearing up for one of the biggest parties of the week: Gronk Beach!
It's no secret that Gronk loves parties, dancing, and getting rowdy, but this is his first time hosting a Super Bowl party of his own. (After all, the Patriots rarely get any time off during this particular week in February!) But now that Gronk has hung up his helmet, he'll be inviting his friends, family, and celebrity performers down to party with him on the Saturday before the big game!
Gronk Beach will take place on Saturday, February 1st from 1 PM to 7 PM at the North Beach Bandshell. If you're in the area – even if you're not heading to the Super Bowl itself! – come out for a great time at one of Miami's most exciting beach parties. TickPick is the official secondary marketplace for tickets! It's going to be an afternoon full of festival-style extravagance, wild performances, and lots of dancing in the sand.
"So many people… throughout my career always told me, 'Oh I want a party with Gronk! I want to party with Gronk!' So this opportunity to do it!" – The ball-spiking Gronk himself
But Gronk Beach isn't just any Super Bowl party. Remember guys, Gronk has partied at Shaq's Fun House, so he's no doubt taking some inspiration from the big man and pulling out all the stops for an over-the-top experience of his own. This time with bikinis and grass skirts. Consider Gronk Beach a mini music festival of sorts. Gronk has lined up an array of artists for Saturday's affair, including artists like Diplo, Kaskade, Rick Ross, Flo Rida, Carnage, 3LAU, and more!
It wouldn't be a festival without some exciting food and drink options though. And the drinks will certainly be flowing while you're dancing by the stage and rapping all of the lyrics to Flo Rida's hits. Tickets to Gronk Beach include an all-inclusive open bar for the whole afternoon (yep, six hours!) and unlimited bites from STK Steakhouse, Bodega, and The Salty Donut. The international STK is a chic and modern twist on the traditional steakhouse, serving up only the highest-quality beef around. The local South Beach taqueria Bodega will be offering guests its over-the-top Mexican street food and tacos. And Wynwood's own Salty Donut is bringing its artisanal, small-batch, craft donuts with fun toppings! There will also be ice cream and fruit smoothies to help you cool down from all that Miami sun.
As for the party's location, you'll be beachfront, baby! Gronk has come up with a tropical, Polynesian-inspired theme, complete with luau decor and everything that goes with it! Expect interactive hula dancers, fire twirlers, and beach games. And during your afternoon of activities, concerts, drinks, and mingling, don't forget to spend a little time in the special shaded relaxation areas where you can chill out and, ya know, maybe rehydrate a little? We're not sure about the guest list yet, but we do know one thing: Gronk will be there dancing, mingling, and hanging out in full force. (Oooh, you and Gronk, wouldn't that be the ultimate, envy-inducing Instagram post?)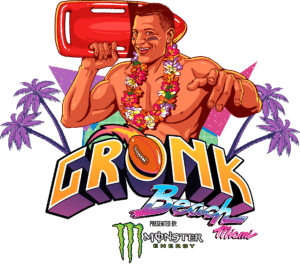 Gronk has confirmed he'll be rubbing elbows with the masses, saying, "We'll be partying with everyone. We'll be partying on stage. We'll be high-fiving everyone. We'll be interacting with the crowd. It's just going to be a great overall fun-themed party where it just brings entertainment and joy to people's lives!"
Remember that shirtless dance-off with Shaq? Yeah, he's not joking…
"You can't keep me away from Big Game Weekend. I'll be bringing the fiesta to Miami at Gronk Beach. Just imagine dancing on the beach with a massive main stage featuring A-list performers like Diplo, Kaskade, Rick Ross, all my friends and family, beach performers, and oh yeah, all the food and drinks you can handle – GRONK SPIKE!" – Gronk
General Admission Tickets: Tickets to Gronk Beach are very limited so we expect them to sell out quickly. Prices are set to increase as the event gets closer – so if you're interested, buy yours now! General Admission tickets are all-inclusive, so you'll receive access to a six-hour open bar with fresh fruit cocktails, spirits, beer, wine, and soft drinks. As mentioned, there will also be unlimited bites from STK Steakhouse, Bodega, The Salty Donut, and more! Your GA ticket includes all of the beachfront concerts, attractions, games, and other fun luau-festivities happening at Gronk Beach too. Shop tickets now!
Interested in VIP tickets? Looking to ball out a little? VIP tickets grant you access to the Gronk Beach VIP Clubhouse & Balcony which overlooks the main stage. You can also take advantage of the VIP lounge, complete with AC and comfortable seating. VIPs receive expedited, fast track entry to the party, as well as access to upscale private restrooms. You'll also get to taste unlimited premium bites while you sip drinks at the six-hour open bar described above.
Wynn Nightlife VIP Tables are available for those VIP guests who want to amp up their Gronk Beach experience and get the best views of performances on the main stage. Wynn Nightlife is known for curating exceptional VIP experiences in Las Vegas, and they'll be bringing their A-game to Miami Beach with these tables on the Wynn Deck. Encore Beach Club and XS Nightclub are in charge of bottle service for the afternoon, bringing over-the-top, tropical-style bottle presentations to VIP tables.
Got a big group or a corporate event? For those looking to purchase 10 or more tickets, there are group tickets available as well. If you're hosting a corporate event or interested in renting a suite for your party people, simply email Gronk's team to receive the very best service at [email protected].
Do you want to party with Gronk?!