Baseball season is upon us, and with the increasing temperatures and thirst for baseball come an appetite for ballpark eats that indulge Astros fans who are willing to stick it out for up to four hours at Minute Maid Park. One question many fans have is what is there to eat at Minute Maid Park?
Read below in order to find out about the best food at Minute Maid Park. In the meantime, if you're looking for general seating information on the stadium, be sure to check out our informative Houston Astros Seating Chart Blog.
Check out the Minute Maid Park food map below in order to find the best food at Minute Maid Park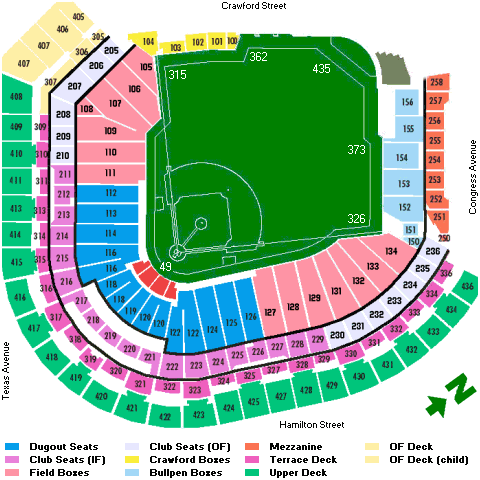 The Best Food at Minute Maid Park
The Prime Rib Steak Sandwich from Texas Legends in Sections 134 and 231 is, to put it simply, the best thing you can eat at Minute Maid Park. If you're willing to indulge and spend up a bit (it'll run you $20), enjoying a juicy cut of steak on a night out at the ballpark is the way to go.
On a different end of the "fancy" scale is another fan favorite, The Home Run from Killen's BBQ in Section 334. This enormous sandwich has more than 1 lb of meat as it combines brisket, sausage, pulled pork, and even a piece of turkey breast! You may need to split this one with a friend if you plan on eating or drinking anything else on your day at the ballpark.
Local Favorite Food at Minute Maid Park
You absolutely cannot go wrong with anything from Home and Away, located in Sections 113, 129, 156, 427 which ballpark classics like hotdogs, nachos, and pretzels.
The Best Dessert at Minute Maid Park
Look no further than the Cookies and Creamery in Section 219 for ice cream sundaes and sandwiches between two fresh baked cookies.
For another great option that's new to the ballpark this year, head to Italian purveyors OSSO and Kristalla in Section 227 for their delectable Kahlua Tiramisu.
Healthy & Vegetarian Food Options at Minute Maid Park
Head to H-Town Grill in Sections 109, 126, 231, and 409 for their version of the meatless, plant-based Beyond Burger that tastes just like the real thing.
Healthy Options in the Centerfield Market at the 19th Hole and Section 213 are the perfect option for a light Caesar Salad, fruit & vegetable cups, Mediterranean Salad, and more.
Where to Drink at Minute Maid Park
While there are numerous spots to grab a premium beer or wine within Minute Maid Park, some of the best places to enjoy those beverages is St. Arnold's Bar in Section 104. It's a beer garden that includes plenty of seasonal favorites from local St. Arnold Brewery.
Another great option for a drinking spot if you're sitting on the stadium's upper level is the Karbach Bar in Section 404, which offers a great view of downtown Houston and plenty of beers from the local Karbach Brewery.
Can I Bring Food or Drinks into Minute Maid Park?
Per Minute Maid Park policy, fans may bring outside food in a portion no larger than a clear, one-gallon size bag (one per guest), and may bring clear, sealed plastic bottles of water 16 oz. or smaller. No cans, glass or aluminum bottles, or thermoses are permitted in the stadium.
Can I Bring Bags, Containers, or Coolers into Minute Maid Park?
No bags or items larger than 16″ x 16″ x 8″ will be permitted inside of Minute Maid Park, nor will any hard-sided coolers or glass containers.
How to Get Cheap Houston Astros Tickets
If you're ready to make it out to Minute Maid Park this season for a game after deciding what food you'll be snacking on, be sure to check out TickPick for tickets to the game. With high prices come high service fees with many marketplaces, but not TickPick. Here at TickPick, we have no service fees, making us your source for the cheapest Houston Astros tickets on the secondary market.
If you haven't yet used TickPick to find the cheapest tickets, you can sign up with the link below for $10 off your first purchase. If you have any questions regarding Astros tickets, please feel free to submit a request here!
—