The TickPick Tent at Firefly Music Festival – What You Can Expect!
It's no secret that TickPick is the Official Ticket Marketplace of Firefly Music Festival. We've been talking about it for months. Well, the main event is fast approaching and guess what? We're excited to announce that we'll be there too! With an awesome TickPick tent for all your festival needs!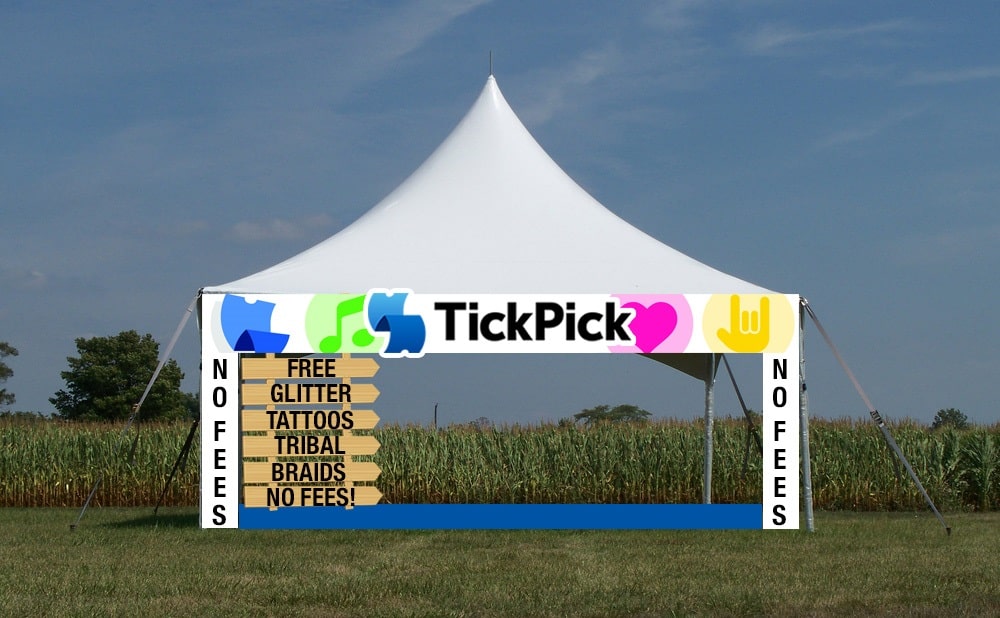 What's inside the TickPick No Fee Tent at Firefly?
Like everything we do, we're totally in this for the fans so you know we've got just what you want when it comes to that festival life. And even better, we're offering it all for free! That's kinda the theme of our tent…
The TickPick NO FEES Tent at Firefly is going to be packed with tons of free stuff for all the lucky festivalgoers who stop by.
We'll have a cool lounge with free "no fee" wifi where you can get back in touch with the real world or broadcast your weekend's greatest pics to Insta (if you want). If you're not ready to get in touch with civilization just yet, you can still chill in our bean bags and worry about texting your mom later.
https://www.instagram.com/p/BX0OgwsFWsh/?taken-by=bohofaux
Need some festival flare? We know what you like. The TickPick Tent will have free "no fee" hair braiding, flash tattoos, tribal body art, and glitter – always a hit! – from the amazing women of bohofaux. (Seriously, click that link and you'll see some of their fabulous festival styles.) They're known for adding a touch of bohemian glam to The Woodlands, and they were one of the most popular fan attractions at Firefly last year! So obviously we've snatched them up to be part of our crew…
Don't believe us though. Just check out their ridiculously beautiful 'grams and some of the wonderful people you'll find in our tent working to style and glitter you up!
https://www.instagram.com/p/BV0fvkblW9E/?taken-by=bohofaux
Hair Stylists:
Paulina Reynolds @paulinareynolds
Jacqueline Reynolds @rapunzel_rey
Kayla Stewart @kayluhskolors
Alexa Quaranta
Preslie Quaranta @p_quaranta
Glitter Artists:
Kelly Root @kikithegypsy
Kelsey Breisinger @kelclight
Danielle Heltzel @unconditionallycreative
https://www.instagram.com/p/BVZyI_llIwk/?taken-by=bohofaux
So… Why are we doing all this?
First and foremost, we're all about the fans. Yes, we want you to get to know TickPick, our brand, and what we're all about, but really, it's all about you!
We want you to have the best time possible during your weekend in The Woodlands. Since we're partnering with Firefly, we want our SmartFans to have a fun, exciting, and safe music festival experience. (While getting the best prices on our no-fee tickets, of course!)
And there's something else…
A while ago, TickPick conducted a survey on the most promiscuous music festivals where we asked fans about the nature of hookup culture at festivals across America. It generated a lot of Internet buzz. We were featured on sites like Esquire, Women's Health, Men's Health, and Bustle.
(We'd guess that's partly because of our startling find about porta-potty sex.)
We asked festivalgoers about their weekend flings, openness to sexual encounters, and even their preferred hookup locations. As it turns out, half of those we surveyed were open to a festival fling and about a third have actually had sex at a festival.
Camping culture accelerates these things and the live music and the fleeting nature of the weekend clearly adds to the exciting atmosphere and people's penchant for hookups. But it's not for everybody.
What we care about.
While you're out having the time of your life at Firefly – whether that involves a whirlwind romance or not – TickPick wants to promote a culture of consent, respect, and safety for everyone. If you're gonna have a casual fling, no matter the location, make sure to take a moment to communicate with your partner and ensure there's mutual and enthusiastic consent.
Then you can go ahead and make some crazy memories… but honestly, we wouldn't recommend the porta-potties.
TickPick wants our SmartFans to spread the message of consent and respect so that nobody gets swept up in a moment they might regret later. Look out for your friends and yourself. Make sure that consent always comes first!
Need some inspiration or, um, tips for festival romance? Check out our full survey on festival promiscuity.
And if you're heading to The Woodlands in June, don't forget to stop by the TickPick NO FEE Tent to get some free stuff, connect to our wifi, or just relax in our lounge – we'd love to have you!
Still need tickets to Firefly Music Festival? We've got the lowest prices with no fees at TickPick!
If you've never been to a summer music festival with camping, Firefly is a great one to get you started! The vibe is all about good times, new friends, and great music. Curious about camping options, parking, festival food, or even the bathroom situation? We've got you covered. Read more of our festival blog posts in our  Complete Guide to Firefly Music Festival.