Whether we admit it or not, a big part of going to a music festival is letting loose and making friends with strangers. But sometimes, those strangers become more than just, um, new friends.
It could be the carefree atmosphere, the heady jams, or the conveniently pitched tent that's just nearby, but festivalgoers have a tendency to hook up. We were intrigued by this fact – because it is a fact, we've confirmed it! – so TickPick conducted a survey on promiscuity at music festivals around the country. We dove into which festivals received the most action, what type of action it was, and where you preferred to hook up on festival grounds.
And guess what? The Internet was really into it.
(We even got featured on a popular German tabloid site. You know how those Europeans love their festivals.)
But we think it was mostly the interesting stat we learned about porta-potties that really got the media's attention. It does make a good headline! This is groundbreaking stuff, people. We made infographics and everything!

How We Did It
No, not "it" it. The survey! Here's how the data collection worked: We surveyed 1,050 festivalgoers about whether they would consider hooking up at a festival. Then, if they'd actually done it before, we asked them for more details on the experience. (Very nosy of us, right?) We conducted quality checks and only included data from music festivals with at least 15 attendees. Everybody who responded to our survey had attended at least one festival.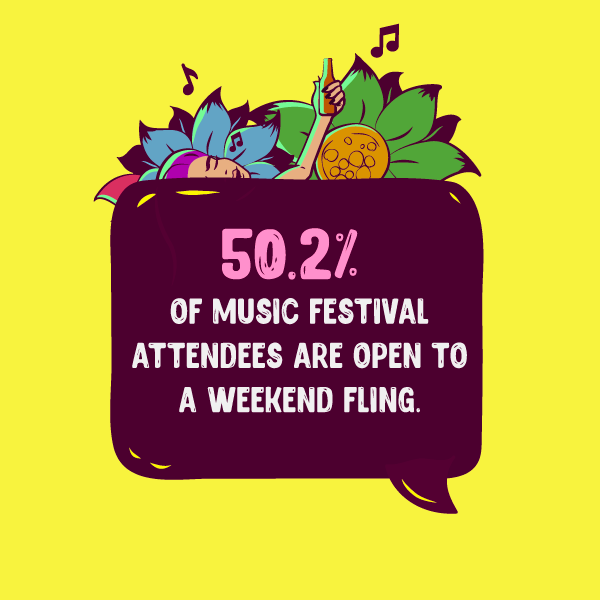 So… How Many People Are Into It?
About half of the festivalgoers we surveyed said they'd be open to a weekend fling. Maybe it's the fleeting nature of the weekend that makes things escalate so quickly (although people have been known to meet their future spouses at music festivals) or maybe it's the combination of booze and the magic of hearing your favorite band live. Either way, lots of folks are down to hook up at festivals.
The other half? Not so much. That possible never-see-you-again style, er, romance is not for them. We totally get it.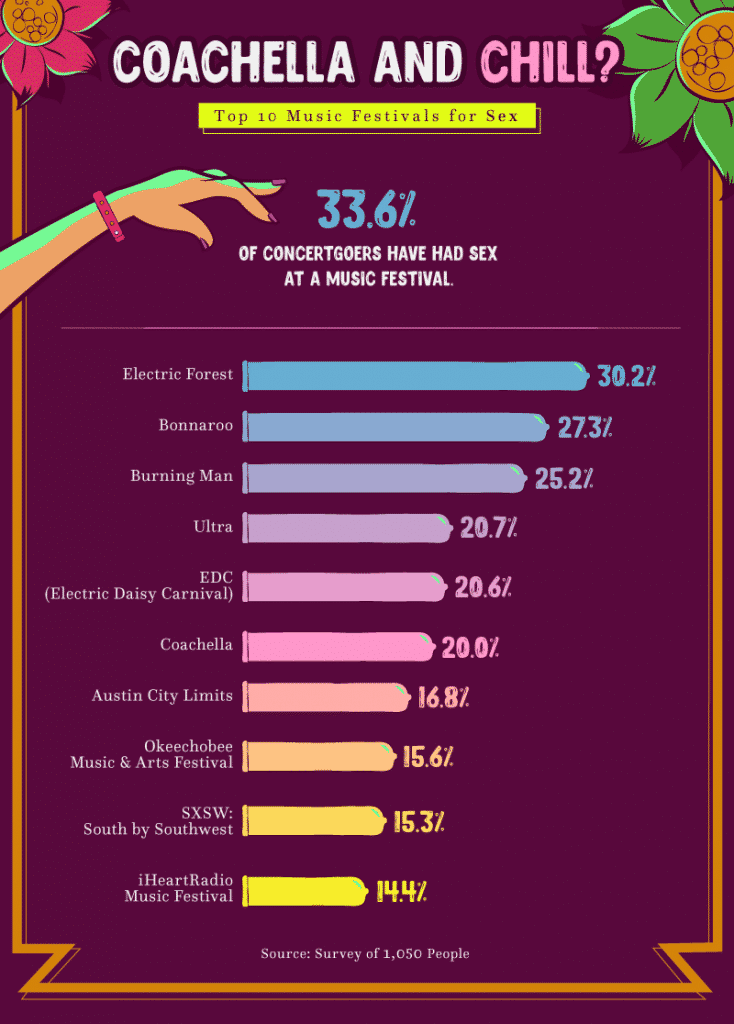 Which Festivals are the Most Promiscuous?
We're gonna go ahead and guess from our results that camping makes a huge difference when it comes to the potential for sex. More outdoor spaces = more potential for action. Electric Forest with its jam band and electronic music lineup takes the top spot with over 30% of those attendees saying they'd done the deed there. Next on the list is the epic camping festival Bonnaroo and free-love-friendly Burning Man. Electric Daisy Carnival and Coachella still managed to get a sizable 20% of those who attended in the mood though.
Those on the bottom end of the list – iHeartRadio and SXSW – take place in an arena and a bunch of private venues, respectively, so it's a little harder to sneak off and not get caught by security in the process.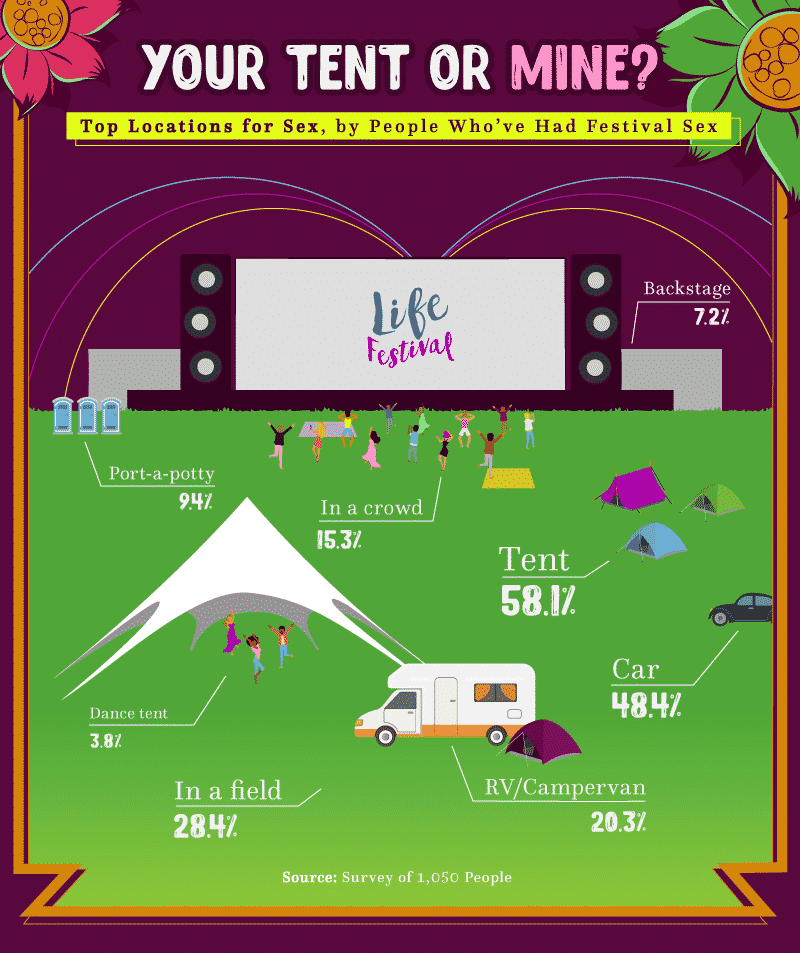 The Most "Popular" Spots on Festival Grounds
Here's where we seemed to spark the media's interest. These are the dirty details everyone wanted to know. It's no surprise that when it comes to music festivals, the most popular spot for sex is in a tent. There's at least a sense of privacy there. Same with cars, RVs, and campervans. Even the middle of a field was a pretty popular locale – must be the wide open spaces and the excitement of doing it outdoors where you can still hear the music, we guess! And some of you guys are just freaks because doing it in the middle of a crowd was a preferred spot for 15% of our respondents.
But the thing that the people of the Internet couldn't seem to wrap their heads around was the fact that 9.4% of festivalgoers reported having sex in a porta-potty! That stat alone made headlines over at Esquire, Men's Health, Women's Health, SheMazing, and iHeartRadio where they recapped our survey's results. Hey, believe it, folks!
Our survey was featured on The Real too, and the ladies over there got a real kick out of these stats. One of them even admitted to a little porta-potty action herself! (Watch the clip – it's great!)
Bustle also broke down our results with some nice little festival-vibey GIFs.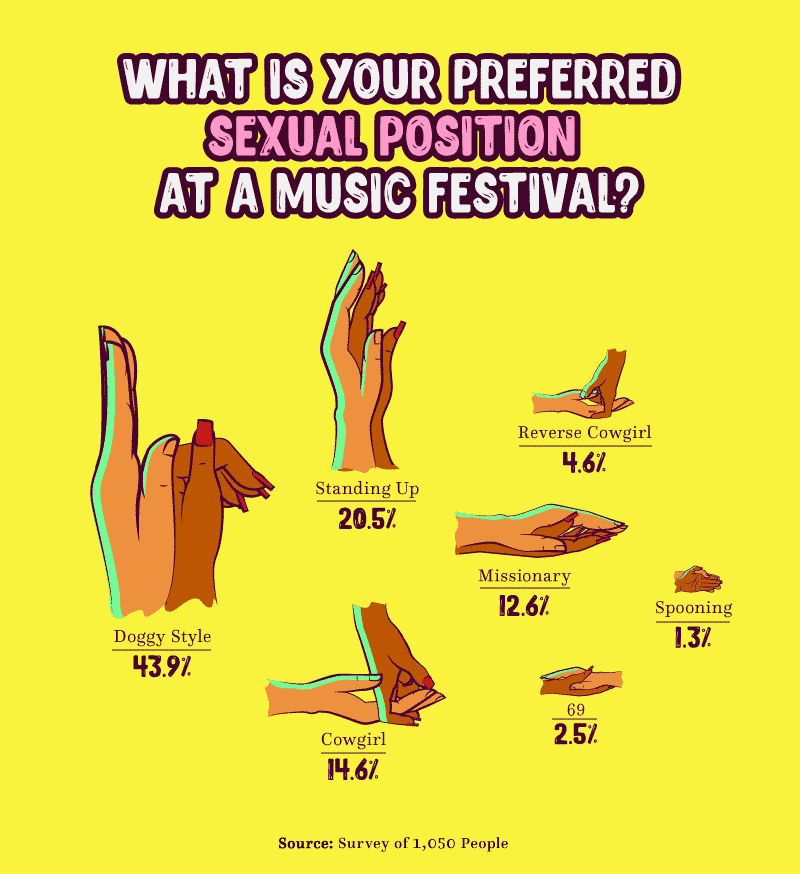 What About Positions?
Yeah, we went this far. We asked those festivalgoers who'd had sex at festivals what their preferred position was.
It could be the need to be quick and discreet, but doggy style won out (by far) as your fave position, and standing up beat out traditional missionary by a long shot too. 
We even asked respondents for some of their wildest tales of festival sex, and they were happy to comply. The Daily Star broadcasted a few of them on their site, but we won't relay the raunchy details here. You can read those stories on the actual survey (where we asked about oral sex too). Head on over and check out our full survey on promiscuity at music festivals.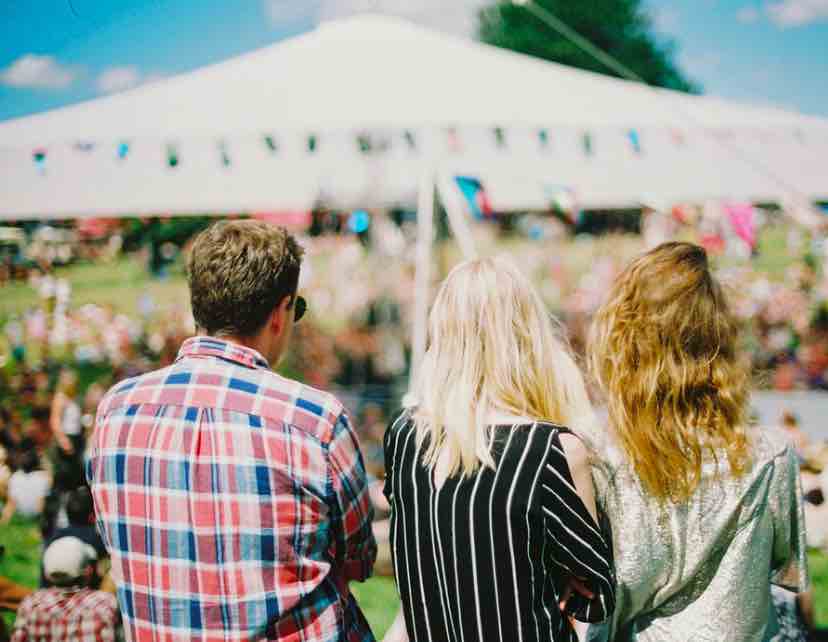 As a Fan, We Want You to Be Safe
These sexual stats are fun and all, but first and foremost, we want fans to be safe and respectful. Have a great time, do what you do, but remember that consent is key. No matter what sort of substances are flowing or how great the band is, check to make sure your partner is feeling the hookup as much as you are. Communicate with each other. While you're having a great time at these festivals this summer, be sure to look out for your friends and yourself.
Need tickets to this summer's best music festivals? 'Course you do! TickPick has the cheapest tickets to music festivals all over the country… with no fees! Shop our music festival tickets now.