From K-pop to emo rap and everything in between, your taste in music is often considered an extension of your personality.
Some genres may surprise you in terms of the personality traits they often reflect. Research suggests heavy metal fans are often gentle and creative; country music fans are known for being hard workers; and hip-hop fans are often extroverted with high self-esteem.
So, what does your taste in music potentially have to do with the way you drive? That's what we wanted to find out from our survey of over 950 music fans. Read on as we discover which music genres are most likely to influence road rage, speeding, reckless driving, and even sexual encounters.
Musical Impact
We've all been there: You find yourself sitting in bumper-to-bumper traffic. It's enough to drive anyone insane (no pun intended), and it's just one scenario that can lead to road rage. In fact, roughly 80% of drivers have reported feeling some form of aggression while driving.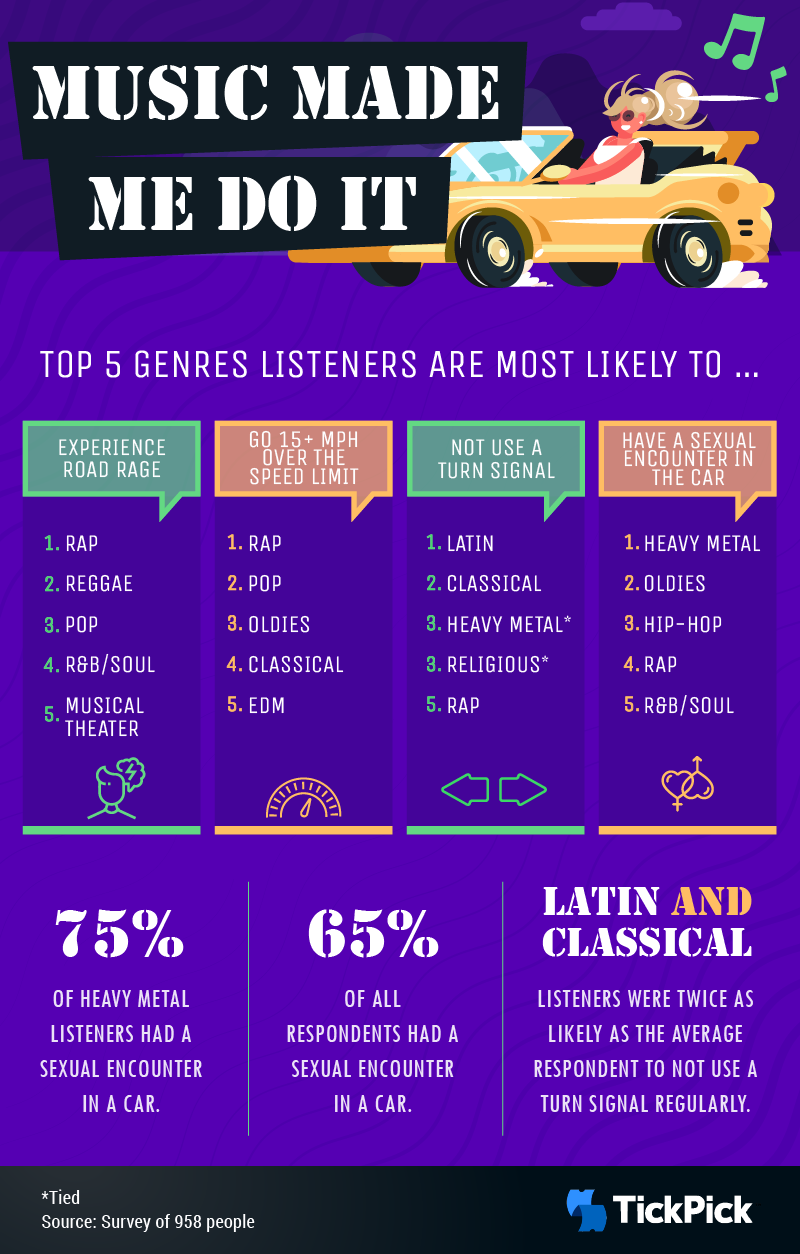 According to our survey, those who listened to rap music while driving were the most likely to experience road rage, followed by fans of reggae, pop, and R&B or soul. Rap fans were also the most likely to admit to going at least 15 mph over the speed limit, followed by pop and oldies fans.
Aggressive or reckless driving can take many forms, and fans of Latin and classical music were twice as likely as the average respondent to regularly not use turn signals. Meanwhile, fans of heavy metal were the most likely to have sexual experiences in their car, followed by oldies and hip-hop fans.
Volume Up
Keeping the radio on or playing your favorite playlist while driving can help to pass the time, but it may also be a distraction. The more energy you spend on what's coming through the speakers, the less bandwidth you may have to focus on the task in front of you. In much the same way that having prolonged conversations with passengers can be a distraction while driving, loud music interferes with our ability to concentrate on our surroundings.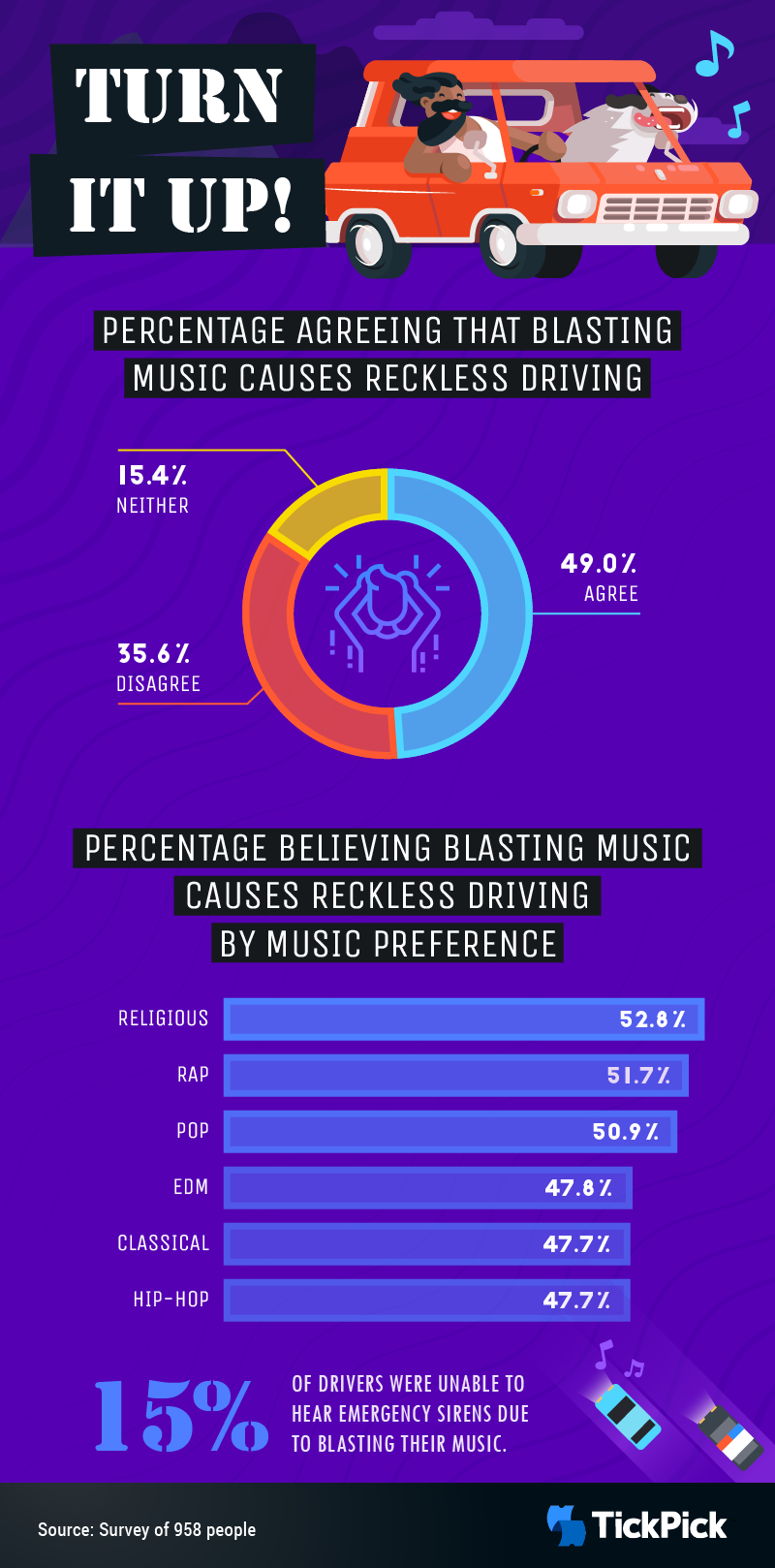 Nearly half of respondents believed playing very loud music caused them to drive more recklessly. However, more than 1 in 3 drivers disagreed that loud music caused them to drive recklessly, and another 15% were unsure if music volume had any impact on their driving.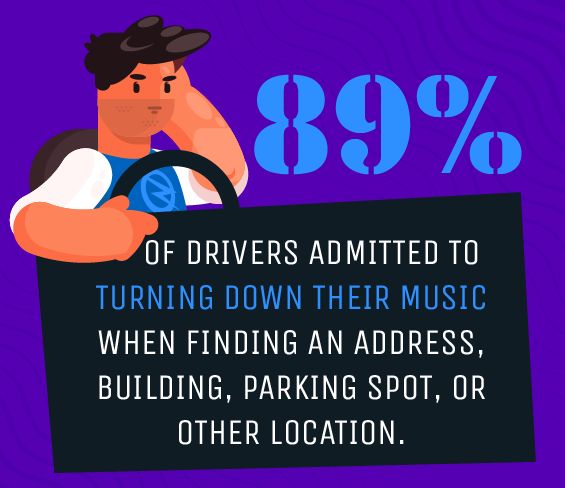 Fans of religious music (53%) were the most likely to believe that playing loud music caused them to drive more recklessly, followed by rap fans (52%), pop fans (51%), and those who preferred electronic dance music (EDM) at 48%. Overall, 15% of drivers admitted to not hearing sirens because they were playing music too loud in the car.
Annoying Passengers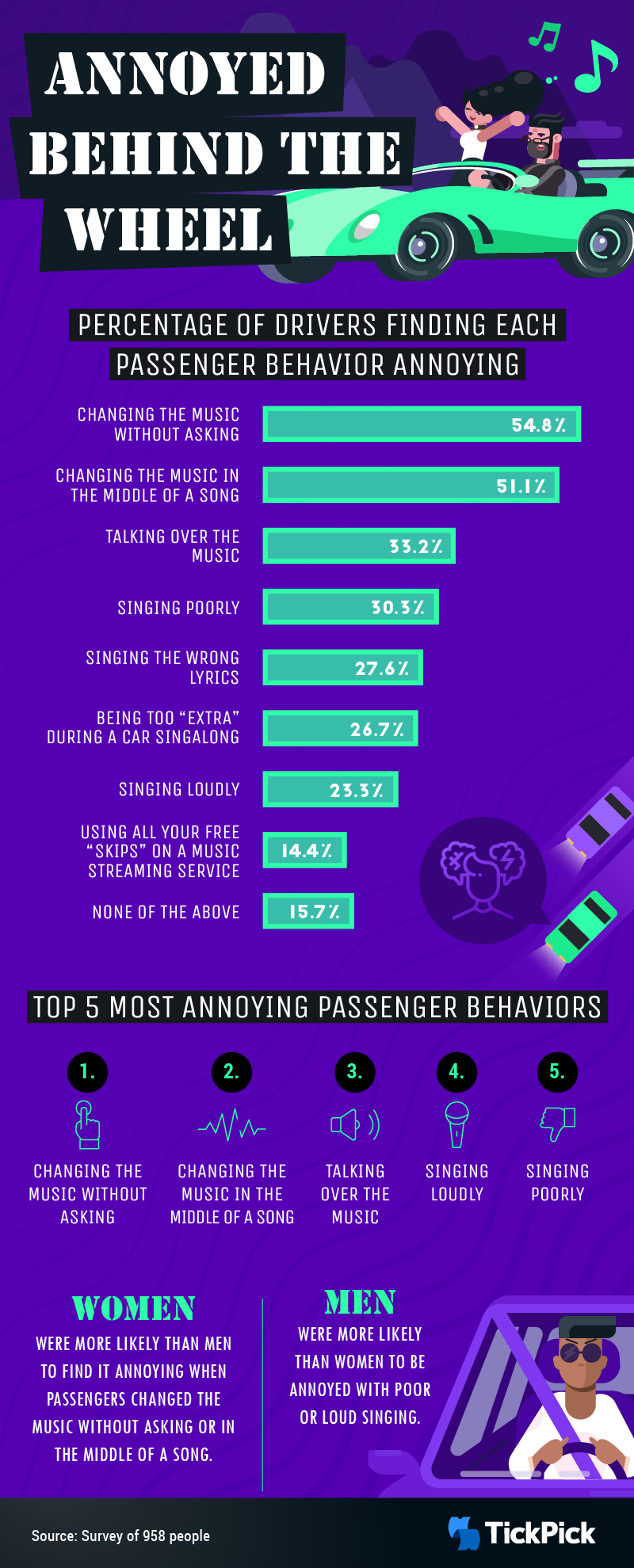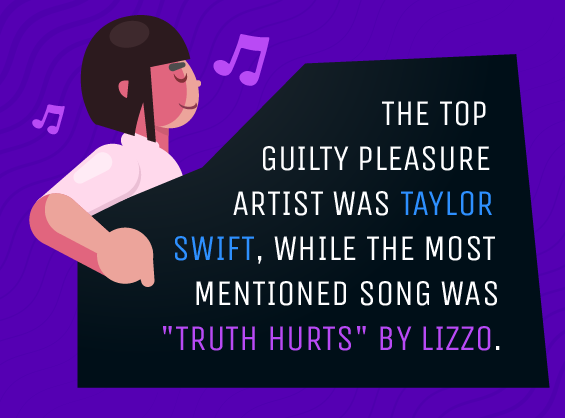 Almost 55% of people believed passengers changing music in the car without asking was the most annoying behavior. Changing the track in the middle of the song was also considered highly annoying (51%), followed by talking over the music (33%) and singing poorly (30%). However, women were more likely than men to find it annoying when passengers changed music without asking or in the middle of the song.
Intimate Moments Behind the Wheel
You can't always help yourself when the mood strikes, but it's important to remember there are laws regarding having sex in a car. In addition to worrying about leg cramps and carpet burns from the seats, having sex in public is illegal.

However, if you can't help yourself, you shouldn't leave the music up to the radio. R&B or soul was the most likely to set the mood (28%), followed by classic rock (27%), alternative music (20%), and hip-hop (20%).
Some respondents said they couldn't even wait to park the car before doing the dirty: 36% of men acknowledged receiving oral sex while they drove, followed by 32% who received hand stimulation. While less common, 23% of women reported receiving hand stimulation while the car was in motion. A solo trip didn't change much: 23% of men and 14% of women admitted to masturbating while driving.
Setting the Mood
Music provides the soundtrack to our lives. And despite being a potential distraction, the same could be said for the music we listen to in the car. While some genres (particularly hip-hop) are more likely to be linked to road rage and speeding than others, playing music while behind the wheel may help to set a positive mood and provide entertainment during the drive.
If you want to focus solely on the music, though, there's no better experience than seeing your favorite band live. At TickPick, the buyer always comes first. We offer access to all of your favorite events, from live music to sports and beyond, and we never charge a buyer's fee – which means you save an average of 10% to 15% on every purchase. Ready to rock out? Visit us at TickPick.com to secure your seats today.
Methodology and Limitations
To gain the data presented in the above study, we conducted a survey of 958 people with a valid driver's license who regularly drive to learn more about their driving habits and music tastes. Of those 958 people, 512 were men (with a margin of error of 4%), 445 were women (with a margin of error of 5%), and one chose to identify as neither gender.
All data reported in the above study rely on self-reporting, which can be host to issues such as telescoping and exaggeration. An attention-check question was included in the survey to ensure that only respondents who paid full attention were allowed to participate in the survey.
Fair Use Statement
Like the tune of our study? Share these results with your readers for any noncommercial use by including a link to this page so that they have full access to our findings.