Music holds a central place in American political history. Consider the iconic protest ballads of the 1960s or Bill Clinton's use of Fleetwood Mac to inspire campaign trail optimism. Then there's Ronald Reagan's infamous misinterpretation of "Born in the U.S.A.," in which he mistook Bruce Springsteen's irony for pure patriotism. More recently, President Obama had plenty of celebrity help on the stump in 2008 and 2012, bringing out big guns like Jay-Z. Hillary Clinton attracted endorsements from superstars such as Beyoncé and Katy Perry, while the Trump campaign reportedly struggled to attract marquee acts for the 2017 inauguration.
But if many of America's most visible artists have utilized their platforms to express political opinions, do fans also divide along these ideological lines? Does musical taste correlate with certain political perspectives, or is the way we select genres and artists unrelated to our beliefs? We set to find out, polling over 1,000 Americans about their preferred music and political opinions. Keep reading to see what our findings suggest about politics and the tunes and concerts we choose to attend.
Party Playlists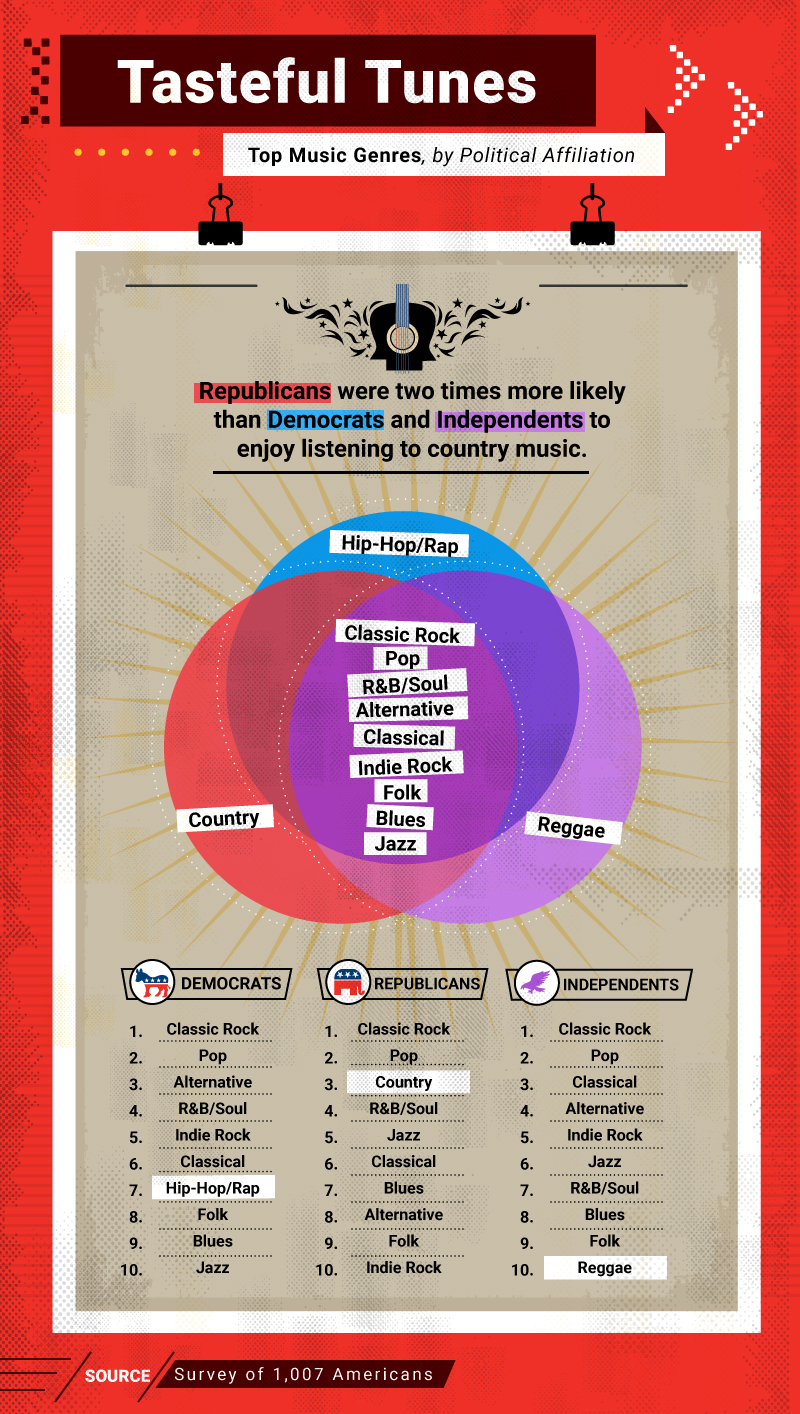 For a couple of America's most popular music genres, enjoyment seems to transcend political divisions. For Democrats, Independents, and Republicans alike, classic rock was the most popular music overall. That finding may be music to the ears of rock devotees everywhere, defying recent research suggesting rap has overtaken the genre. Pop music took second place among all political stripes, further indicating consensus across party lines.
But deep differences were also visible in our party comparisons. Republicans, for example, were twice as likely as Democrats and Independents to listen to country music. Country artists have always had a complicated relationship with the genre's conservative fan base: The Dixie Chicks faced massive backlash for criticizing President Bush in 2003. Democrats, by contrast, were the only group for whom hip-hop ranked among the top 10 genres. In recent election cycles, the support between Democrats and hip-hop artists has been decidedly mutually: In 2016, Clinton endorsers included Snoop Dogg and 50 Cent.
Artists Loved Across the Aisle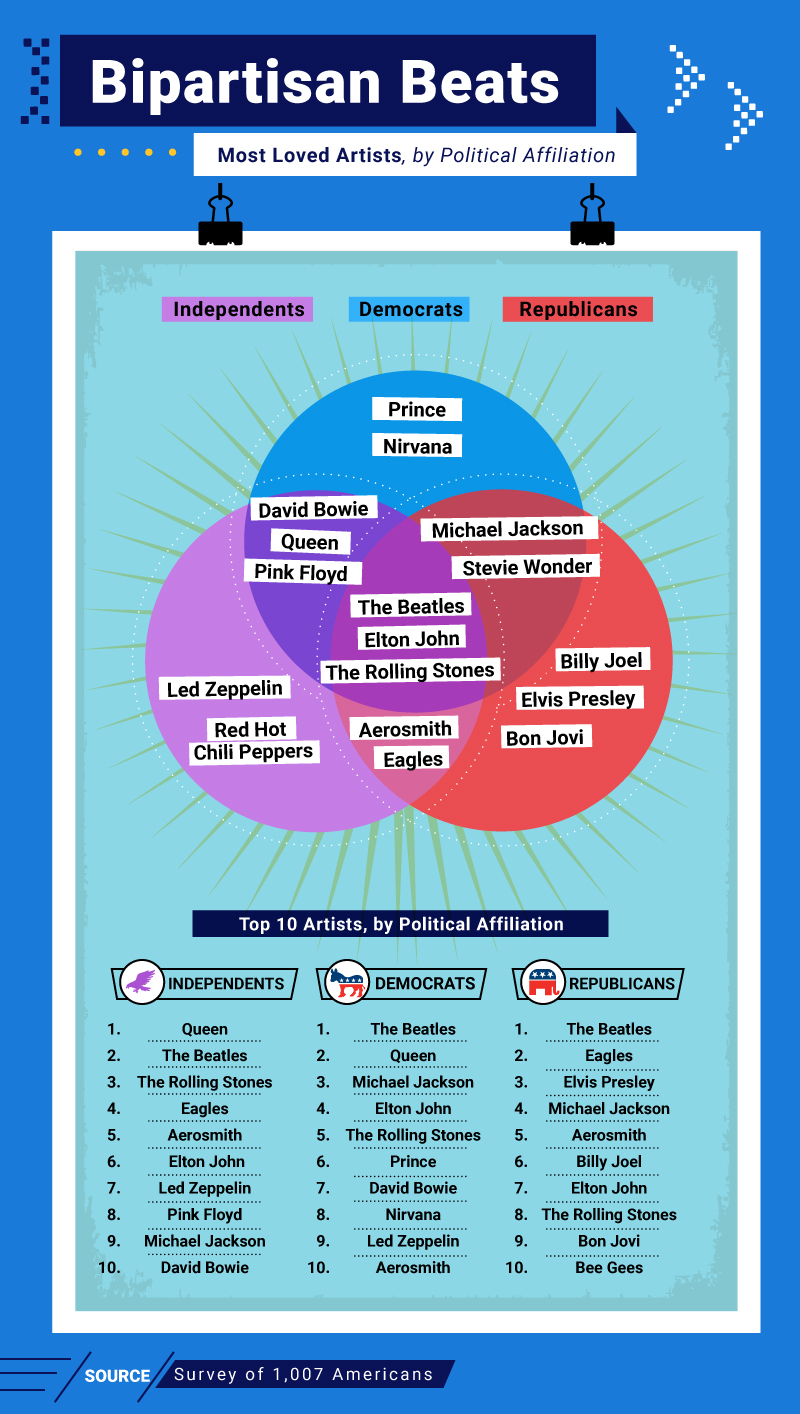 If rock garnered the most appreciation from all political affiliations, the nonpartisan love continued for many of those genres' most prominent practitioners. For Republicans and Democrats alike, The Beatles were the most loved musical act – the group's counterculture messaging notwithstanding. Independents were slightly more inclined to other members of the rock pantheon, including Queen and The Rolling Stones. Elton John was beloved by members of all parties as well, although his relationship with President Trump has been quite a rollercoaster ride. Once friends, the two have had a strained relationship since Trump's political ascendancy – and the president's use of the term "Rocket Man" to goad Kim Jong Un probably hasn't helped.
Each party had favorites that other groups did not share, however. For Democrats, these artists were Prince and Nirvana; Independents had a special preference for the Red Hot Chili Peppers and Led Zeppelin, and Republicans favored Billy Joel, Elvis Presley, and Bon Jovi. In some cases, these loves seemed in direct contradiction of the performer's political views: Bon Jovi, for instance, memorably called President Trump a liar during the 2016 campaign.
It's worth asking if the music industry's recent drift into streaming has broadened our musical horizons: With millions of songs now available to us instantly, are we venturing beyond our old favorites?
Gun Control Support vs. Genre Preference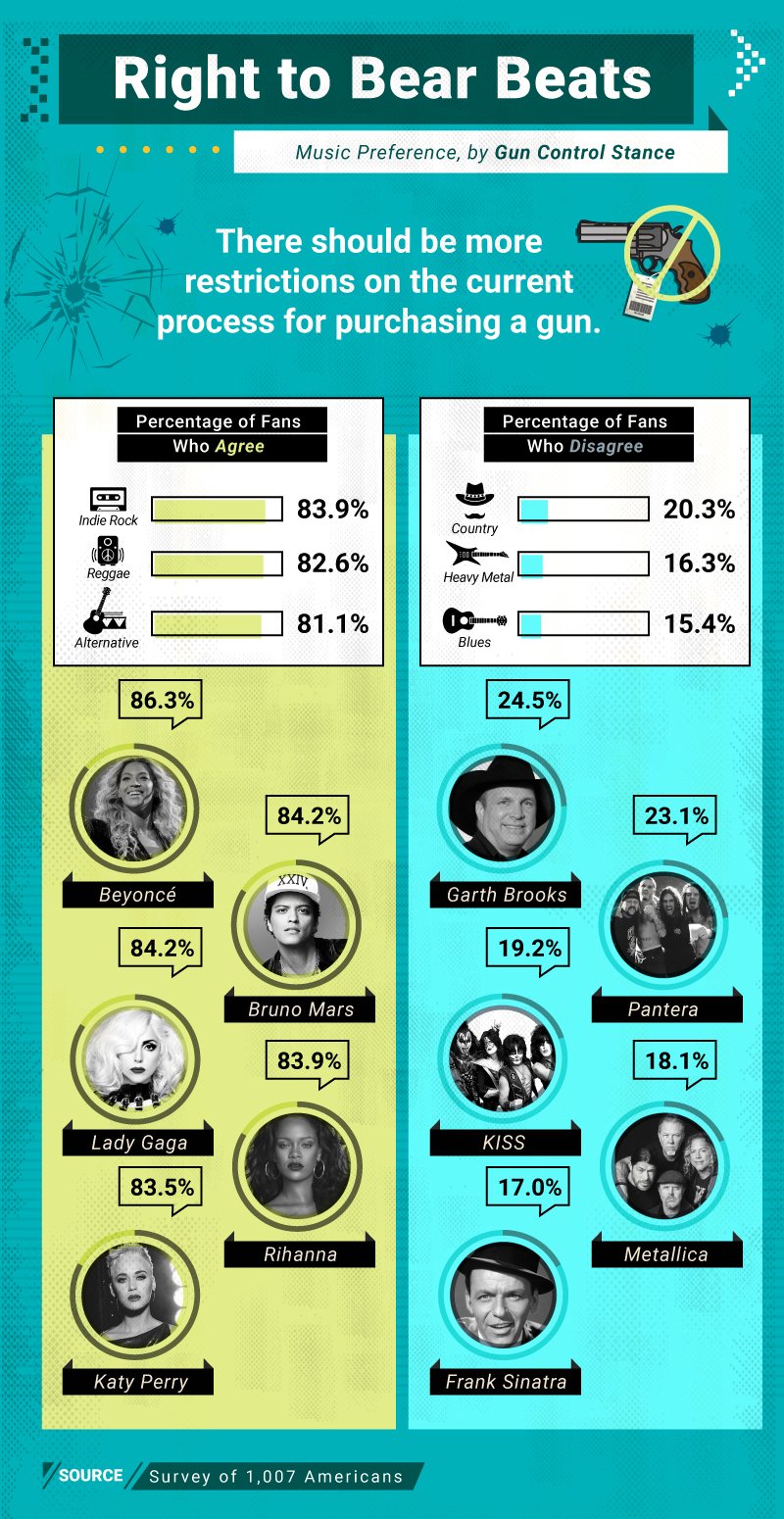 Turning to more specific political issues, we found which genres and artists are most beloved by supporters (and opponents) of increased gun control. Indie rock, reggae, and alternative fans were the largest proponents of greater barriers to gun ownership. Conversely, country, heavy metal, and blues listeners were most likely to oppose greater restrictions on gun purchases. Although country stars have historically been outspoken in their support of the Second Amendment, the mass shooting at a festival in Las Vegas has shattered that consensus. Interestingly, Eagles of Death Metal frontman Jesse Hughes recently took the opposite view, suggesting gun control had not prevented casualties when terrorists attacked their 2015 show in Paris.
Considering fans of individual artists, Garth Brooks' following was most decidedly opposed to increased gun control, although the singer did release an emotional video in solidarity of victims following the shooting in Las Vegas. On the opposite end of the spectrum, Beyoncé fans were the greatest gun control advocates. Queen B has previously joined with other celebrities to urge greater action following mass shootings.
The Border Wall and Beats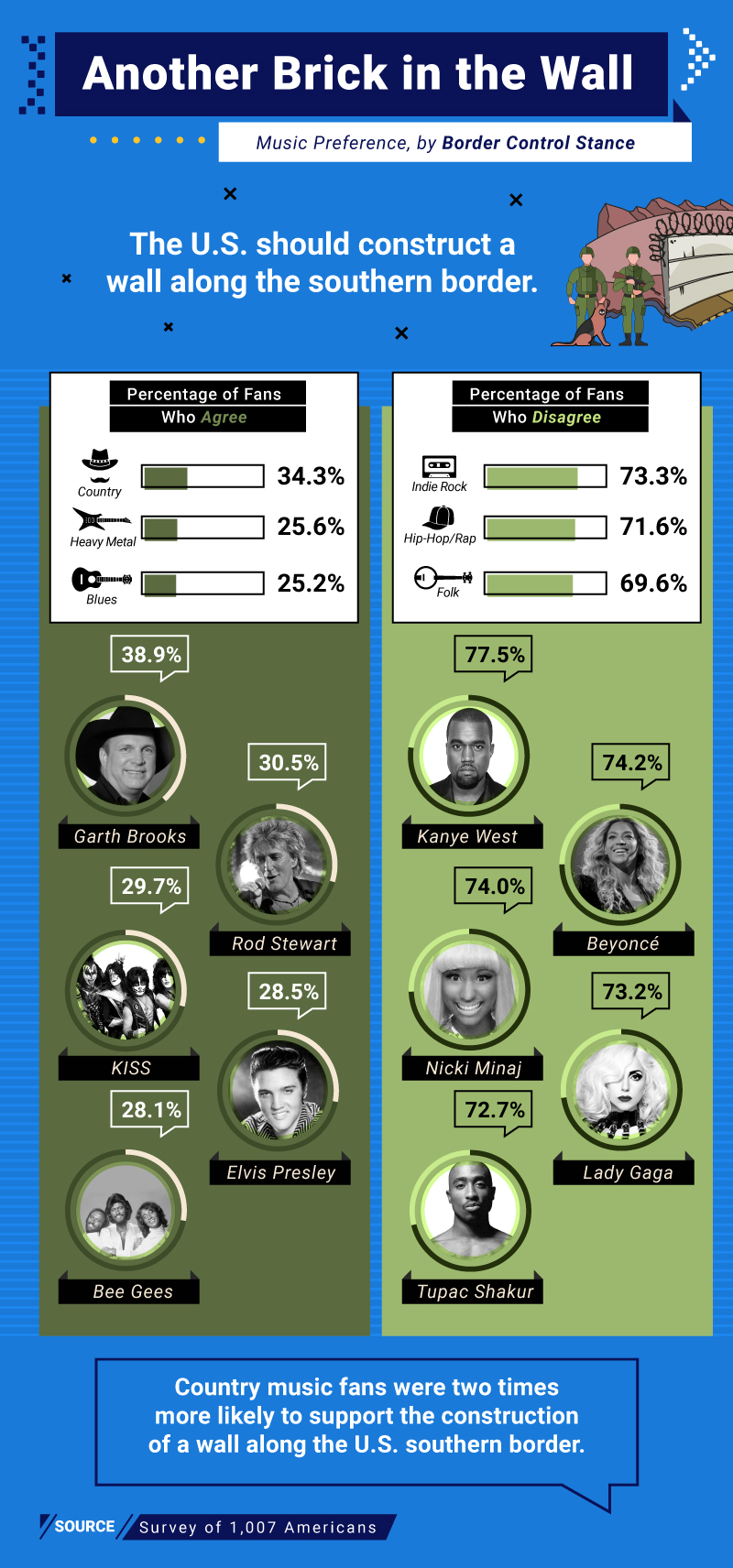 Country music, heavy metal, and blues fans were again most likely to support the conservative end of this debate: The construction of a wall along the southern border. Relative to national support for the wall, which has hovered at slightly more than a third of Americans, our numbers suggest music fans oppose the measure. This opposition was most pronounced among indie rock listeners, followed by devotees of hip-hop and folk music.
While Brooks fans again proved most supportive of President Trump's signature policy suggestion, Rod Stewart lovers were second most likely to support the wall. That's an interesting finding, given the fine line Stewart has walked previously concerning the president, calling him a "friend" while doubting he's well-suited to the office. Kanye West fans, by contrast, were most opposed to the wall, despite the artist's 2016 diatribe in which he admitted he did not vote, but would have cast his ballot for Trump if he had.
Approval of Trump vs. Favorite Tunes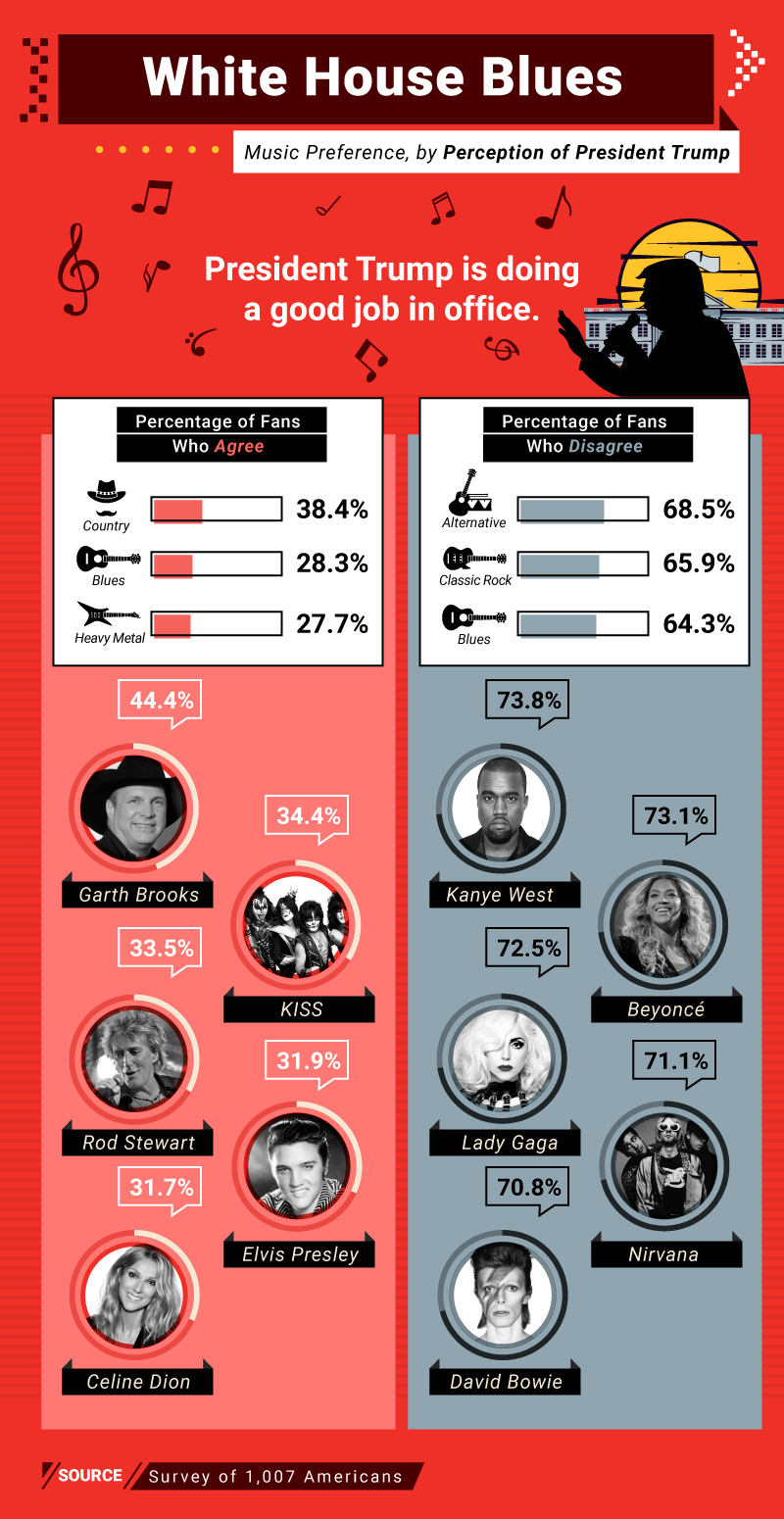 Approval of President Trump's job performance was greatest among fans of the same three conservative-leaning genres: country music, blues, and heavy metal. Interestingly, however, blues fans were also among the most likely to disapprove of his presidency, indicating deep divisions within the genre's listeners. At least 65 percent of alternative and classic rock fans also disputed the claim that Trump was doing well as president.
Fans of Kanye West and Beyoncé were least likely to approve of Trump's job performance, followed by listeners of Lady Gaga. The "Poker Face" singer has been among the president's most outspoken critics, suggesting Trump and Republican legislators have "blood on their hands" for failing to act following the Las Vegas concert shooting. Garth Brooks and KISS fans tended to have a rosier view of Trump's presidency. Although he's steered clear of endorsing Trump, KISS singer Gene Simmons has marveled at his political dynamism in the past.
Legal Weed vs. What We're Playing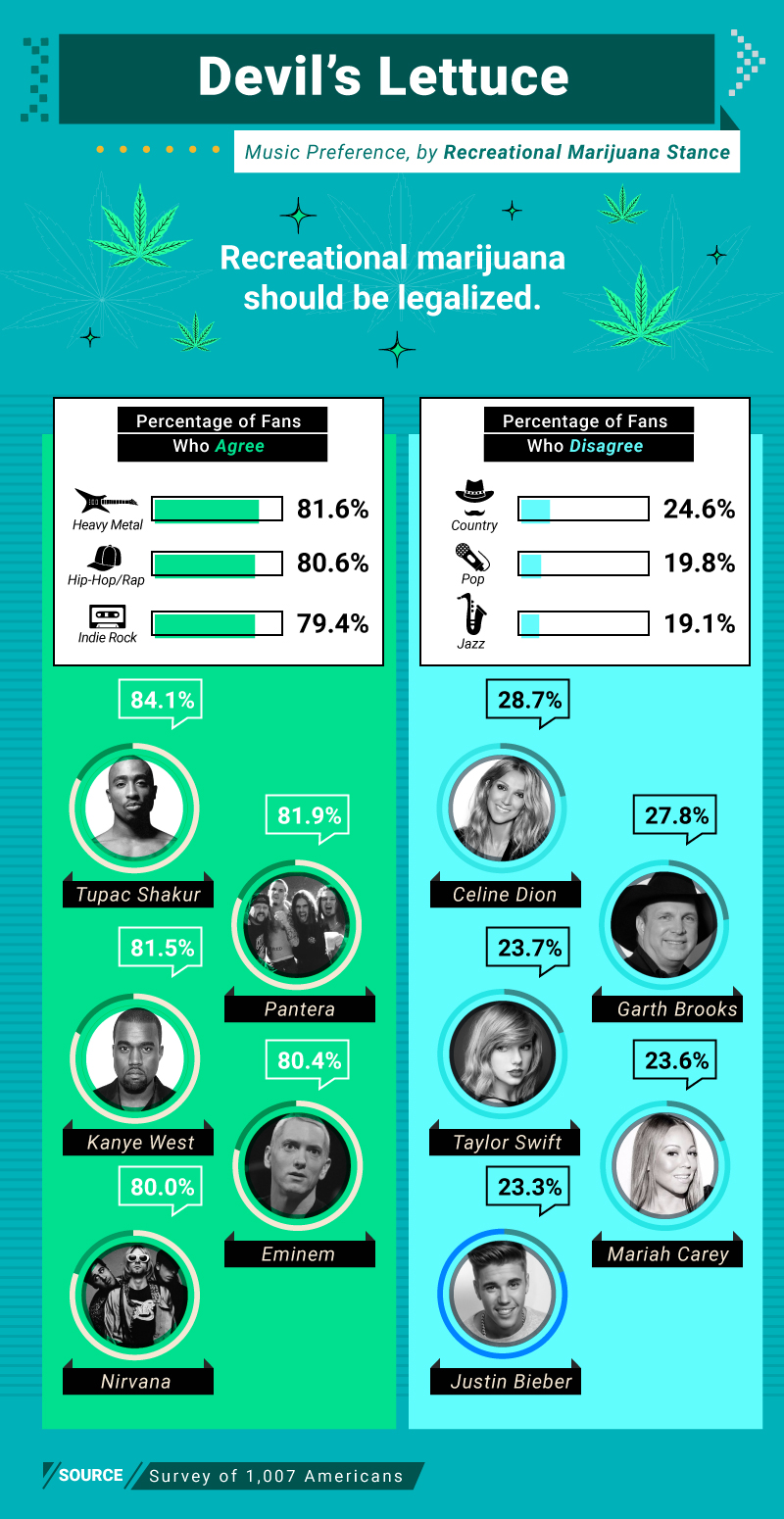 The issue of marijuana has always scrambled typical political affiliations: Reliable Democratic supporter Snoop Dogg previously endorsed Libertarian Ron Paul based on his cannabis views. Our findings suggest the issue does the same for fans: Heavy metal supporters, who typically aligned with conservative positions on other topics, were most likely to support legalized weed. They were followed closely by hip-hop enthusiasts and indie rock listeners, demonstrating an eclectic array of tastes among legalization supporters.
Concerning fans of individuals, Tupac listeners were most likely to support legalization, followed by fans of heavy metal jammers Pantera. On the opposite side of the issue, more than a quarter of Celine Dion listeners thought recreational cannabis should remain illegal. That's interesting in light of Canada's choice to legalize pot nationwide in 2018 – the singer is one of our Northern neighbor's most beloved cultural exports.
Musical Taste and Marriage Equality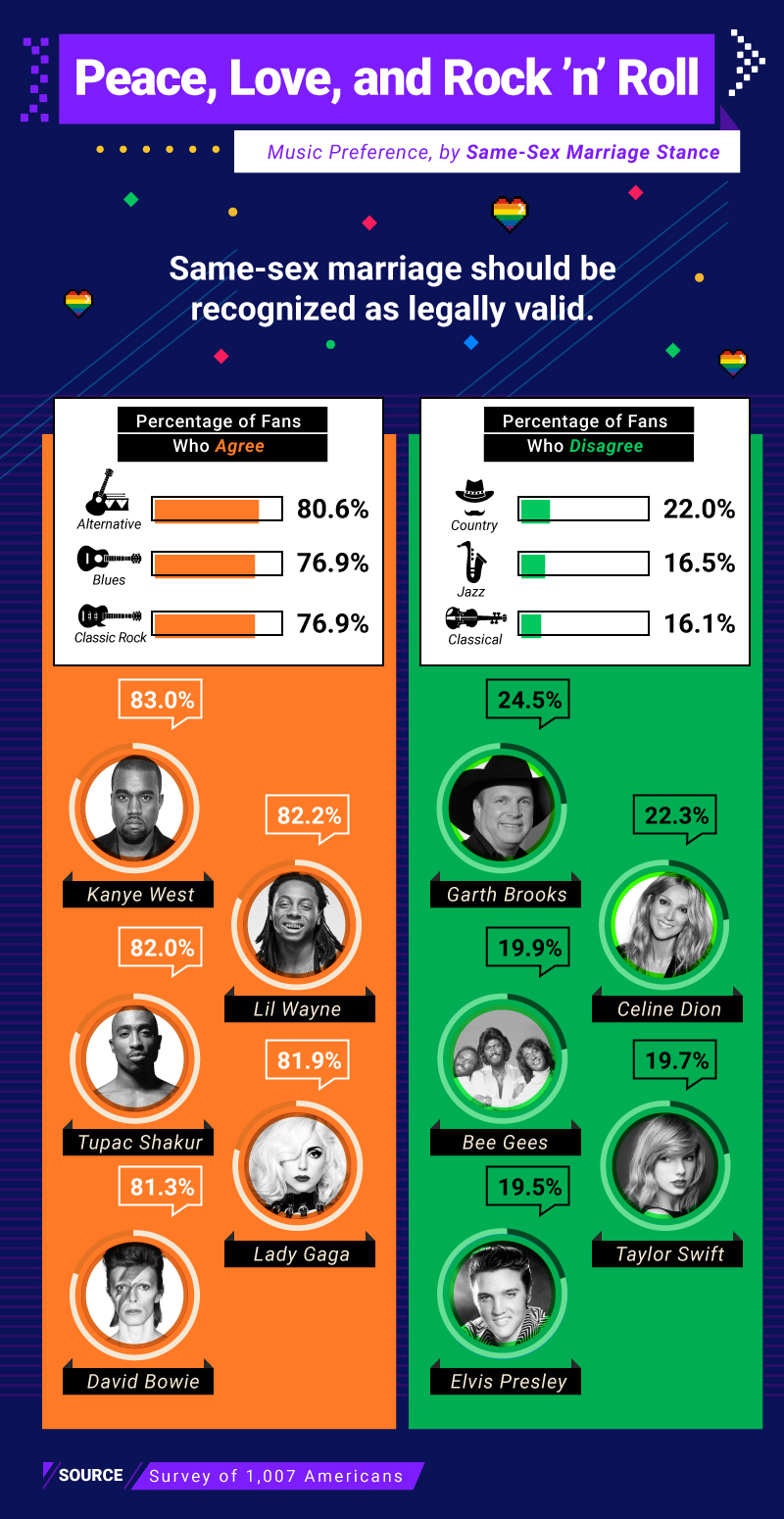 Musicians have long been on the forefront of LGBTQ advocacy, and support for same-sex marriage was particularly strong among some fans. Alternative, blues, and classic rock listeners were all overwhelmingly aligned with marriage equality, with more than three-quarters of these genres' fans stating same-sex marriage should be legally recognized. Opposition to this sentiment was greatest among country fans, which may relate to this genre's emphasis on Christian verbiage and themes. But many country stars have sought to change this dynamic in recent years, with advocates such as Carrie Underwood leading the way.
Interestingly, fans of Kanye West, Lil Wayne, and Tupac Shakur were the most supportive of marriage equality. These findings are particularly striking given rap's deep history of homophobia, although West was among the first to criticize that tradition. Celine Dion fans, conversely, were among the most likely to be opponents of same-sex marriage, despite her strong and repeated support for the LGBTQ community.
Entertainment for Every Perspective
Our findings suggest strong associations between certain political beliefs and the artists and genres we enjoy. But don't avoid whole areas of music simply because they're beloved by those with different political views. After all, all artistic taste is deeply personal; what sounds great to each of us can't be explained by ideology alone. Plus, delving into a new and different genre could prove enlightening. You might just come to understand perspectives you hadn't appreciated before and add some new tunes to your playlist in the process.
Whatever your favorite music sounds like, you can't miss the chance to see it live. That's where TickPick truly delivers for fans, with no gimmicks or hidden fees to get between you and the artists you love. To find surprisingly fair prices for shows in your area, explore our site today.
Methodology
For this project, we collected responses from 1,007 Americans through Amazon's Mechanical Turk. The survey asked questions about political positions on specific policies as well as music preferences. Respondents were excluded if they were clearly not paying attention (such as failing an attention check question or submitting inconsistent data throughout the survey). Hypotheses were then statistically tested.
The data presented in this study rely on self-reporting. There are many issues with self-reported data. These issues include but are not limited to exaggeration, selective memory, telescoping, and attribution.
Sources
Fair Use Statement
You're welcome to share our work with your audience for noncommercial purposes, including our images. Simply link back to this page to attribute us appropriately. After all, no matter your politics, we can all sing along with "sharing is caring."