Music festivals can yield a familiar cast of intoxicated characters, from the ecstasy-addled EDM enthusiast to the stoner falling asleep on his feet in the crowd. After all, those who trek to these music meccas expect an epic party, even if they steer clear of certain substances themselves. Among the massive crowds, no one's exactly shocked to see drunken bros stumbling towards the stage or dancers whose moves seem distinctly hallucinogenic. However, a majority of music festivals preach safety and moderation to attendees, but the inconvenient truth is clear: Getting buzzed is part of their appeal.
Are drugs and alcohol actually essential to the festival experience? Do the majority of attendees get hammered, or is that only the experience of a rowdy few?
We decided to find out, surveying 1,000 attendees of well-known music festivals regarding their own intoxicating experiences. Our results reveal how common various kinds of drugs are at each festival and which events are most closely associated with certain substances. Keep reading, to learn how different musical festivals get wild.
Substance Of Choice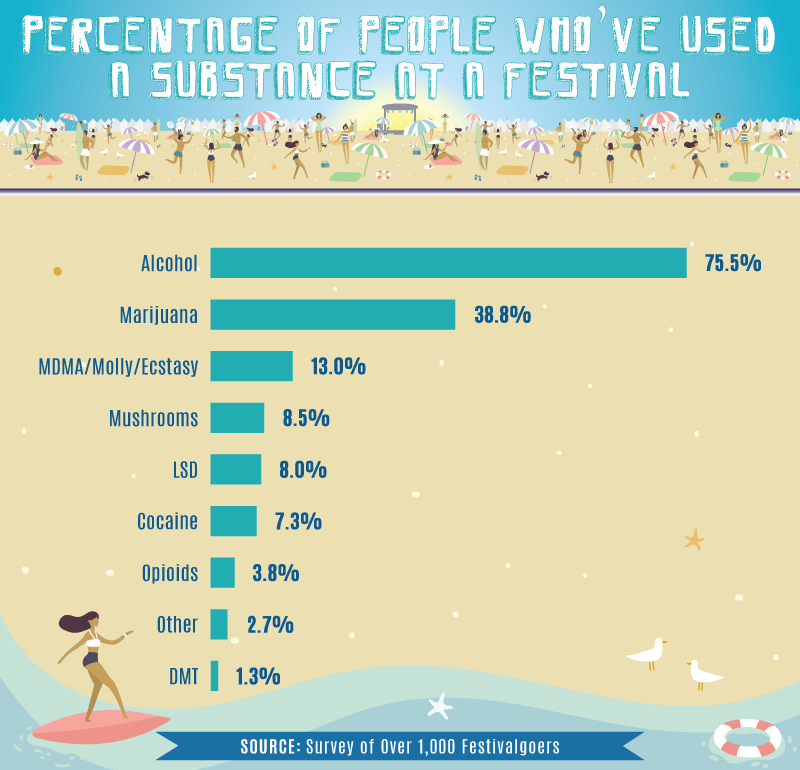 In terms of methods used to get loose, the age-old approach topped all others: No substance surpassed booze in popularity. More than three-quarters of participants reported imbibing alcohol while attending a festival, roughly double the percentage of participants who had consumed any other substance. Of course, no one wants to miss an epic set waiting in the line for the bar (not to mention steep festival drink prices), so strategies for sneaking in booze have gotten pretty creative in recent years. In 2017, one guy buried vodka on the grounds of the Electric Zoo festival three weeks in advance. We salute your commitment, sir and hope you shared with any friends who helped you dig it up.
More than a third of respondents reported smoking pot at a festival, which may come as no surprise to those familiar with the scent of cannabis wafting over the crowd. A smaller but still significant portion reported using harder drugs as well. Thirteen percent of respondents had used MDMA in some form, while hallucinogens such as LSD or mushrooms clocked in at roughly 8 percent apiece. Or at least portions of respondents thought they'd consumed these substances pills sold at these events are notoriously inconsistent in their contents.
Getting High Stageside?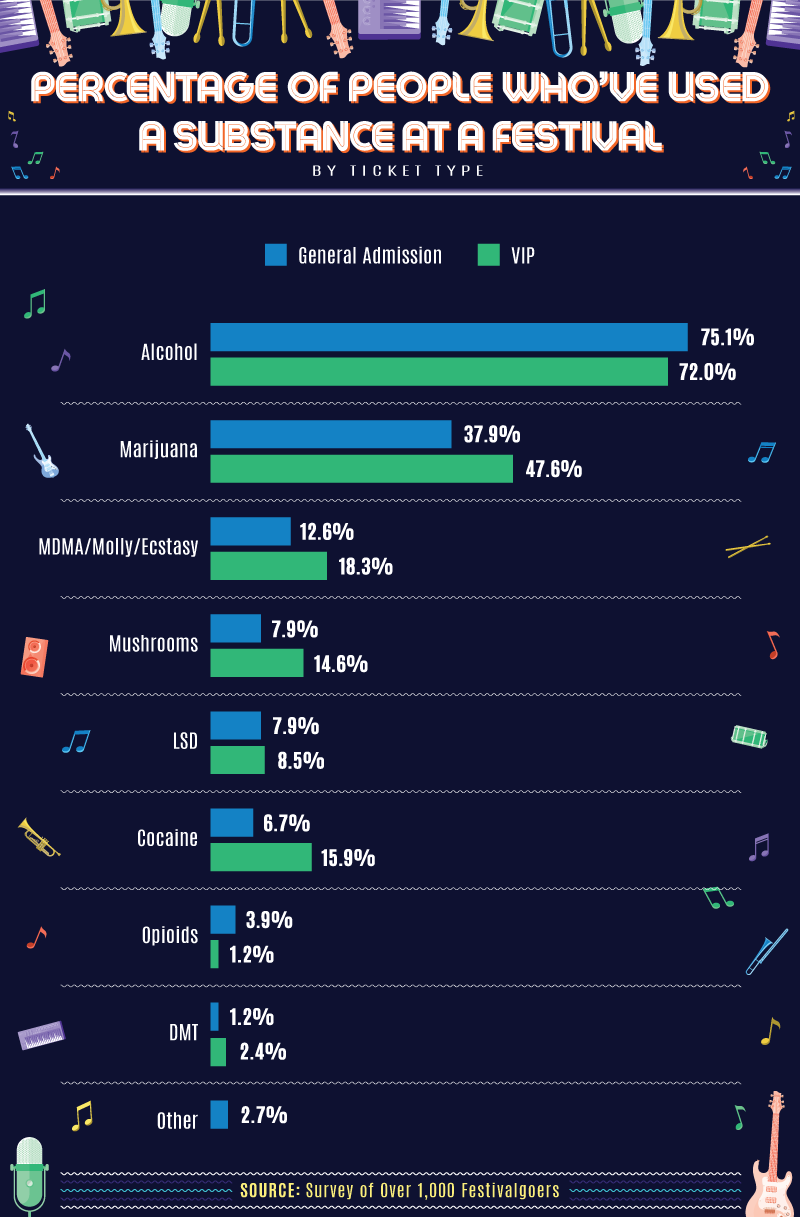 There's some debate about the optimal festival experience: Slum it up with the raucous crowd, or keep things refined with VIP privileges? Whichever route you prefer (if you have the funds to choose at all), our data suggest you may find a slightly boozier vibe outside the VIP area. A larger portion of general admission attendees consumed alcohol, a surprising finding given the complimentary booze some VIP experiences entail. Maybe perks like air-conditioned bathrooms are more important to the fancier crowd, or the chance get close to celebs was a more pressing priority than pounding brews.
On the other hand, VIP attendees were significantly more likely to do a range of drugs than those in general admission. From weed to molly, cocaine, and hallucinogens, VIP pass-holders were substantially more willing to indulge than the average festival-goer. One possible explanation for this trend is purely financial; VIP passes can cost a pretty penny, so you can assume that those who purchase the pricier tickets can also afford the substances of their choosing. There was one exception to this trend, however: A larger portion of general admission attendees reported having used opioids.
Imbibing Vibe, by Festival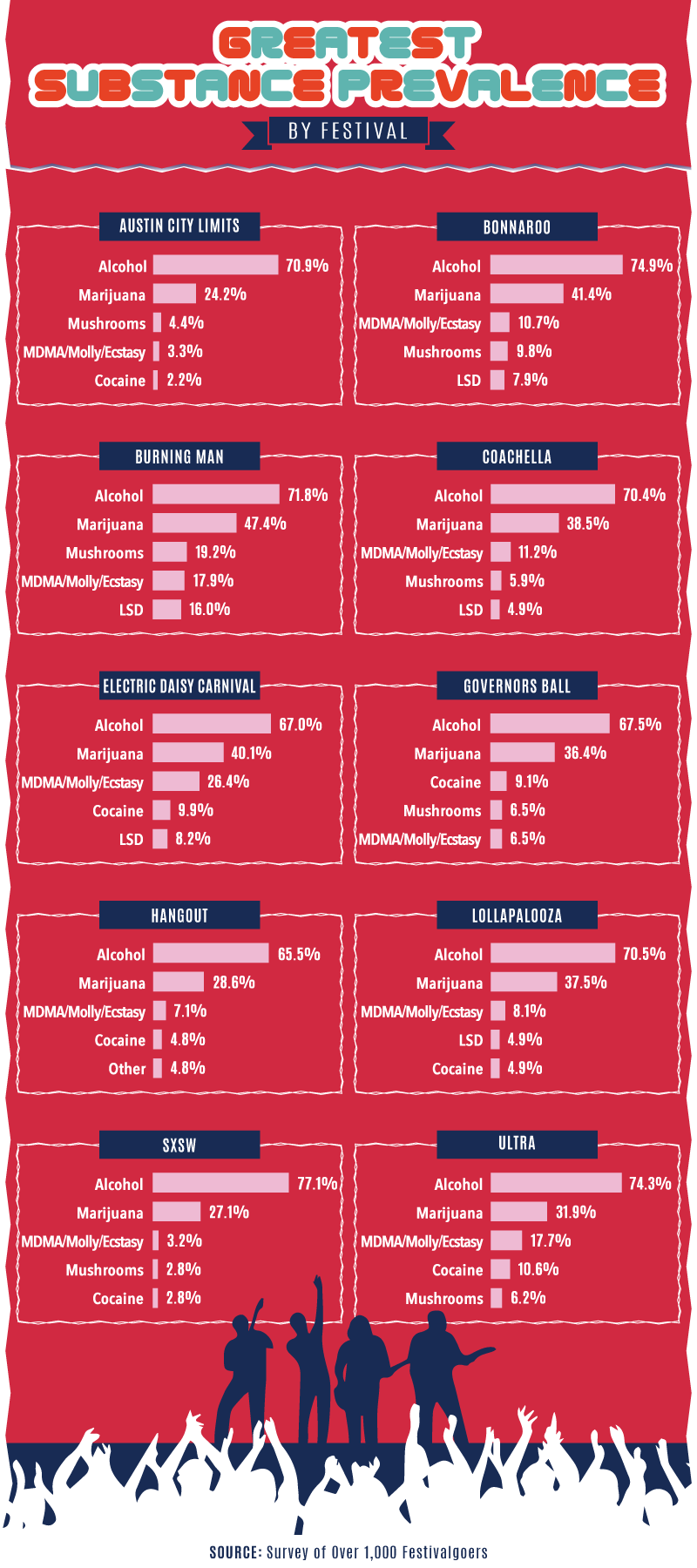 Though alcohol was the leading substance at all festivals we studied, some interesting findings emerged regarding other substances. If you assumed that Coachella would have the highest rate of pot-smoking in cannabis-friendly California, for instance, you might be surprised by our data. The festival has never embraced marijuana and still bans the substance from its grounds despite the state's recent legalization of weed for recreational use. Other festivals lived up to their drug-fueled reputations: EDM meccas EDC (Electric Daisy Carnival) and Ultra had high rates of MDMA and cocaine consumption.
One festival did not seem to discriminate: From pot to LSD, Burning Man had some of the highest rates of drug use around. Perhaps this rate of consumption has something to do with the festival's gift economy,where food, supplies, and even drugs are shared openly without cost. The Nevada gathering' extensive reputation for intoxication precedes it, but organizers are firm on one point: Though pot is now legal in the state, it won't be tolerated by police on the festival grounds. According to our data, however, Burning Man attendees seem pretty unencumbered in getting high.
Top Fests for Each Substance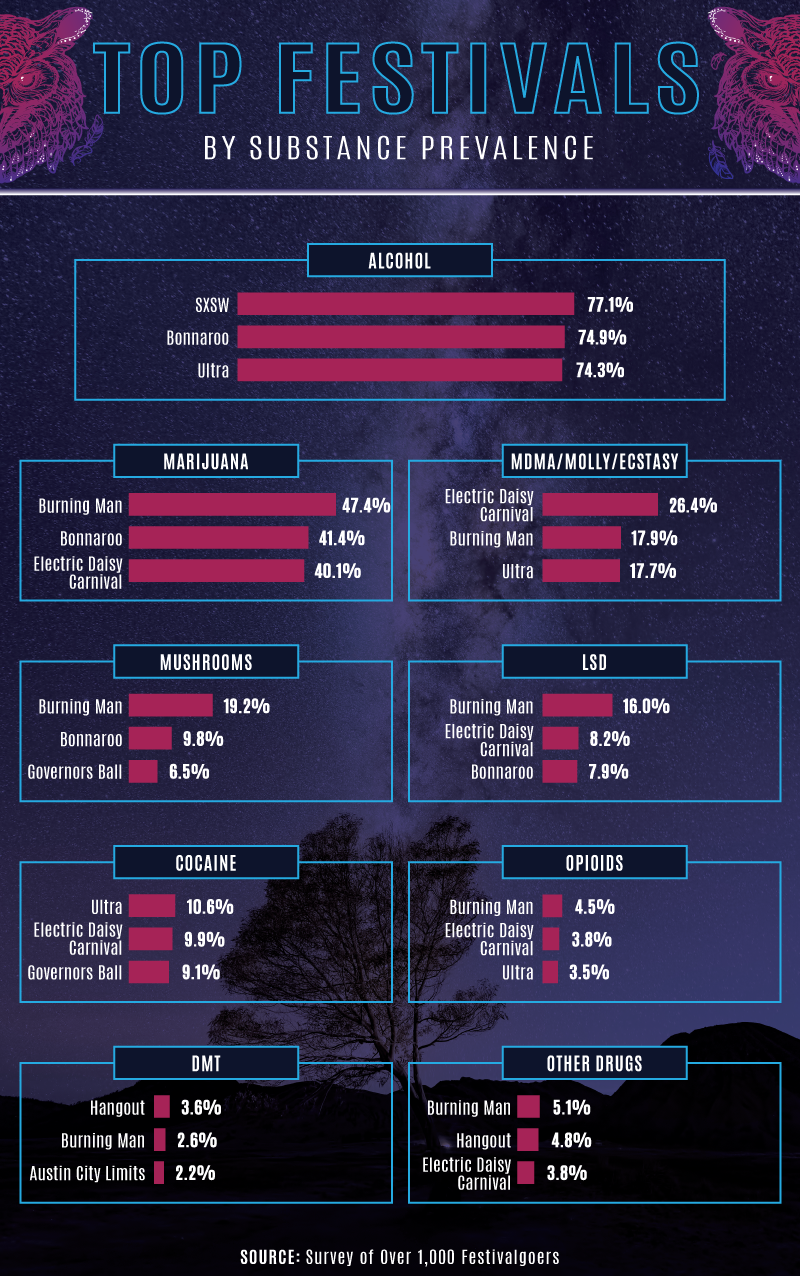 Though no festival has a monopoly on any substance, data suggests some lend themselves to certain ways of getting loose. SXSW, for instance, led all festivals in rates of alcohol consumption fitting for an event that spans dozens of booze-serving venues. Similarly, cocaine was consumed by the largest percentage of Ultra attendees, a finding that may result from a mix of EDM culture and the festival's location. Ultra takes place in Miami, a location with deep historical roots for the drug and a recent resurgence in trafficking.
Geographical differences could not explain some other findings, however: It's hard to know why Alabama's Hangout Music Festival led all others in DMT use, for example. Aside from the drug dominance of Burning Man mentioned earlier, EDC was another leader across several categories, ranking in the top three for a number of substances. The festival has struggled with health and safety concerns stemming from drug use in the past, including more than 1,000 attendees needing medical treatment in 2017.
Maximizing Your Festival Potential
As our data clearly infers, drugs and alcohol have secured a foothold in festival culture nationwide. But despite this culture of collective intoxication, festivals afford singular opportunities to fans ones you don't want to miss because you're too wasted. Don't worry: We're not looking to deliver a moralizing lecture. We simply hope you'll keep safety in mind at the next festival you attend, so you can fully enjoy the experience you came for.
Don't let costs stand between you and your festival dreams either. TickPick is the only ticket marketplace built with fans in mind, so you'll find fair prices with no hidden fees. Our unique bidding system and ticket grading algorithm put you in control of what you'll pay, so you can get the rights seats without the ripoff.
Methodology
We collected 1,015 responses from Amazon's Mechanical Turk. 52.2% of our participants were female and 47.8% were male. Participants ranged in age from 18 to 74 with a mean of 32.4. We excluded any respondent that had not attended at least one of the music festivals we asked about.
The data we are presenting rely on self-report. There are many issues with self-reported data. These issues include, but are not limited to: selective memory, telescoping, attribution, and exaggeration.
No statistical testing was performed, so the claims listed above are based on means alone. As such, this content is purely exploratory and future research should approach this topic in a more rigorous way.
Fair Use Statement
You're welcome to use or share our content and images for noncommercial purposes we're all for staying true to the communal festival spirit. If you do, simply provide a link to this page in order to attribute us appropriately.