Let's face it: People love to get wild at concerts. The loud music and sensory overload compel people to surrender to the experience. Even meeting a music artist can send people over the edge.
While concerts allow people to bask in the collective love for music, some fans use these events to let loose. However, this lack of self-control can get people in trouble, cause them to indulge in intoxicating substances, or get in the way of others trying to have a good time.
We wanted to learn about the craziest experiences that fans had at concerts. To do so, we scored the top artists' fan bases by the frequency with which concertgoers reported "wild" behavior, such as moshing, hooking up with someone in the crowd, exposing themselves, and 15 other debaucherous deeds (find the full list in our methodology section below). Additionally, we asked participants about mildly obnoxious behaviors that can put a damper on their enjoyment, such as spilling drinks and bad body odor.
So, which artists' concerts will leave you with the craziest stories to tell your friends? Keep reading to see who made our list.
Musicians and Mischief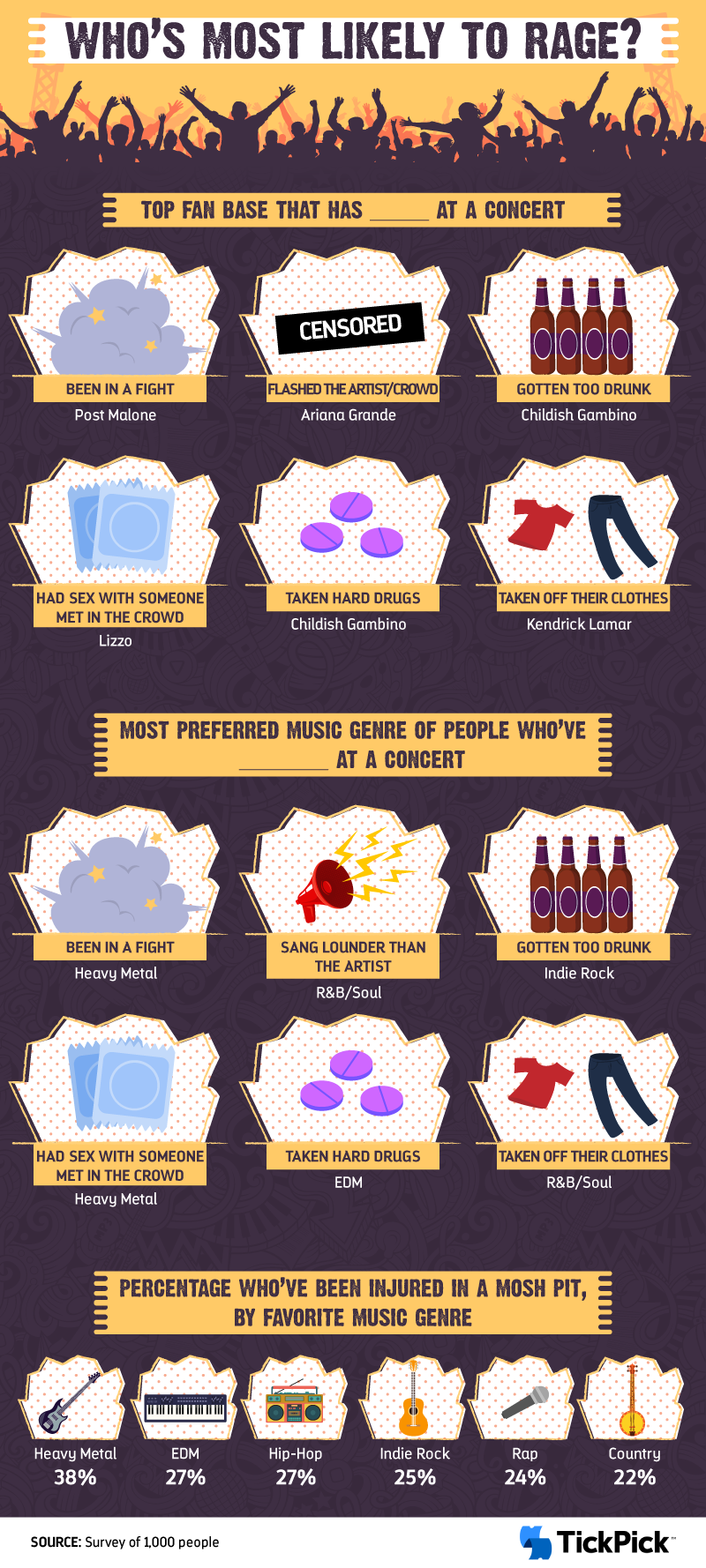 There was no one artist or genre responsible for the lion's share of concert shenanigans: Post Malone fans were the most likely to get into a fight; Ariana Grande concertgoers were the most prominent flashers (although Kendrick Lamar's crowd took off their clothes most frequently); and Childish Gambino audiences had the highest propensity to drink and take hard drugs.
Fans of Lizzo, who was recently named Time's Entertainer of the Year, were the most likely to hook up with someone they met in the crowd. Now that's taking her perennial message of self-love and empowerment to a whole new level!
Sliced by genre, heavy metal fans were the most likely to have sex with a crowd mate or get into a scrap, while EDM lovers were the most likely to take hard drugs at a concert. Electronic music has long been associated with "party drugs," but if you're a frequent raver, beware: Substances like ecstasy have been found to be laced with dangerous additives, like bath salts and methamphetamine.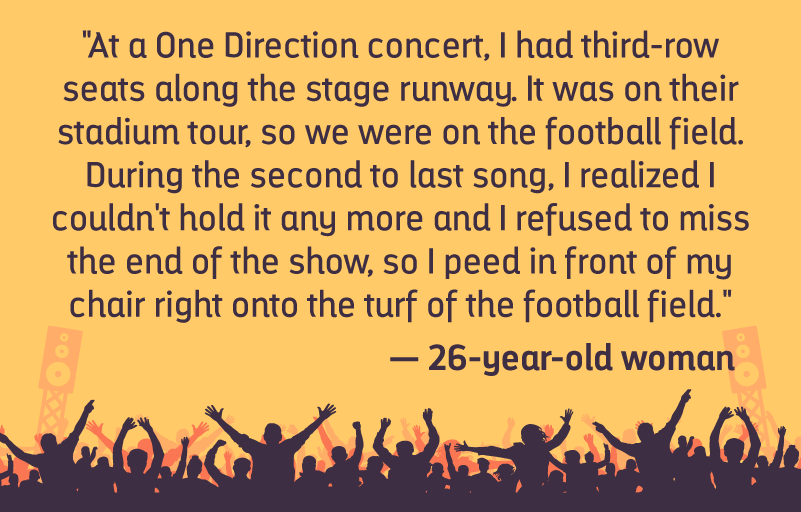 Skipping Work for Musical Release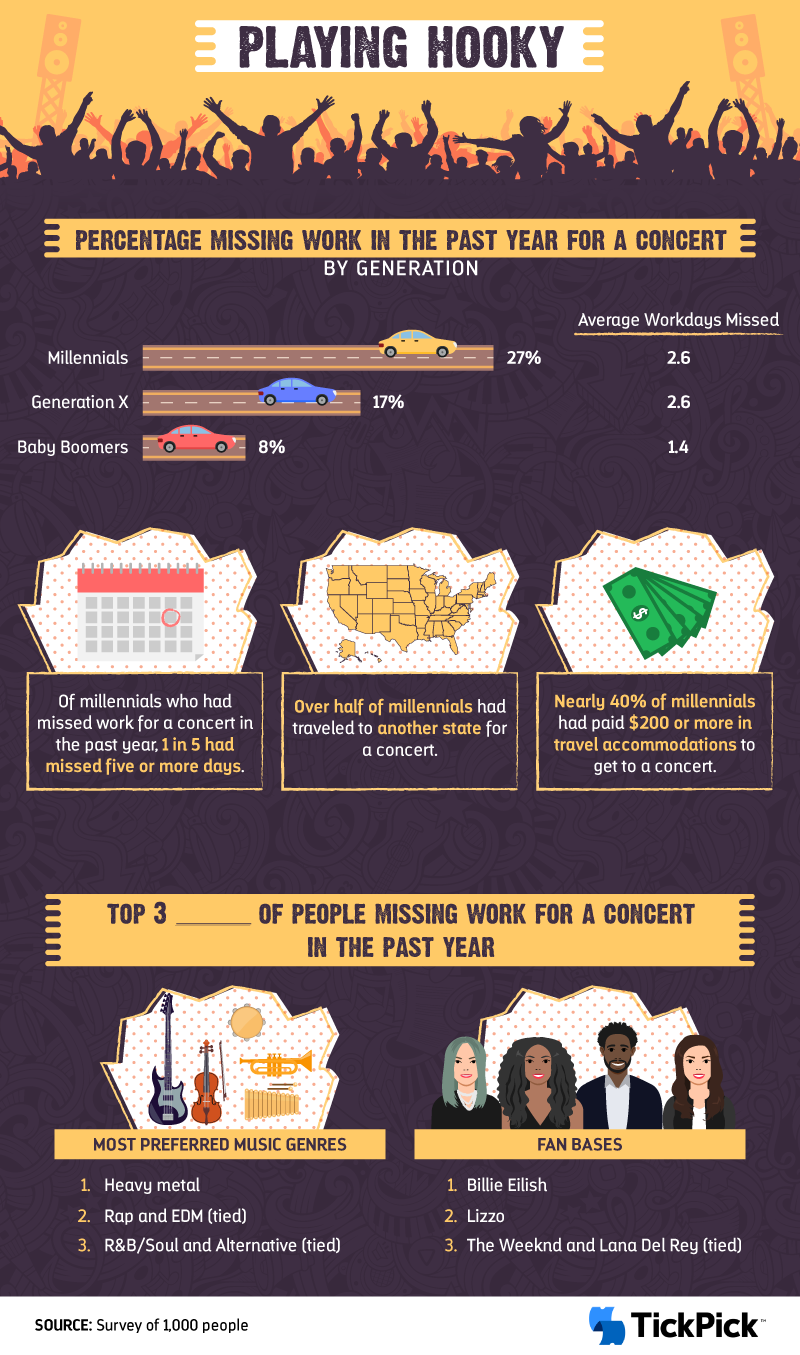 Younger generations were far more likely to take time off work for a concert: 27% of millennials versus only 8% of baby boomers had missed work for a concert in the past year. Meanwhile, heavy metal fans were the most likely to call in sick for a show, with rap and EDM tied for second place and R&B/soul and alternative tied for third. The most hooky-worthy artists were Billie Eilish, Lizzo, and The Weeknd and Lana Del Rey tied for third. More and more people are incorporating music into their travel plans, with many framing entire vacations around a music festival or large-scale event.
This trend extends to how much people are willing to spend, as nearly 40% of millennials admitted to forking $200 or more in travel accommodations for a show, and over half crossed state lines to attend a concert. Iconic venues such as Red Rocks Park and Amphitheater in Colorado, the Gorge Amphitheater in Washington, and The Caverns in Tennessee offer experiences that are impossible to replicate. Therefore, people dream of seeing their favorite bands or artists in those breathtaking settings and are willing to make professional and financial sacrifices to be in attendance.
Most large-scale arena tours will cost attendees several hundred dollars per show. When it came to shelling out for a concert experience, a handful of musicians took the crown in terms of how much people were willing to pay. People's top five splurge-worthy artists were Beyonce, Lady Gaga, Drake and The Weeknd (tied for third), Sam Smith, and Ariana Grande.
Spilled Drinks, Oblivious Attendees the Most Annoying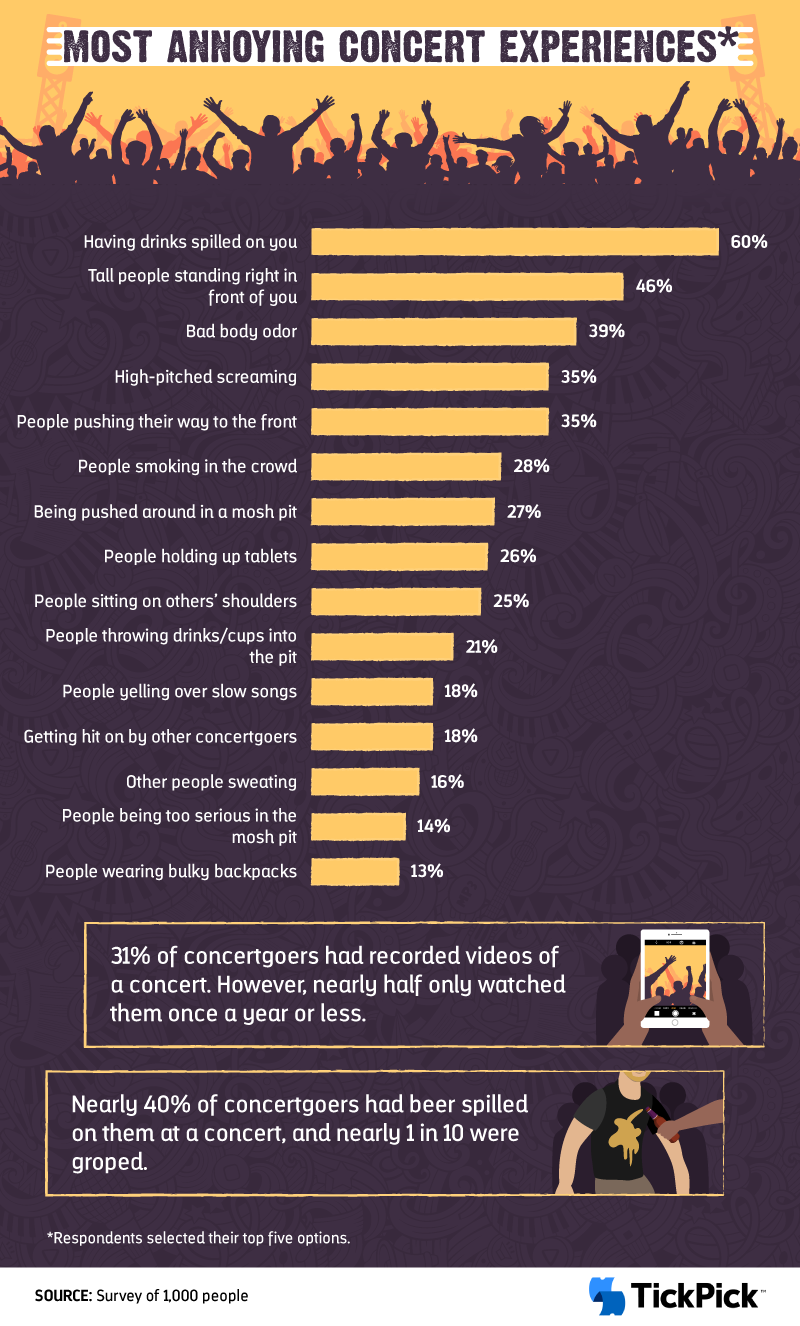 Much to the behest of concertgoers, negligent fans who bring drinks onto the dance floor often spill them: 60% of survey participants were most annoyed when someone else's drink ended up soaking their clothes or shoes.
Some of these annoyances, like spilled drinks, are a pain but can be partially remedied with a trip to the bathroom to clean up. Others, such as groping (which almost 1 in 10 respondents experienced), speak to systemic issues that occur under the glow of the lights and sound. To reduce instances of sexual assault and abuse at live music events, initiatives, such as Her Forest by Electric Forest, seek to promote a comfortable and secure environment for female-identifying attendees at the music festival.
Holding your phone or tablet up during a show to get the best video may seem like a good idea at the time, but while nearly a third of respondents recorded videos at a concert, about half didn't revisit those videos more than once a year, if that.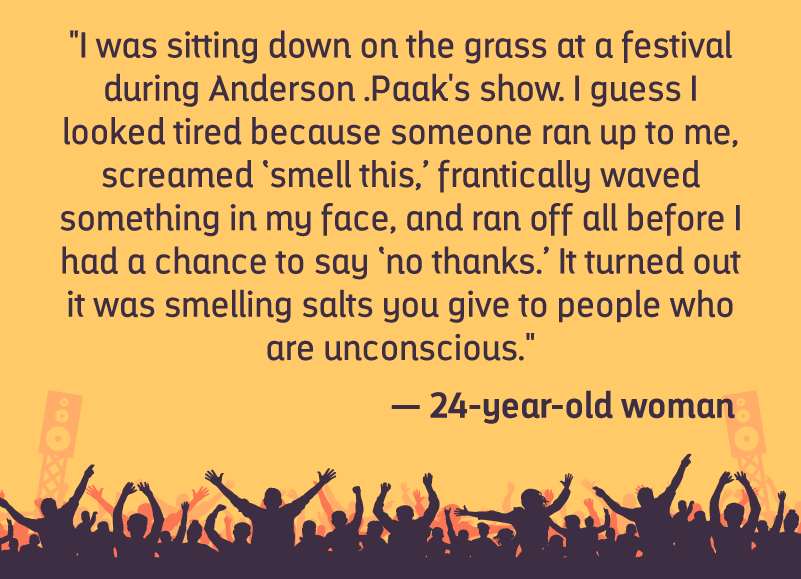 Sex, Behavior, and Music Fans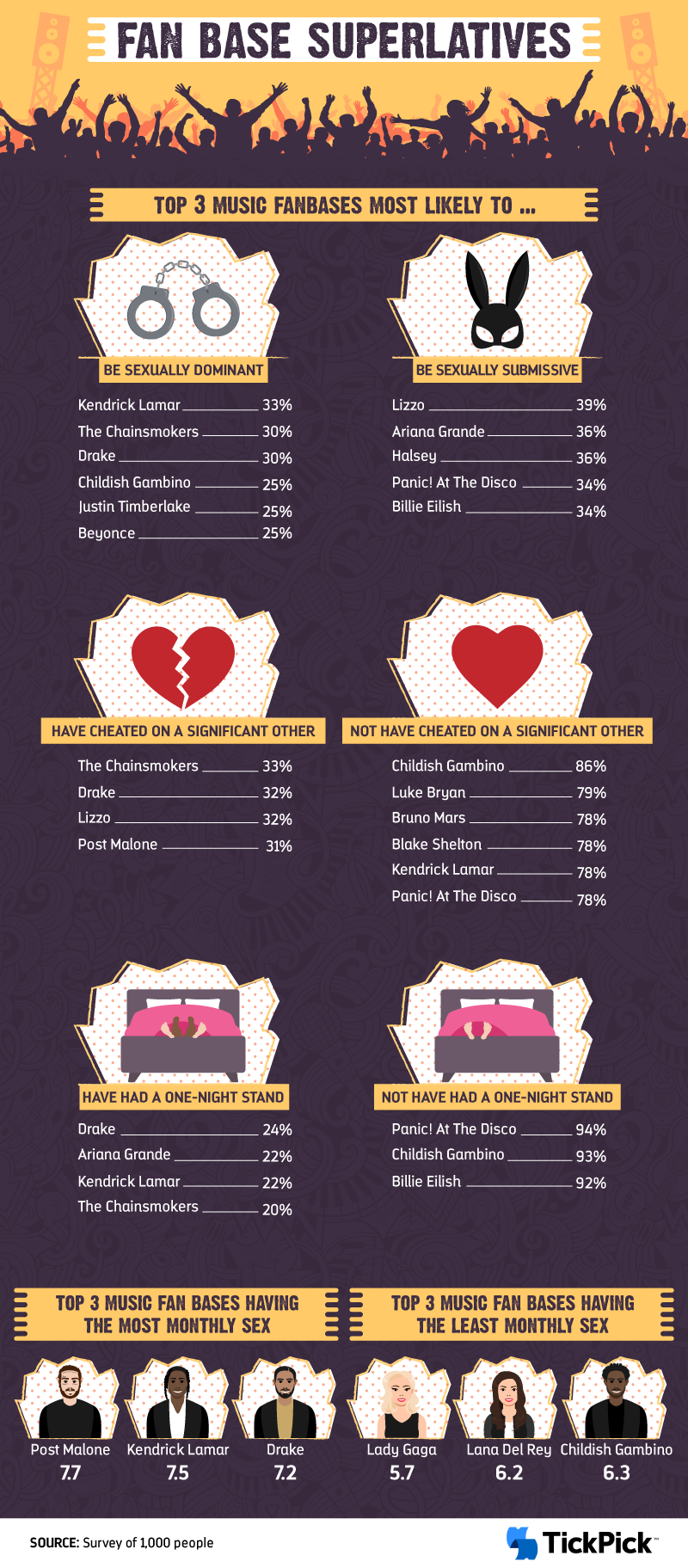 Lizzo's dedicated following of "Lizzbians" know that the "Truth Hurts," but they may not be prepared for this bombshell: Lizzo fans were the most likely to be sexually submissive, with nearly 40% of fans stating this preference. The singer is adored by fans for her self-love lyrics and willingness to talk about body positivity in a dominant and direct way, seemingly the opposite of being sexually submissive.
On the other hand, Childish Gambino fans were the most well-behaved of the bunch, as 86% of Donald Glover fans were faithful to their significant other, and 93% reported never having a one-night stand. This is in direct opposition to The Chainsmokers and Drake, for which around a third of each fan base admitted to cheating. This may be a scenario of repeating what we see, as The Chainsmokers member Alex Pall was caught on video cheating on his girlfriend.
We also found that Post Malone fans reported the most sex per month (7.7 times). The "Congratulations" star has gone from a breakout artist to a sex icon with chilled-out hip-hop beats backing his sultry voice.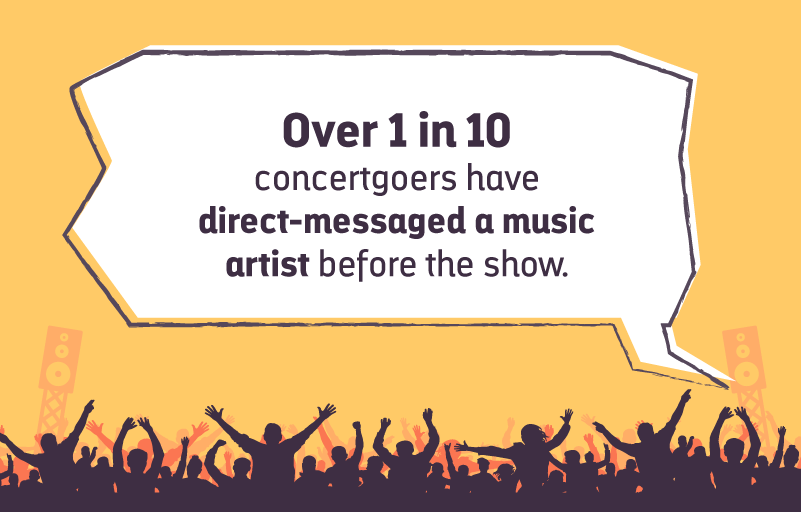 Social media is leading to a rapid rise in fan-artist interactions. Accessibility to these celebrities is casual, as "sliding into their DMs" is way easier than trying to chase down a musician post-show. It's a choice move for more than 1 in 10 respondents who tried to make a connection with their favorite artists before the show, and it's not always unsuccessful. After all, Priyanka Chopra and Nick Jonas's relationship began with a direct message, so anything is possible.
Kendrick Lamar, Skrillex Claim the Wildest Fans
Fans of Kendrick Lamar scored the highest on our list in terms of overall craziness. Concert attendees go wild for many reasons, including the effects of alcohol or drugs and heightened excitement of seeing a favorite artist live. In fact, concert fans often experience elevated heart rates and higher blood pressure, which can be exacerbated by high-energy music, such as rap or EDM.
However, even more alternative artists have wild fans, such as Billie Eilish, who landed fourth on our list. She and others may owe their rise in popularity to streaming platforms and apps, which are used by people to discover new music. These artists represent the heart and soul of Generation Z, taking their interests, desires, and tastes and manifesting them into music sans genre (or any real labels for that matter). Pop music is becoming less defined, which could be producing a new type of live music fan.
Other crazy-making artists included Childish Gambino, Lizzo, and Skrillex, while musicians like Lana Del Rey, Drake, and Beyoncé drew tamer crowds than average.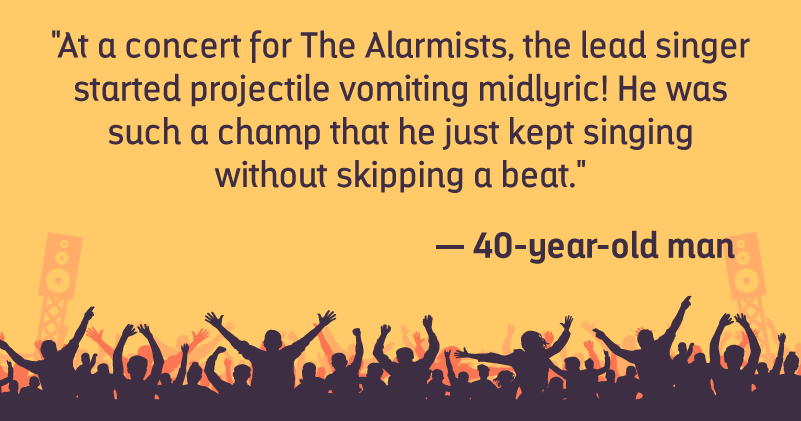 Which Type of Fan Are You?
Concerts can produce our most unforgettable moments, with the energy of thousands of screaming people being palpable and contagious.
And while it's good to allow the music to take over, that doesn't give anyone the excuse to be a jerk. Wild fan experience can be hilarious at the right time and place, but it's important to display good concert etiquette whenever possible to ensure a safe and positive place for live music to thrive.
Looking to dedicate your next trip to a musical experience? Want to lock down tickets to catch your favorite artist? Head over to TickPick to find concert tickets for the artists you love, across all genres, always without hidden fees.
Methodology and Limitations
We used Amazon Mechanical Turk to survey a total of 1,000 respondents about their favorite contemporary music artists, behaviors they've exhibited at concerts, what they would do to see their favorite artists in concert, and their perceptions of certain concert behaviors. To be included in our data, respondents were required to complete the entire survey and pass an attention-check question in the middle of the survey. Participants who failed to do either of these were excluded from the study.
Of all the respondents, 51% were women, 49% were men, and less than 1% reported a nonbinary gender. 55% of respondents were millennials (born 1981 to 1997); 30% were from Generation X (born 1965 to 1980); and 14% were baby boomers (born 1946 to 1964). Generation Z (born 1998 to 2017), the silent generation (born 1928 to 1945), and the greatest generation (born 1927 or earlier) were excluded from the study due to insufficient sample sizes. The average age of respondents was 39 with a standard deviation of 12 years. The data had a 4% margin of error for millennials, a 6% margin of error for Generation X, and an 8% margin of error for baby boomers.
In a preliminary survey, we asked respondents to select their favorite contemporary artists. Our list of options included the top Billboard artists during late October 2019, as well as popular contemporary artists who may not have appeared on the chart at the moment. In our final survey, we included the 50 most chosen artists from the preliminary survey. To qualify for our study, respondents were required to indicate they are a fan of at least one contemporary artist we listed.
To determine "craziness" at concerts, we asked respondents if they had done any behaviors in a list of 18 outlandish behaviors people could do at concerts:
Moshing
Starting a mosh pit
Throwing cups/drinks into a mosh pit
Fighting someone at a concert
Using a pee cup
Breaking phone at a concert
Taking off shirt/dress at a concert
Taking off pants/skirt at a concert
Flashing the artist or crowd
Singing louder than the artist
Making out with someone in the crowd
Having sex with someone in the crowd
Crowd surfing
Screaming at the top of your lungs
Getting more drunk than you should at a concert
Pushing through the crowd to get closer to the stage
Waiting around after the concert to flirt with the musician
Wearing eye-catching clothing so the musician might notice you
We assigned each behavior "craziness" points on a five-point scale (based on average ratings from over 100 respondents). We then totaled up individual scores by totaling points for the behaviors they had done. Respondents could receive a minimum total score of 0 and a maximum total score of 72. For each respondent, we calculated their percentile for the score they received among the data. Each fan base's "craziness" percentile is an average of craziness score percentiles of respondents who were a fan of that particular artist.
In finding averages of quantitative values, we removed outliers so that data were not exaggerated. Additionally, in reporting of artists on visualizations, we did not include artists with insufficient sample sizes of fans garnered from our survey.
It's important to note that this survey relies on self-reported data. There are many issues with self reported data. These issues include, but are not limited to: selective memory, telescoping, attribution, and exaggeration.
Fair Use Statement
Planning to see any of these artists soon? Be on the lookout for fights at Post Malone shows or unclothed fans at Kendrick Lamar concerts. Share our data with music lovers and see what they think, but cite us by name when possible. Also, please share these results for noncommercial purposes only.