Remember how the world used to think of sports? Not as a threat of disease, but as a driver of entertainment, livelihood, and camaraderie. Though COVID-19 will pass, the impact on sports will be challenging to forget. Some leagues have paused temporarily, while others have fully canceled their offerings.
But what about the fans? How are they holding up, what do they expect, and how has COVID-19 affected their fandom? We talked to over 1,000 sports fans across the country to get to the bottom of these questions. Keep scrolling to see how fans are reacting to the pandemic, how it's affecting die-hard loyals, and what fans are doing to fill the new void.
Raising the Stakes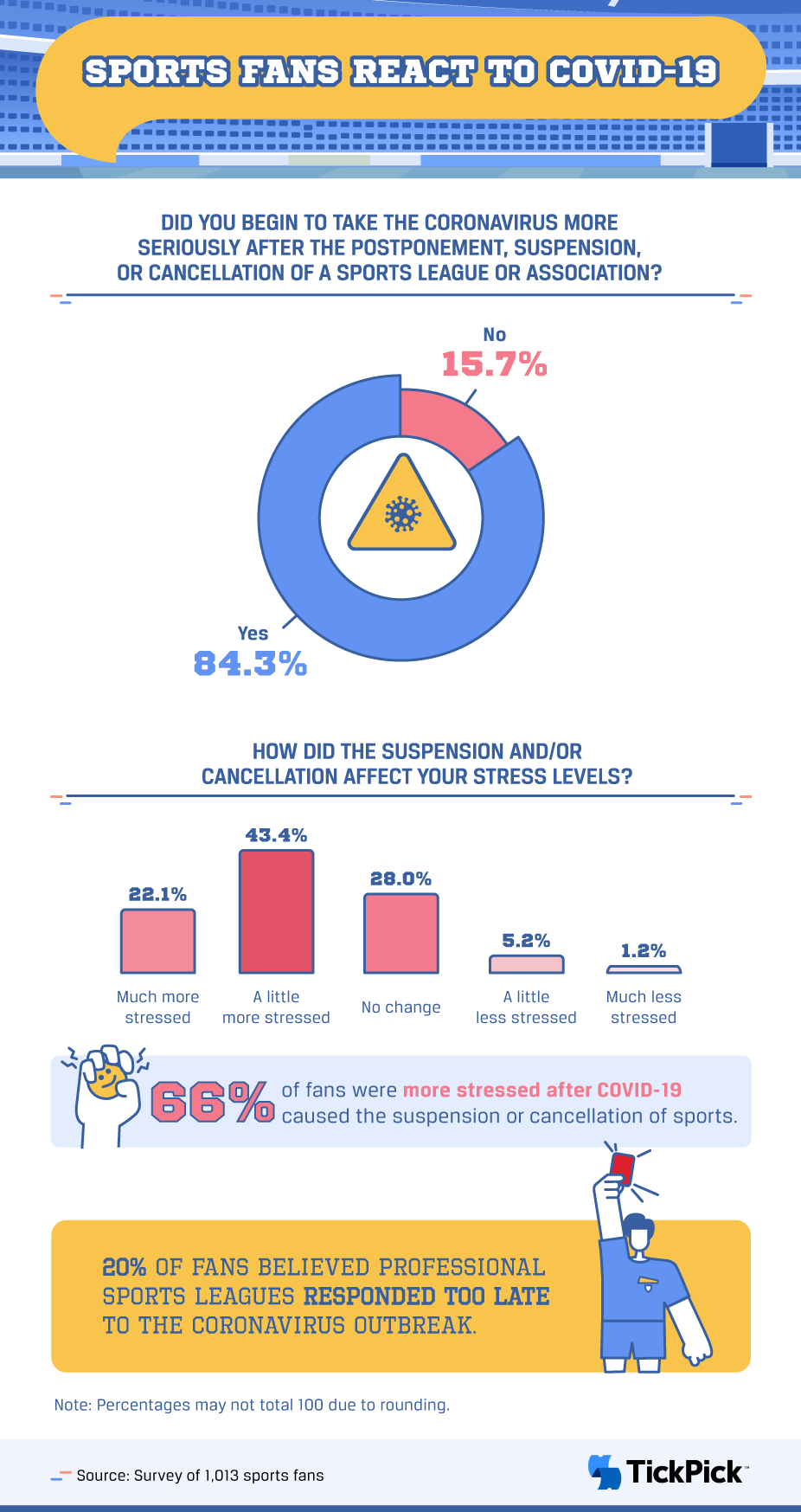 Basketball cancellations seemed to start a domino effect on other sports. After March Madness announced its end and the NBA paused its season, the world seemed to take notice. Other leagues responded similarly, albeit slightly later. Hockey fans experienced a sudden halt to their season, tennis fans lost the Miami Open, and the Summer Olympics were pushed back a year. Changes to the NFL draft have yet to be made; the event is still scheduled to take place starting April 23 in Las Vegas. Though one of America's most prominent sports still provides a glimmer of hope, the existing cancellations have sent a severe shockwave through the hearts of sports fans. More specifically, the cancellations made fans take notice of what was happening around them: 84.3% said they began taking the coronavirus more seriously after a sports event was impacted.
Though the Centers for Disease Control and Prevention (CDC) tells us that social distancing is a crucial strategy toward easing the already detrimental blow of COVID-19, a mass level of awareness of the importance of social distancing is also required for it to be effective. Sports cancellations have certainly left a massive void; however, this was ultimately the intention.
We also asked fans how they were feeling after learning about COVID-19's impact on the industry, apart from their taking the disease more seriously. Sixty-six percent were more stressed, to some extent, and only 28% were able to say their stress levels weren't impacted at all. Therapists and health experts have often considered watching sports to be a method of stress reduction, which this study suggests is a problem being compounded drastically by postponements and cancellations.
Toughest Losses
Basketball has had a tough year, to say the least. Before recovering from the untimely loss of Kobe Bryant, NBA fans were one of the first to say goodbye to the sport. March Madness, beloved by bracket-makers everywhere, went up in smoke shortly thereafter. When we asked fans which sport they were most upset to lose this year, basketball was the most common answer we heard. At the time of this writing, the NBA had yet to decide whether to continue the season. Still, many fans (39%) most commonly thought teams should resume the season exactly where it left off. Nearly the same amount (34%) thought the season should be canceled altogether.
The National Hockey League was also in the final stretch of its season when the world stopped. Currently, the NHL insists that no games have been canceled but instead remain on pause. Recently, Greg Wyshynski of ESPN urged the NHL to cancel completely, explaining that "the NHL is at the mercy of local municipalities when it comes to restrictions on travel [...] one team's state will be closer to an 'all clear' than another's" while the NHL "is running out of runway to relaunch this summer." The NHL's chief medical officer said that a time frame couldn't truly be predicted at this point. Most NHL fans in our study were also moderately or extremely upset about the suspension.
Professional Athletes Socially Distance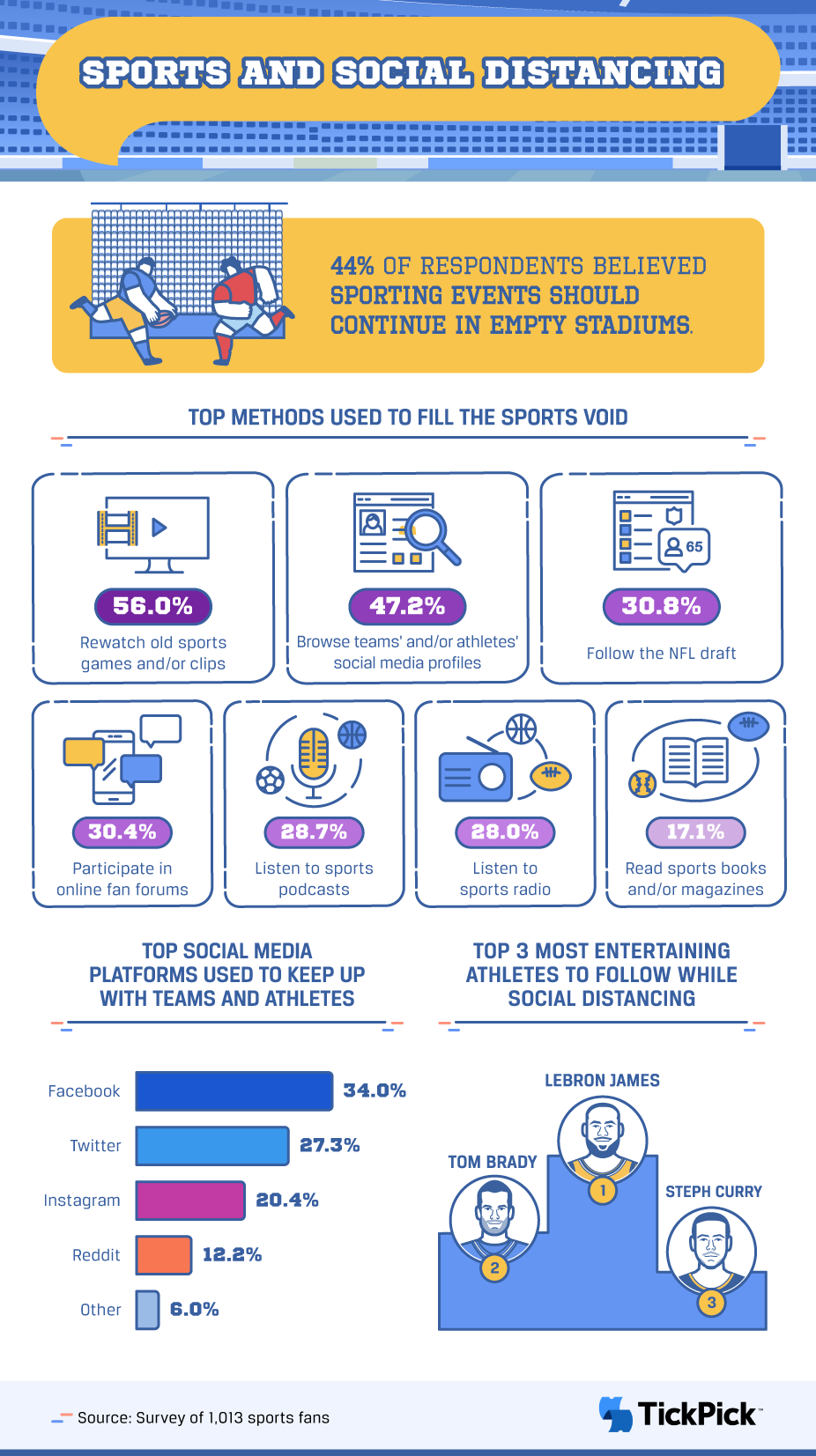 <
Social distancing, which the CDC recommends, is defined as "remaining out of congregate settings, avoiding mass gatherings, and maintaining a distance (approximately 6 feet, or 2 meters) from others when possible." Of course, this disqualifies sporting events as being acceptable behavior. To fill the void, more than half of the sports fans we surveyed (56%) said they're rewatching old sports clips and 47.2% said they're relying on social media posts from their favorite teams and athletes for entertainment. Facebook takes the lead in social media used to keep up with teams and athletes with 34% of our respondents utilizing it's platform, while Twitter comes in second with just 27.3% of sports fans, followed by Instagram at 20.4%.
In order, the top three most entertaining athletes during the age of social distancing were LeBron James, Tom Brady, and Steph Curry, according to fans. Tom Brady's name has popped up particularly often during the pandemic, as the athlete took to Instagram to share his gratitude for the Patriots, as well as his new contract with the Tampa Bay Buccaneers. He also used the platform to share some more topical content, showing his followers some tips for staying healthy during the pandemic.
LeBron James has also been attempting to provide some aid during the outbreak, sharing some charity-focused content for Feeding America. He's also letting fans listen in on his video conferencing calls. Steph Curry's Instagram has been particularly COVID-19 oriented: He had a Q&A with Dr. Fauci, participated in group prayer, and even changed the link in his bio to help feed hungry families.
Passing the Time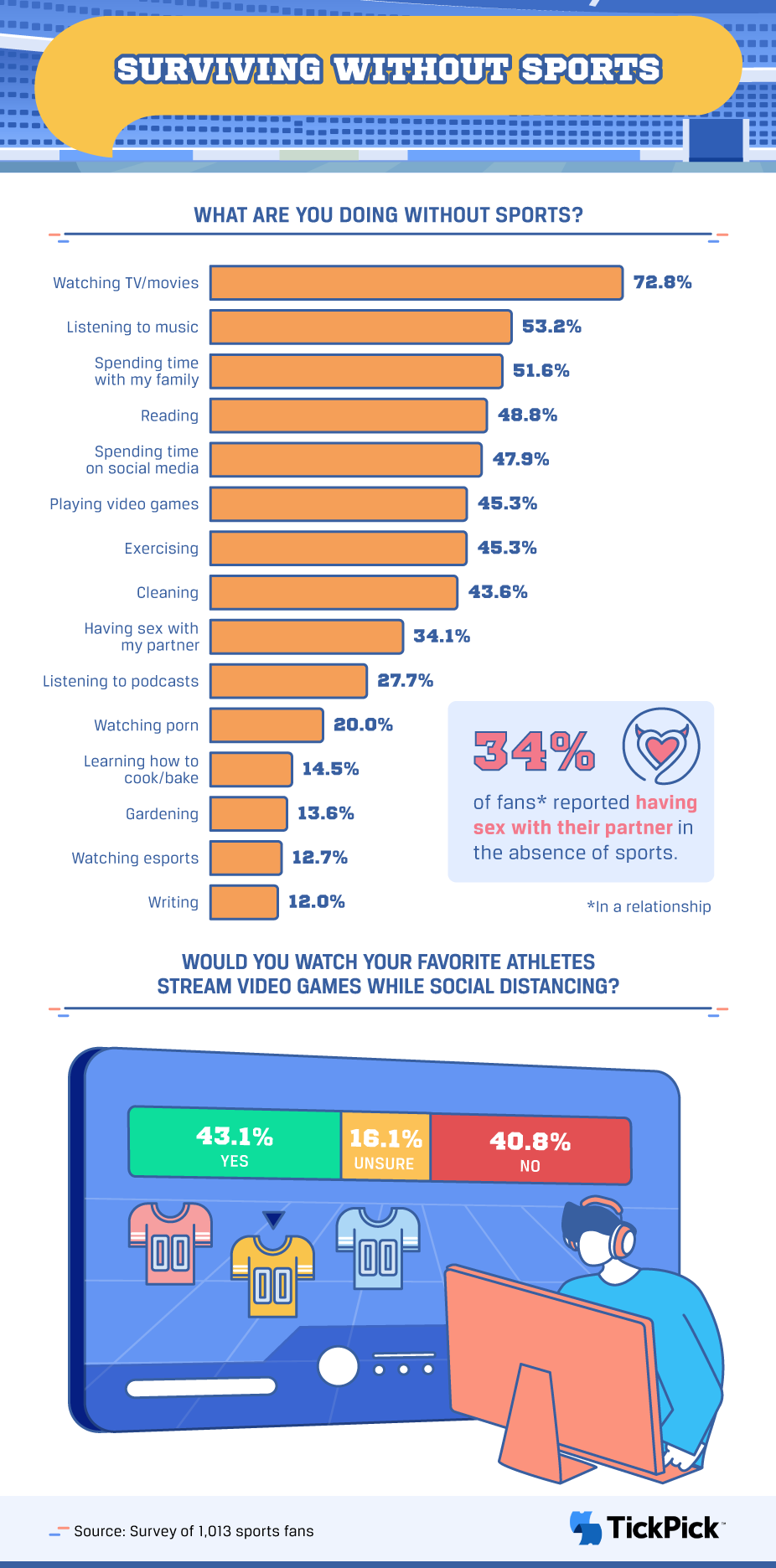 We also wanted to know what fans were up to during this time of social distancing. Without sports in their lives, how were they choosing to fill the time and the void? Previously, we saw that many were sticking to sports and rewatching old games and clips. It's also worth mentioning that the NFL, NBA, and NHL have all made Game Pass, League Pass, and NHL.TV free during the COVID-19 stoppage, which may be a reason behind people accessing old games so often. Even more people (72.8%) reported branching into movies and TV shows.
Many sports fans were using the extra time to do precisely what experts and other hopefuls recommend: slowing down and spending more time with family. Fifty-two percent said they spent more time with their family, and partner intimacy increased, as well – 34% of sports fans said the absence of events had led them to have sex with their partner. Time was opened up more for sexuality in general: 20% of those with and without partners were watching porn during their free time.
Taking One for the Team(s)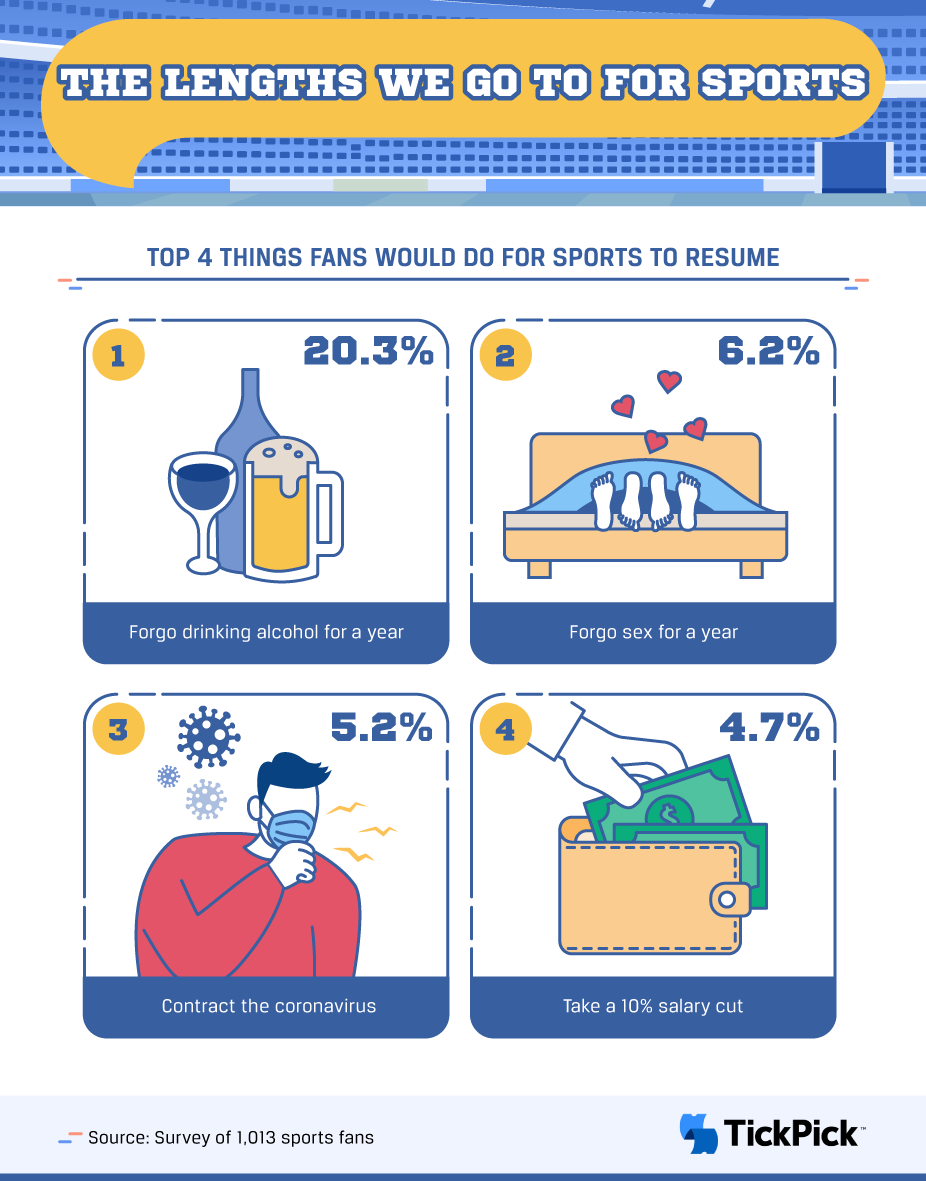 Lastly, we asked fans to think hard about what they would do in exchange for sports to start up again. Would they let themselves get sick with COVID-19, stop having sex, or even lose a piece of their salaries? The answers were yes, yes, and yes. Even more often, fans said that they would forgo drinking alcohol for an entire year – a substance that mixes with sports entertainment quite often.
With the coronavirus hitting so many financially, we were especially surprised to see how many were willing to take an additional 10% salary cut to get sports back. Additionally, when you consider how many Americans were already living paycheck to paycheck before the pandemic, this 10% salary cut offer is really saying something. Sports fans, like the rest of the world, are hurting.
Athletics After Coronavirus
In a perfect world, the coronavirus wouldn't have gripped so many sports teams and their fans, not to mention the businesses and lives impacted outside of the arenas. Though sports have stopped now without an apparent end in sight, fans have shown us how we can turn inward, spend time with family, and fill some of the sports voids with athletes' social media accounts and old game footage. In the meantime, we can also rest assured that, at some point, sports will be back.
When that day comes, TickPick will be ready to help supply you with tickets to your favorite sporting events at the fair prices the world needs. Without hidden fees – and without the coronavirus – there's no stopping the future's wide world of sports entertainment. In the meantime, the team at TickPick is monitoring the outbreak closely and will and will gladly work with fans to redress reimbursements for impacted events, as well as help them look forward to those in the future.
Methodology and Limitations
We surveyed 1,013 sports fans on their reactions to the COVID-19, or novel coronavirus, outbreak using Amazon Mechanical Turk. For respondents to be included in our data, they were required to complete the entire questionnaire in one sitting, without multiple attempts, and answer an attention-check question correctly. Participants were allowed to take the survey if they indicated fandom to a major sports league or association and consumed two or more hours of sports-related content per week. The study was conducted from March 24, 2020, through March 26, 2020.
Of the 1,013 respondents surveyed, 35.7% were women, 63.9% were men, and 0.4% identified as nonbinary. 4.3% of respondents were from Generation Z; 56.9% were millennials; 27.8% were a part of Generation X; 10.5% were baby boomers; and 0.5% were from the silent generation. The average age of respondents was 38, with a standard deviation of 12 years.
The main limitation of these data was the reliance on self-reported responses. Self-reported data are faced with several issues, which may include, but aren't limited to, the following: attribution, exaggeration, selective memory, telescoping, and recency bias.
Fair Use Statement
The world could use a little sports content right now. You're welcome to share the data that these sports fans shared with us, but be sure to link back to this page and that your purposes are solely noncommercial.