Key Takeaways
82% of people feel lost without sports in their lives.

63% of fans agreed 2020 was the worst year in sports history.

More than 1 in 5 fans have lost interest in sports amid the pandemic

The Memphis Grizzlies, San Antonio Spurs, and Miami Heat lost more fans than any other team in the NBA throughout the pandemic

17% of NBA fans would pay one bitcoin to see their team play in the finals this season.

1 in 10 fans purchased sports NFTs, like NBA Top Shot, and nearly 1 in 5 purchased sports trading cards while quarantined.
One Year Since Shutdown
We have officially survived a year without sports —or at least, sports as we once knew them. For many fans, the 2020 seasons left them without social opportunities, without much-needed distractions, without emotional support, or maybe just a year without bets. Some may have even lost their loyalties to their favorite teams —we know, because we spoke to them.
After interviewing more than 1,000 sports fans across the U.S., we have an understanding of exactly how a year without sports impacted team loyalty. We know exactly which teams lost the most fans, and how interest and engagement shifted across all fans of sports. If you're curious to see just how much has shifted in a single year without professional sports, keep reading.
Interest and Engagement
The first part of our study asked sports fans to consider how their interest in watching sports has changed since the pandemic started. They all shared how their general loyalties and engagement may have shifted.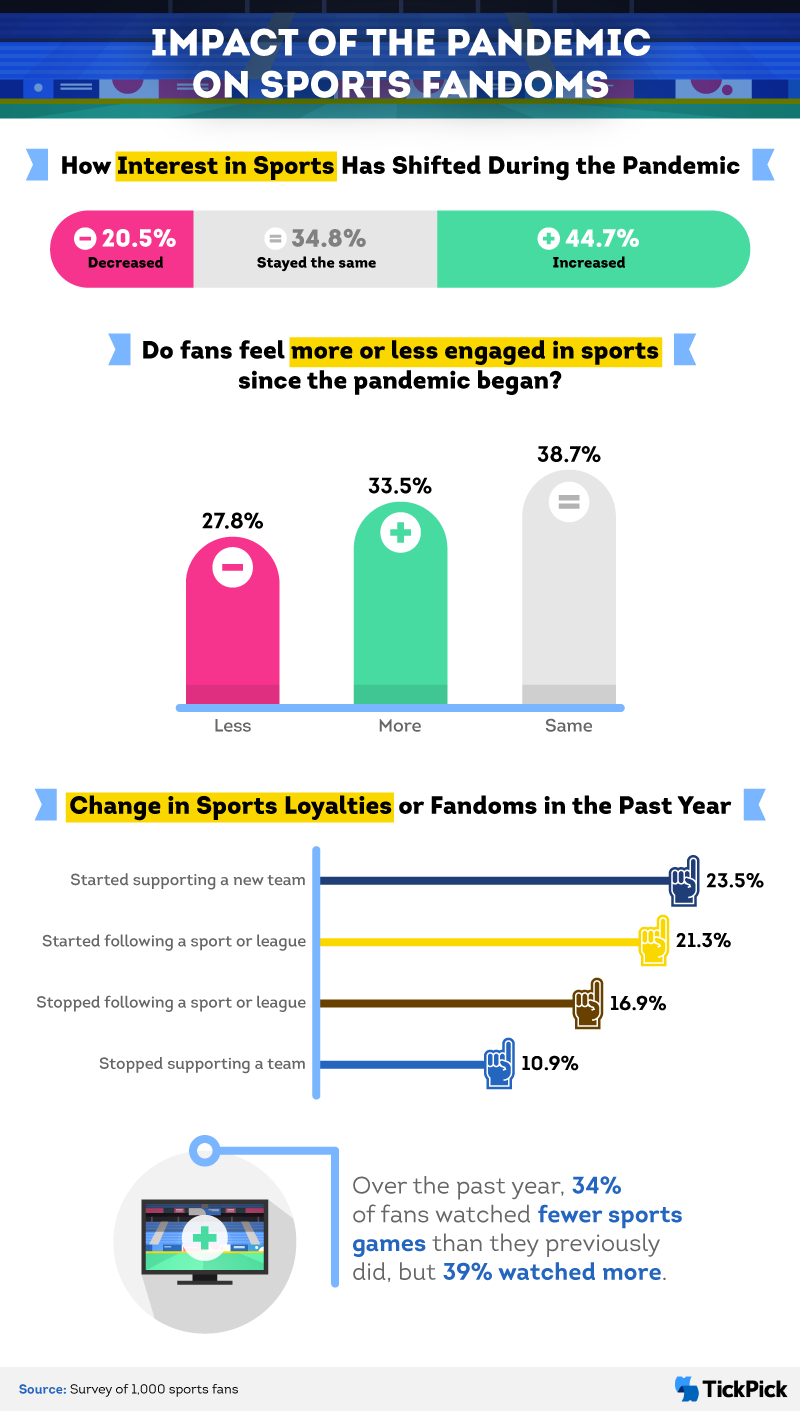 The pandemic's most common impact on a sports fan was actually to increase their interest in sports. Perhaps being stuck at home without life's usual distractions encouraged fans to start paying even more attention to the athletes on screen. That said, 20.5% of fans said their interest decreased and 27.8% said they were less engaged, both of which are reflected strongly in televised sports ratings. In nearly every sport, ratings nosedived in 2020. Compared with the previous year, ratings were down 51% for the NBA Finals, 61% for the NHL finals, and 45% for the U.S. Open. Even the Super Bowl, which pitted Brady against Mahomes, drew its lowest ratings in 15 years.
Of the fans we spoke to, 16.9% stopped following a sport or league altogether. Another 10.9% got even more personal and stopped supporting a team they used to be a fan of. That said, these changes in loyalty may not have all been due to the pandemic. Many fans were upset about pro-sports aligning themselves with BLM protestors, and opted out of viewing for political boycott purposes. In sum, the fans who did leave and/or lose interest seriously impacted ratings, but the ones who stayed found a deeper interest level and even started picking up a new team or two.
Post-Pandemic Reflections
Next, we wanted to know about live games. Was the inability to attend live games impacting fans negatively? Would they consider attending a live game now, even without a mask mandate? And what things specific to a live event were fans most excited about?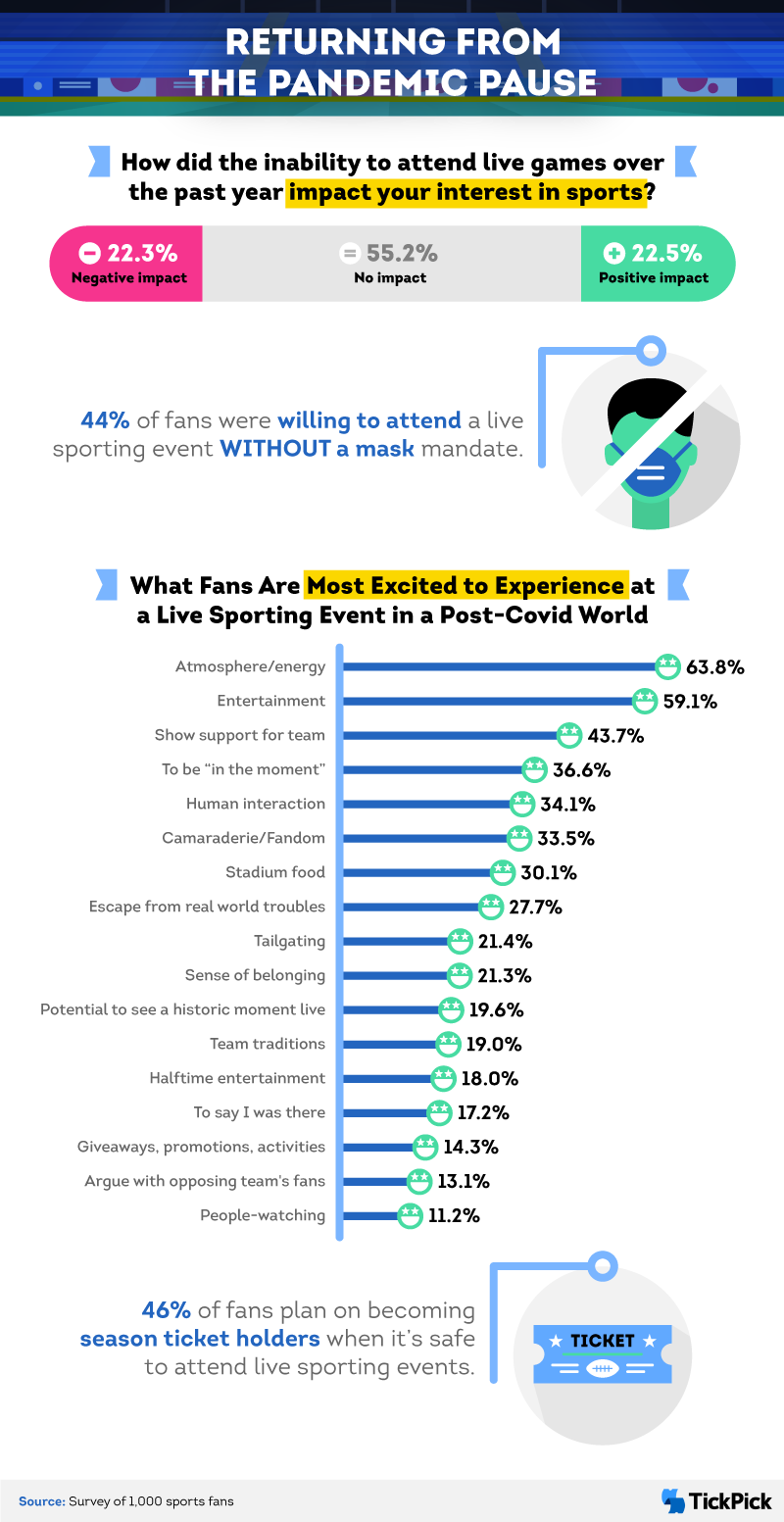 Even if fans could attend live sporting events, they would be a very different experience from what they may be used to. In some weeks of the NFL season, games were played on Tuesdays or Wednesdays because of positive COVID-19 test results. The Broncos even had to play a game against the Saints without any quarterbacks. And the March Madness tournament is taking place inside a bubble with a limited number of fans. With all of these changes (and others) fans were evenly split in their reactions. Roughly the same amount of fans said the sanctions against live games impacted them negatively as they did positively.
For those who still wanted to go to a game, the thing they looked forward to most of all was the general atmosphere and energy of a stadium (63.8%). In spite of changing loyalties, 43.7% just wanted the chance to show support for their teams. Another 34.1% simply missed human interaction and hoped to find it at a live sporting event. Some were even so hyped to attend that 44% said they would go even if the location didn't have a mask mandate.
NBA Fan Fallouts
The next piece of our study looks at which NBA teams lost the most fan support and what remaining NBA fans would give up to see their team play live.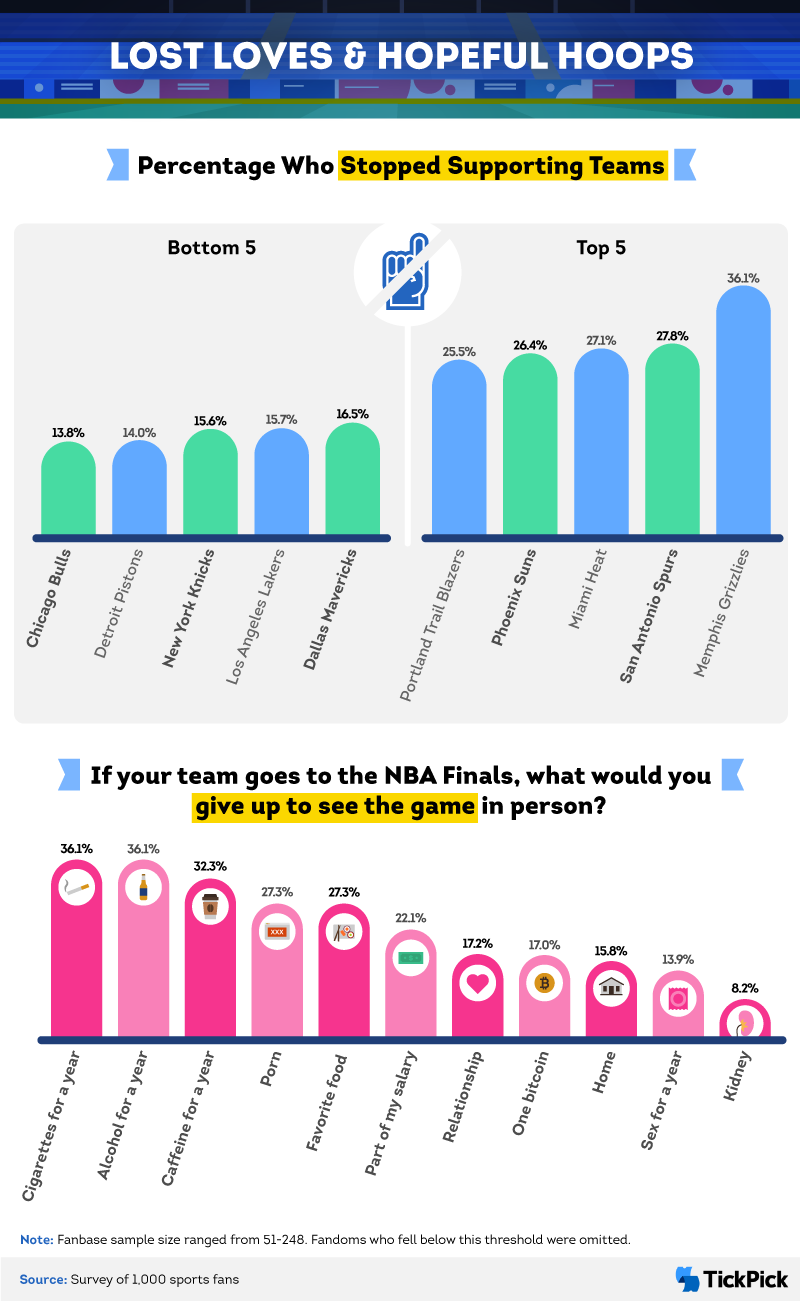 The 2020 NBA Playoffs TV ratings were down by 37% compared to 2019. Our research indicates this impacted the Memphis Grizzlies the most, which had the highest percent of its fans saying they stopped supporting the team. Fans actually have been able to return to the home of the Grizzlies, the FedExForum, to watch the team play live. Even with 1,762 fans at the first fan-attended game of the season, the venue was described as "silent" as the Grizzlies began to lose. Perhaps this initial excitement followed by acute disappointment drove more fans away than were they not to open their doors at all.
Fans who wanted to continue to see live NBA games were not messing around. They were so intent on seeing a game that 17% agreed they would be willing to give up one bitcoin (or, at the time of this study, nearly $60,000) to see them play live. More than a third also said they'd be willing to give up alcohol and cigarettes for an entire year just for the chance to see their favorite NBA team play in the finals. It appears then, that the lack of live sports had a fairly polarizing effect —its absence had fans either wanting to see them play more or lose interest altogether.
Pandemic Betting
Even without live events to attend, fans were still able to place bets online. We next wanted to know how many fans continued to place bets during these unusual times for sports and which league fans were the most likely to do so.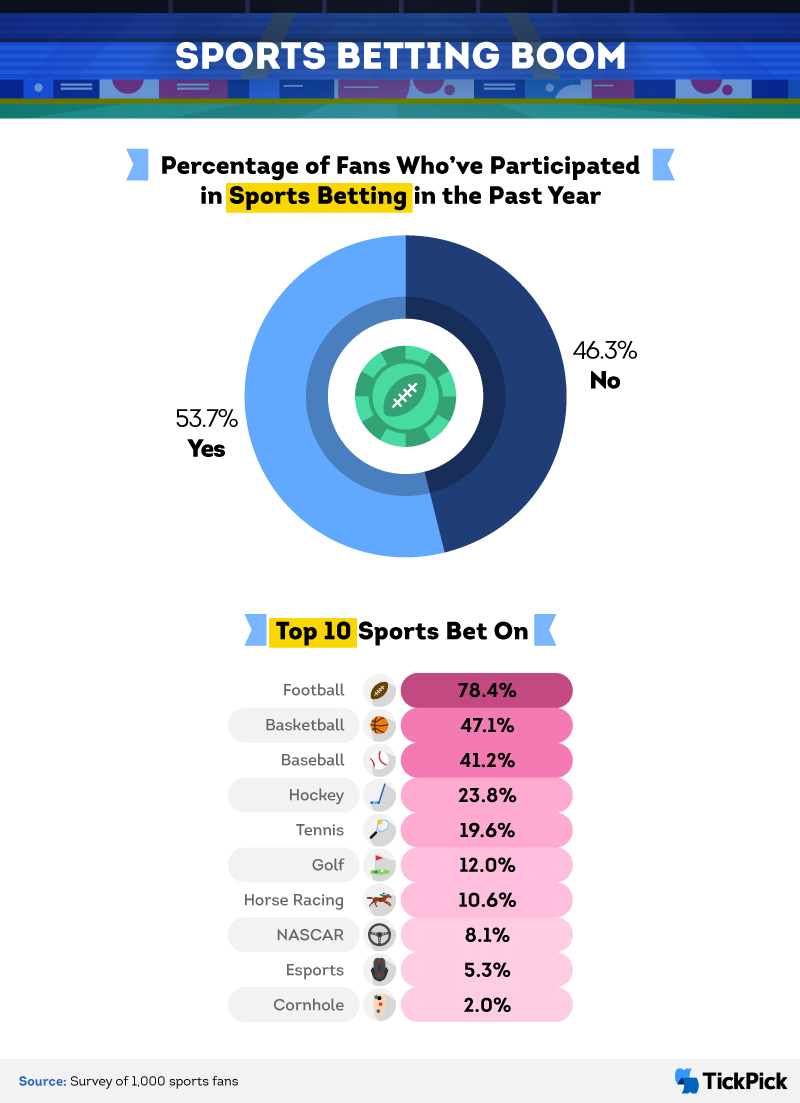 The majority of fans, or exactly 53.7%, still placed bets within the past year on sports. Most often, these bets came from football fans. Seventy-eight percent of those who followed the NFL had placed a sports bet, compared to just 23.8% of those who followed hockey or 47.1% who followed basketball.
The National Football League has attracted the highest amounts of betting money in the U.S. for years, which evidently remained unchanged in the pandemic. The pinnacle of this is the Super Bowl, where fans bet on everything from the outcome to the scores at each quarter and even the coin toss. It's estimated that more than $276 million in legal bets were placed on last 2021's Super Bowl alone, which we also know earned lower TV ratings than it has in 15 years.
Sports-Related Purchases
Betting isn't the only way to spend money on sports. Fans can also buy merchandise, TV packages, and trading cards, amongst other things. For the last piece of our study, we wanted to look at how much fans spent on these types of items and what they would theoretically spend extra money on, were they to strike it rich.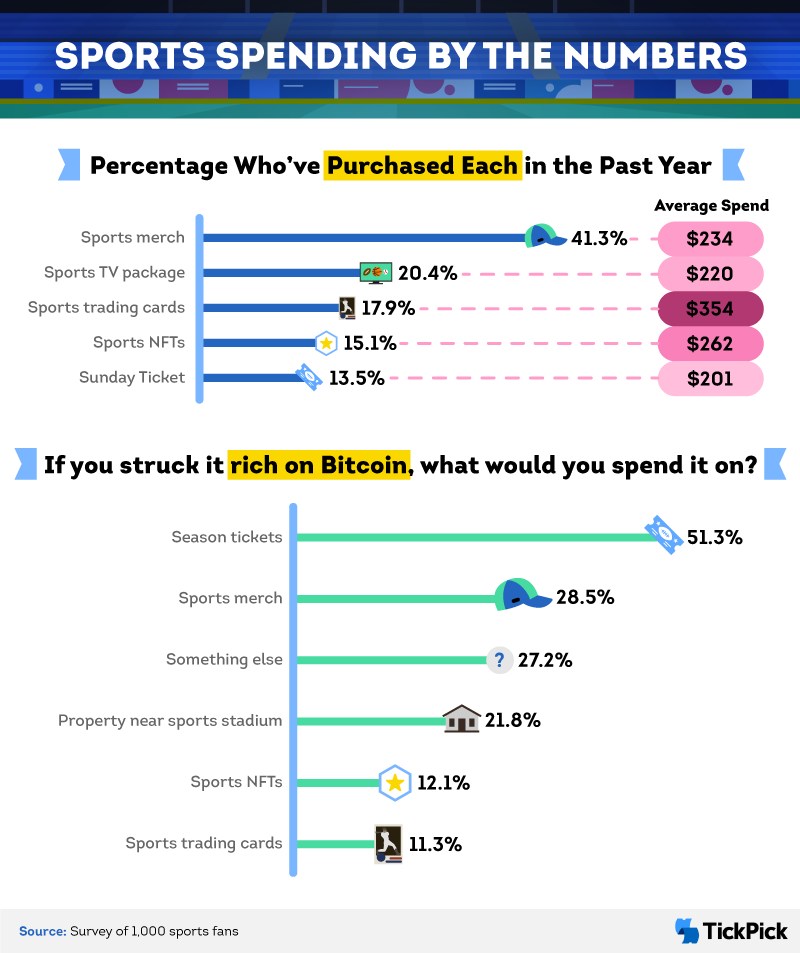 Merch was the most common way for fans to spend money, but it wasn't the most expensive. Instead, those who purchased sports trading cards ultimately spent the most, averaging $354 in expenditures per fan. The sports trading card industry is currently seeing a boom in direct relation to digital currencies. Digital trading cards, which often show a clip instead of a still image, are selling like crazy. So far, investments in sports trading cards are outtrading the S&P 500.
Were fans to strike it rich in digital currency, 11.3% would reinvest this currency into more sports trading cards. More commonly, however, they would spend the money on season tickets and more sports merch. Fortunately, you don't have to be a Bitcoin millionaire to afford season tickets. From no hidden fees to the Best Price Guarantee, we've removed the stress out of buying tickets. It's not all about the money, but still getting to enjoy the love of sports.
The Evolving Love of the Game
In spite of dropping TV ratings and positive COVID-19 test results, true fans are getting a moment to prove the extent of their loyalty. Evidence reveals that most are actually gaining —not losing —interest in their teams. Most NFL fans are still placing bets, NBA fans would still give up quite a bit to see their team in the finals, and most sports fans in general continue to buy merch and dream about attending live games.
If you are looking forward to attending a live game, get the best price you can. At TickPick.com, there are no service fees and a Best Price Guarantee. You can save 10% on tickets compared to their largest competitor. You will get the same seats and same great experience, and still have money left in your pocket. If you do decide to be a loyal fan this year, stay safe and stay smart with TickPick.
Methodology and Limitations
We conducted a survey of 1,000 Americans and asked them to answer questions about their experiences and opinions on sports entertainment during the pandemic. Sixty-four percent of respondents identified as men, 36% identified as women, and less than 1% identified as nonbinary. Respondents ranged in age from 18 to 79 with a mean of 37.6.
The data are not weighted and are based on self-reporting. With self-reported data, there are limitations, such as attribution, exaggeration, telescoping, and recency bias.
Fair Use Statement
Sports as we knew it have changed dramatically, and evidently, so did the fans. If you're wanting to share this with your fellow sports fans, you are free to do so. Just be sure your purposes are noncommercial and that you link back to this page.