From Lockdown Mindset to Dancing Dubstep
Even a year between Coachellas sounded like a lifetime for those who regularly and eagerly attended. But after being cooped up for over a year, festivalgoers are thoroughly itching to get back into that particular party scene. But what has that time indoors really done to each festival and its participants? We dug into the festival data to find out.
We recently interviewed 1,000 people who consider themselves festivalgoers (i.e., have attended at least one) to gauge everything from their excitement about upcoming festivals to the amount of drug money they plan on spending and even the festivals at which they anticipate having sex. They also shared how they plan to keep things safe(ish) in a post-COVID world. Thinking of attending a festival yourself? Keep reading to see what this group of party people has to share.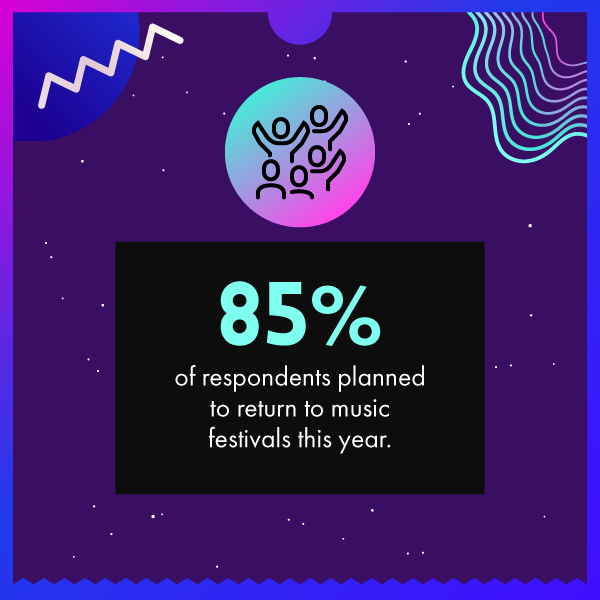 As it turns out, time indoors did not fade the memory of a good festival. A staggering 85% of people who had been to a festival before are planning on going again in 2021, in spite of the potential hardship that COVID-19 may have caused, financial or otherwise. Perhaps festivals are the perfect way to shake off that hardship or reconnect with people who grew apart during social isolation.
The Search for Festival Magic
Our study kicks off with a look into search data. Using SEMrush search-volume data from January 2020 to May of 2021, we can see which festivals were searched for the most and in which state. We could even find which emojis people are associating most often with each festival in their social media posts.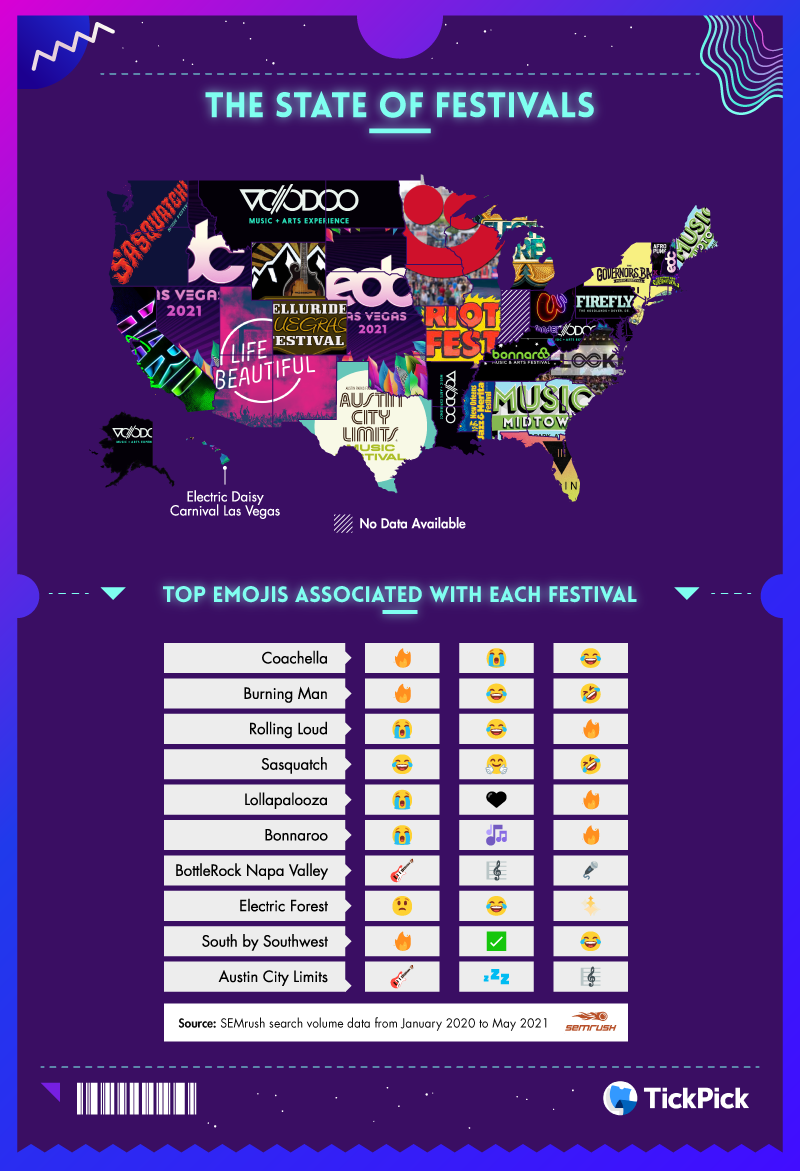 Across the U.S., festival-related searches are skyrocketing, though particular states seem more interested than others. At a glance, it seems as if Electric Daisy Carnival (EDC) Las Vegas has been garnering the most hype. Known for its whimsicality, bright lights, and extravagant props, EDC is particularly popular in its home state of Nevada as well as South Dakota, Nebraska, Kansas, Oklahoma, and even Hawaii. Home-field advantage was also a factor for Austin City Limits, which was searched the most in Texas. And in spite of Coachella's massive popularity, it was not the most searched festival in any state, even California. Perhaps those attending Coachella have done so so many times before that there's no need to search for general information.
When we looked into what kind of emojis people are using to discuss different festivals around the country, we found the crying-laughing and the crying-sobbing faces to be particularly popular. That said, even the crying-sobbing face is typically used to describe a positive emotional experience, like seeing a favorite headliner. Not a single festival had users relying on negative emojis like thumbs-down or truly sad faces.
Back at It
The next piece of our study asked respondents to share the festivals they're most excited for, as well as the top headliners. Considering the A-list talent that many of these festivals feature, respondents likely had to think hard about who they wanted to see the most.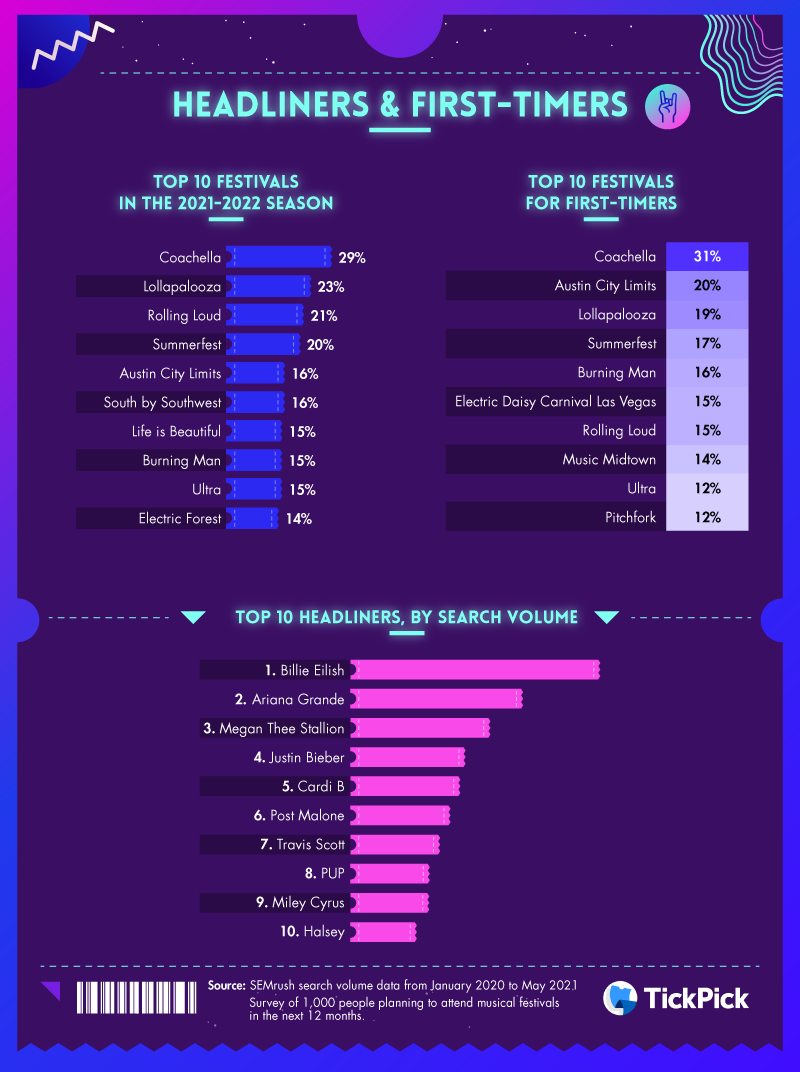 People were most excited for Coachella, as 29% of returning festivalgoers said they'll be attending, and nearly a third said it'll be their festival of choice as a first-timer. Similar to EDC Las Vegas, musical performances aren't the only thing happening on-site at Coachella. Activity tents, food trucks, art studios, and a Ferris wheel are some of the add-ons that elevate that particular festival experience. Despite this, TickPick data on ticket sales from this year put the festivals Rolling Loud, CMA Music, Bonnaroo, and Austin City Limits above Coachella, perhaps proving that there is a more eager fan base at these festivals.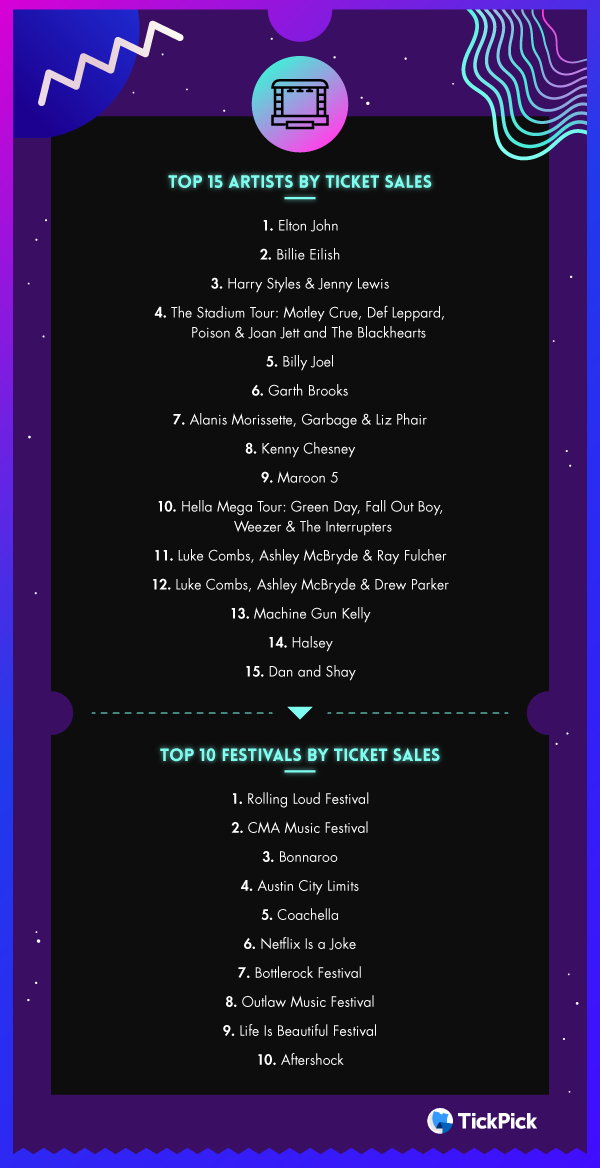 While add-ons are a great bonus to any music festival, one of the main reasons people are willing to pay so much to attend these events is because their favorite artists will also be there. According to our search volume research, Billie Eilish is the most sought-after performer to see on stage. To give some context to her stardom, she has over 51 million monthly listeners on Spotify and a couple songs with well over a billion listens on the app. As far as artist tours go, TickPick data from 2021 to 2022 showed that an older, more experienced star, Elton John, booted Billie Eilish from the top spot. However, Eilish still managed to get the No. 2 spot, followed by other young artists, Harry Styles and Jenny Lewis. According to respondents, Ariana Grande was the second-most sought after artist at music festivals.
It's Getting Hot in Here
But what would a festival be without a little partying? This next component of our study asked respondents exactly how hard they plan on partying (compared to pre-COVID levels). These responses were broken down by festival, so we can see which festivals should anticipate the most intense partying. We also asked if attendees were open to experiencing any particular sexual activities and where.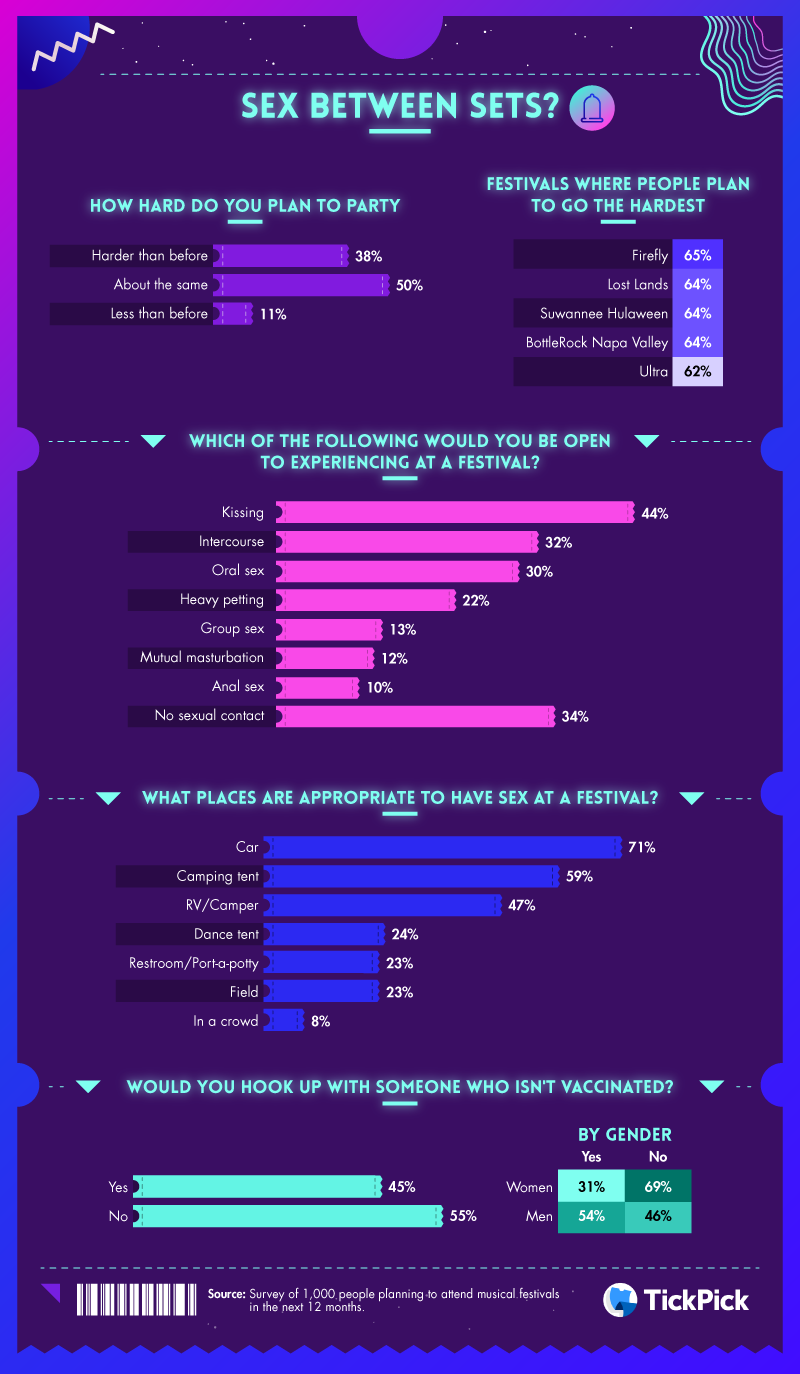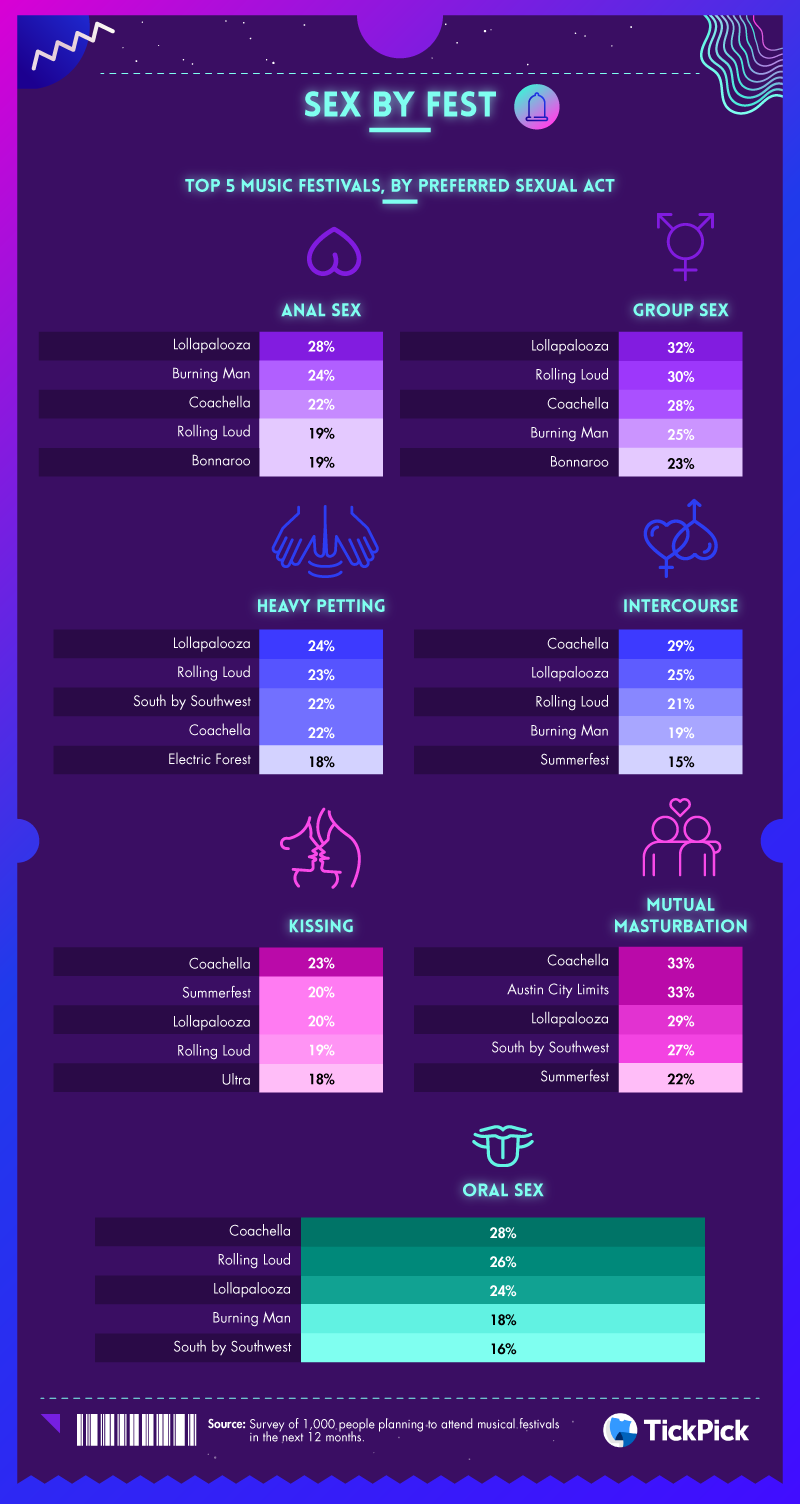 If you're looking to get lucky at one of these festivals, Coachella and Lollapalooza seem to be the best places to get your tickets. Coachella was most likely to have attendees who are open to intercourse, as well as oral sex (28%), mutual masturbation (33%), and kissing (23%). Lollapalooza, on the other hand, was preferred for anal sex (28%), group sex (32%), and heavy petting (24%). Depending on what you're into, the graph above may help you know where to find it most easily.
Drug Money
Festivals don't come cheap. Just the general admission tickets alone for Coachella cost a minimum of $449. Other festivals run similarly high. Then you have to consider the additional costs of partying, such as food, alcohol, and drugs. This part of our study asked respondents how much they plan to spend on their upcoming festivals, how they'll finance those purchases, and which drugs they were actually buying.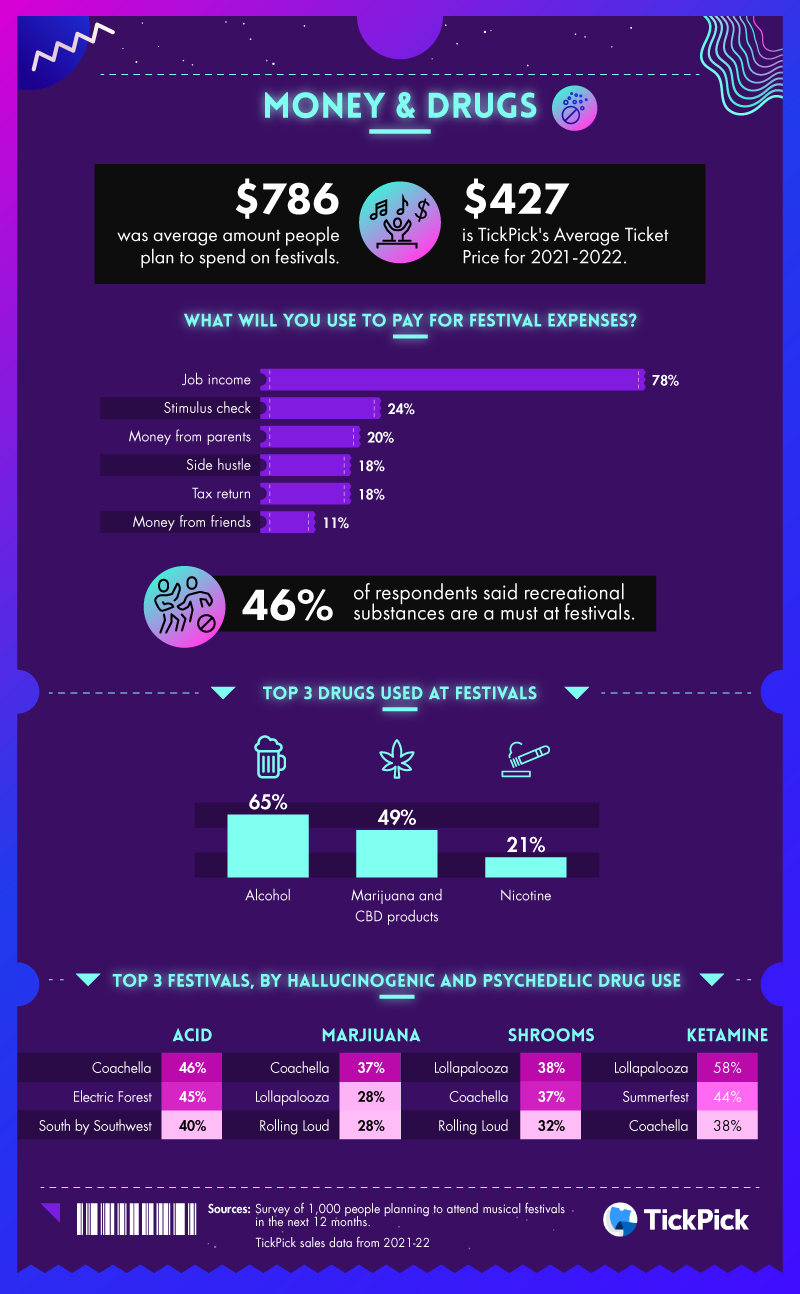 The total festival expenditure, on average, came out to be $786 per person, or more than the recent $600 stimulus check. To fund it, most people relied on income from their job, but others needed additional resources like those stimulus checks and/or money from friends and family. As people recover from the negative financial impacts of the pandemic, having to hunt down money for an expense like this was a pretty common occurrence among respondents. TickPick sales data also cites more than a threefold jump in the cost of festival tickets, from $141 in 2019 to $427 for the 2021-2022 festival season.
According to respondents, music, activities, and sex are pretty much equally important when it comes to enjoying oneself at one of these events, as are drugs. In fact, 46% of respondents thought that recreational drugs were an absolute necessity for the festival experience. Alcohol was the substance most people (65%) planned to consume and spend the most on, followed by marijuana or CBD products. While some would be happy with this sort of buzz, others wanted to take it to the next level and experiment with more intense drugs, from acid to ketamine.
Similarly, for people looking to have sex, Coachella and Lollapalooza are the places to be if you're interested in a drug-filled festival experience. That said, the top three places where recreational drug usage was deemed a must were Electric Forest, HARD Summer, and the Pitchfork Music Festival.
A New Way of Partying
Our study concludes with a look into how COVID-19 has impacted festival behavior, beyond wanting to party harder. We asked respondents if they plan on wearing a mask, whether they're vaccinated, and if their entire group is vaccinated as well. Responses were also broken down by event.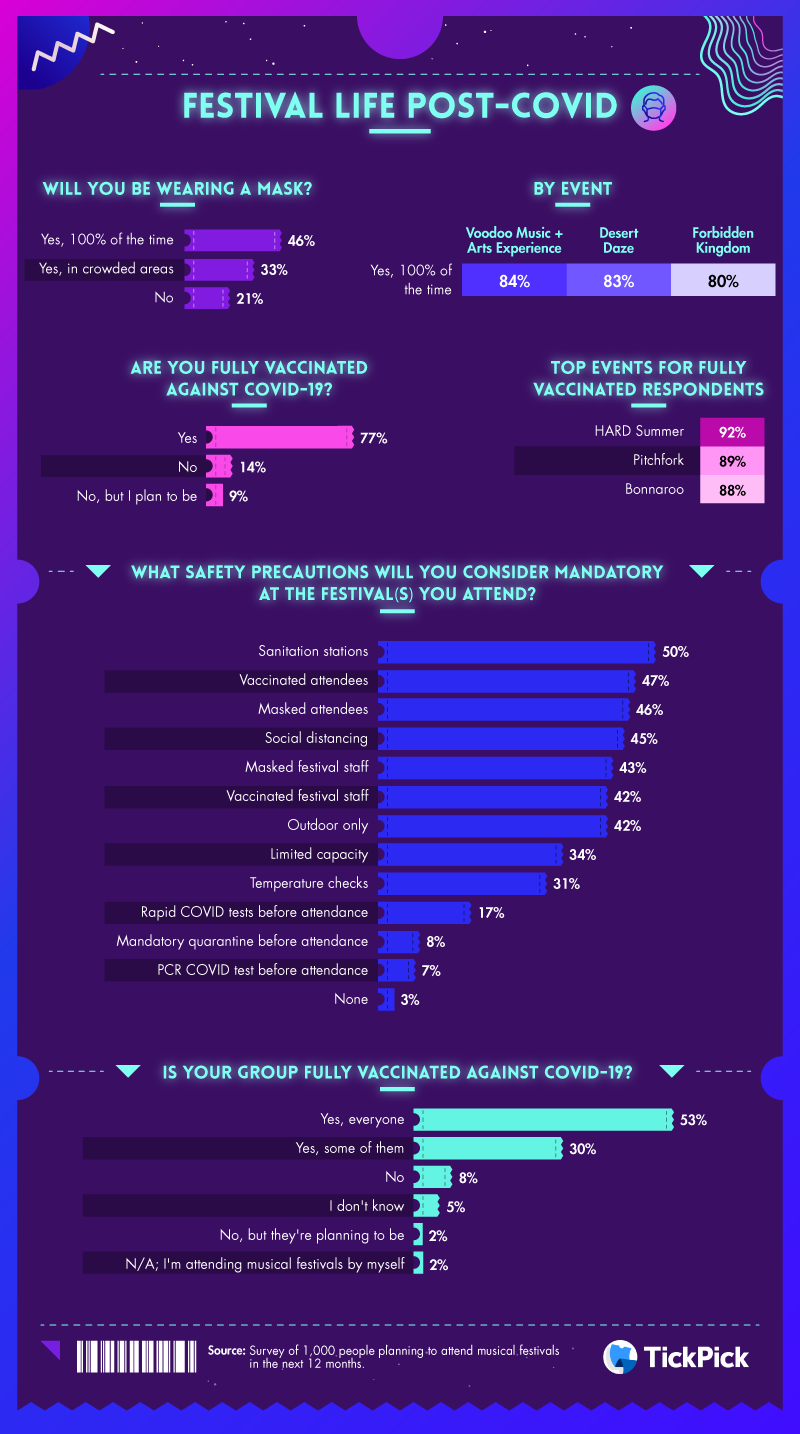 Although people are eager to party again, it doesn't mean many won't consider the pandemic when doing so. Forty-six percent of respondents said they'd be wearing a mask at all times at festivals, and a third would wear one in crowded areas only. Just over a fifth will be going mask-free, however. People going to the Voodoo Music + Arts Experience, Desert Haze, and Forbidden Kingdom festivals will be especially diligent with their mask wearing.
Masks may not be required for many within this demographic, however, as a solid 77% of festivalgoers reported being fully vaccinated – HARD Summer, Pitchfork, and Bonnaroo, in particular, will be teeming with fully vaccinated people. That said, only 53% of respondents could claim that their entire group was fully vaccinated, and another 2% of people had plans to attend these events solo.
To feel comfortable attending one of these festivals, half of the respondents would want sanitation stations on-site, and over 40% would need additional procedures and rules in place, like vaccinated attendees and festival staff and social distancing, before joining in on the fun. About a third wanted things like temperature checks or even capacity limits for the event.
Back in the Swing of Things
Evidently, festivalgoers are highly excited to be able to get back in on the action. They anticipate partying as hard, if not harder, than they did before and involving themselves in everything from music to sex and drugs. But they weren't totally willing to throw caution to the wind. Many had been vaccinated or packed masks, while others would even attempt to socially distance or quarantine beforehand.
Although some of these drugs and sexual activities present risk to attendees, it's encouraging to see that COVID-19 didn't sap the party life out of them entirely. Celebrities and general admissions people alike are ready to try and reclaim some part of normalcy. If you're feeling similarly, TickPick offers the guaranteed best ticket prices on the market. Having saved over $56 million (and counting) for their customers, you may not actually have to borrow money from friends and family to attend whatever your heart desires. Head over now to capitalize on the great opportunities TickPick has to offer!
A Safe Festival – for All Festivalgoers
There's no shame in a casual fling inspired by a festival experience. But no matter the event, consent is the most important subject to discuss with a potential partner before any sex and romance. Always share enthusiastic and affirmative consent with your partner before creating some wild festival memories together.
Maximizing Your Festival Potential
As our data clearly infers, drugs have secured a foothold in festival culture nationwide. Despite this culture of collective intoxication, festivals afford singular opportunities to fans — ones you don't want to miss because you're too wasted. Don't worry: We're not looking to deliver a moralizing lecture. We simply hope you'll keep safety in mind at the next festival you attend, so you can fully enjoy the experience you came for.
Ragers for Vaccines
Attending large gatherings greatly intensifies the risk of getting and spreading COVID-19 among unvaccinated festivalgoers. The safest way to attend a festival this year is by getting fully vaccinated against COVID-19. Unvaccinated festivalgoers can limit risk by attending outdoor fests with people they live with, wearing a mask, staying six feet apart, and practicing good personal hygiene, such as hand-washing or using hand sanitizer.
For the ideal festival or concert experience, you'll need the fairest prices possible with no service fees. That's where TickPick comes in handy, with transparency and no fees on the best ticket prices available. To see what a ticket site built for fans looks like, check us out today.
Methodology and Limitations
We conducted a survey of 1,000 people planning to attend music festivals in the next 12 months. We asked them about their festival of choice, their spending plans, and their planned festival activities. 43% of respondents identified as female, and 57% of respondents identified as male. 4% of respondents were Gen Z, 57% of respondents were millennials, 29% were Gen X, and 10% were baby boomers.
We also collected data from SEMrush and Twitter. Specifically the search volume of the following festivals and the sentiment analysis on Twitter:
Rolling Loud
Coachella
Lollapalooza
South by Southwest
Pitchfork Music Festival
Electric Daisy Carnival Las Vegas
EDC
Austin City Limits Music Festival
Ultra Music Festival
The Governors Ball Music Festival
New Orleans Jazz & Heritage Festival
Electric Zoo
Burning Man
Electric Forest
Bonnaroo Music and Arts Festival
Suwannee Hulaween
Life is Beautiful
BottleRock Napa Valley
Tortuga Music Festival
Hot 97 Summer Jam
AFROPUNK FEST
Outside Lands
Lost Lands
HARD Summer
Music Midtown
Forbidden Kingdom Festival
Summerfest
Riot Fest
III Points
Voodoo Music + Arts Experience
Firefly Music Festival
Desert Daze Festival
Stagecoach Festival
Fair Use Statement
If you know any die-hard festivalgoers, feel free to send this article their way. We just ask that you do so for noncommercial use only and to provide a link back to the original page so contributors can earn credit for their work.