Searching for baby names yields millions of results in mere seconds. This can feel incredibly overwhelming, especially when you consider an attempt to sort this number down to just one perfect name for your newborn child. However, it looks like parents may have found a way to sort instantaneously: naming a child after one of their heroes. But this time, we're not talking parents, grandparents, and godparents – we're talking about celebrities and fictional characters.
After sorting through the Social Security Administration's Baby Name Database, we noticed just how often movie and album releases were influencing baby name trends. Seeing athletes reach certain milestones impacted these trends as well. We also surveyed over 500 parents across the country to see how they felt about naming their children after various celebrities. Continue reading to see what the data reveals about how baby naming works today.
Musicians, Athletes, and Movie Stars, Oh My!
The Baby Name Database from the Social Security Administration revealed a few interesting trends related to today's most popular athletes, musicians, and actors and actresses. More specifically, however, it was certain shining moments from each celebrity that really influenced parents' decisions over what to name their children.
The name Taylor started strong at the turn of the century but has been on a steady decline in popularity since. The only uptick in popularity the name experienced occurred in 2008 when Taylor Swift released her album "Fearless." Some parents went a little edgier, as the name Rihanna spiked in 2008 when the singer released "Good Girl Gone Bad."
Peyton Manning has been a well-known professional athlete for more than 20 years. Parents have increasingly named their children Peyton since, with Manning as a possible source of inspiration. Moreover, in 2009, when Manning received his third MVP award, the name saw an additional small spike.
The name Emma had always been popular and certainly spiked even moreso after the first Harry Potter movie premiered. And although Jennifer was almost as popular as the name Emma in the early 2000s, Jennifer continued a steady decline since the production of the show "Friends" stopped in 2004. And finally, the name Harrison, though never as common as names like Emma and Jennifer, rose to small stardom after "Star Wars: The Force Awakens" premiered with Harrison Ford leading the way in 2015.
Famous Newborn Names
Most people seemed pretty excited at the thought of naming their children after favorite athletes (69.2%), musicians (61.5%), and actors (67%). But Emma Watson was a particular crowd favorite, with 31.6% of parents saying they would name their child after her. Watson has become quite the role model and spokesperson, speaking out for gender equality at the U.N. and using her platform to encourage both reading and eco-friendly fashion.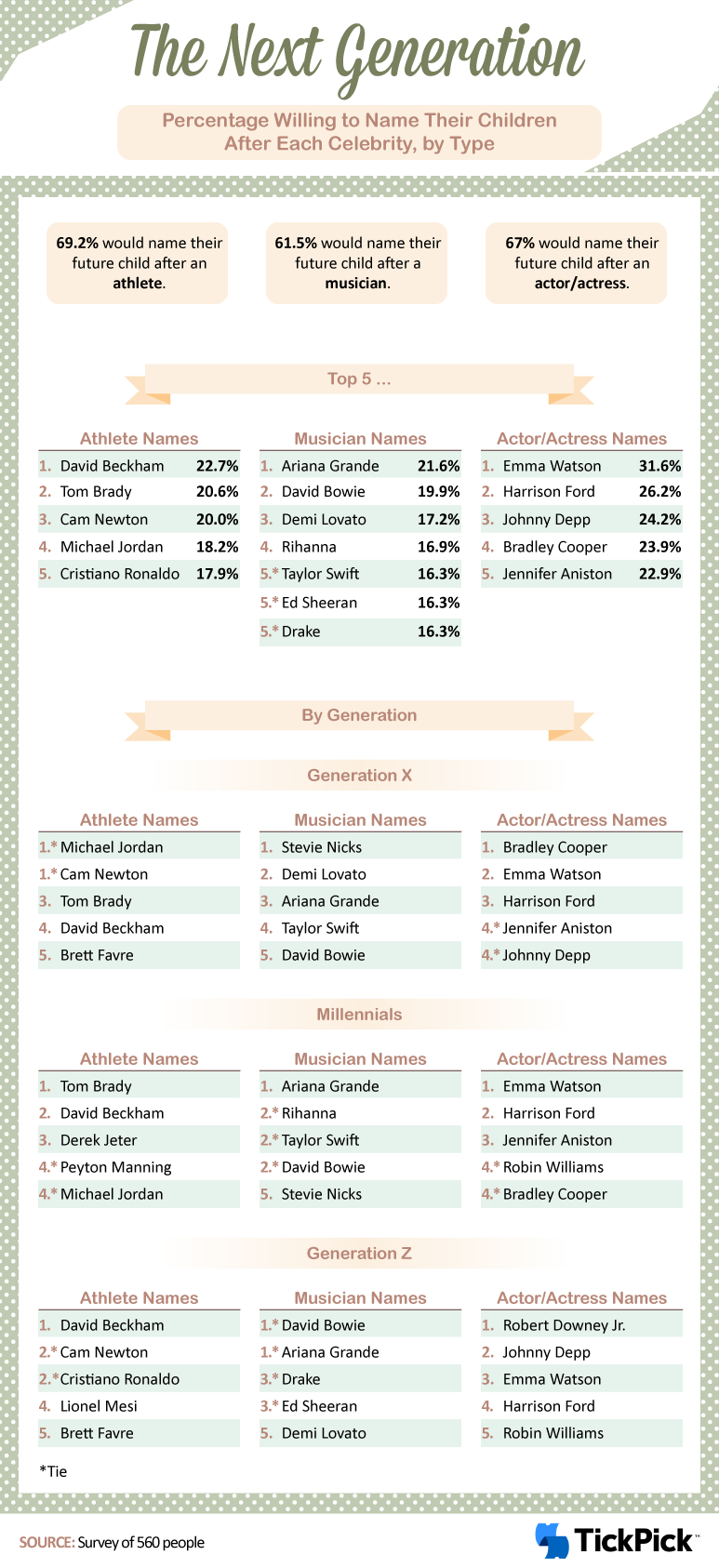 For sports fans, and millennials, in particular, David Beckham was an inspiration for most. This father of four had 22.7% of parents conjuring up images of their child as a renowned athlete with famously good looks. Millennials' No. 1 athlete name for their child, however, was Tom Brady.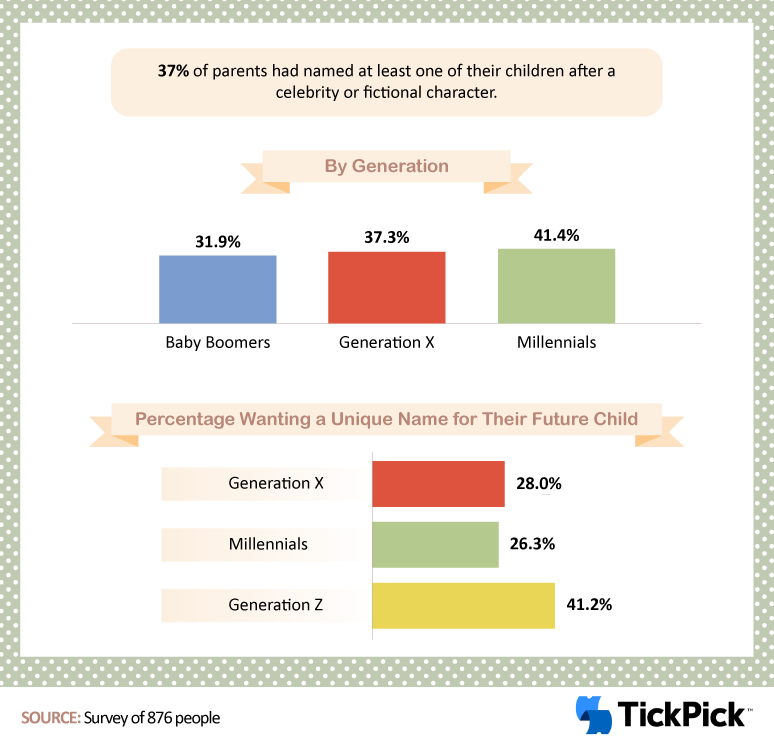 More than a third of the parents we surveyed had already named one of their children after a celebrity or fictional character. Millennials were the most likely to have partook in this phenomenon, while baby boomers had done so least often among analyzed generations.
However, unique names were more important to Gen Z than already famous names. That said, some of the most popular names for this decade are currently Emma, Sophia, and Olivia – all of which have plenty of famous owners already.
Calling Children Something Newsworthy
Before Donald Trump took office, the name Donald had already been on a steady decline in popularity since the beginning of this decade. Nevertheless, 1 in 5 Republicans said they would name their future child after President Trump. Though fewer babies have been named Hillary overall, this name began to spike in popularity when she launched her presidential campaign in 2007. Currently, just 9% of participants said they would name a future child after her.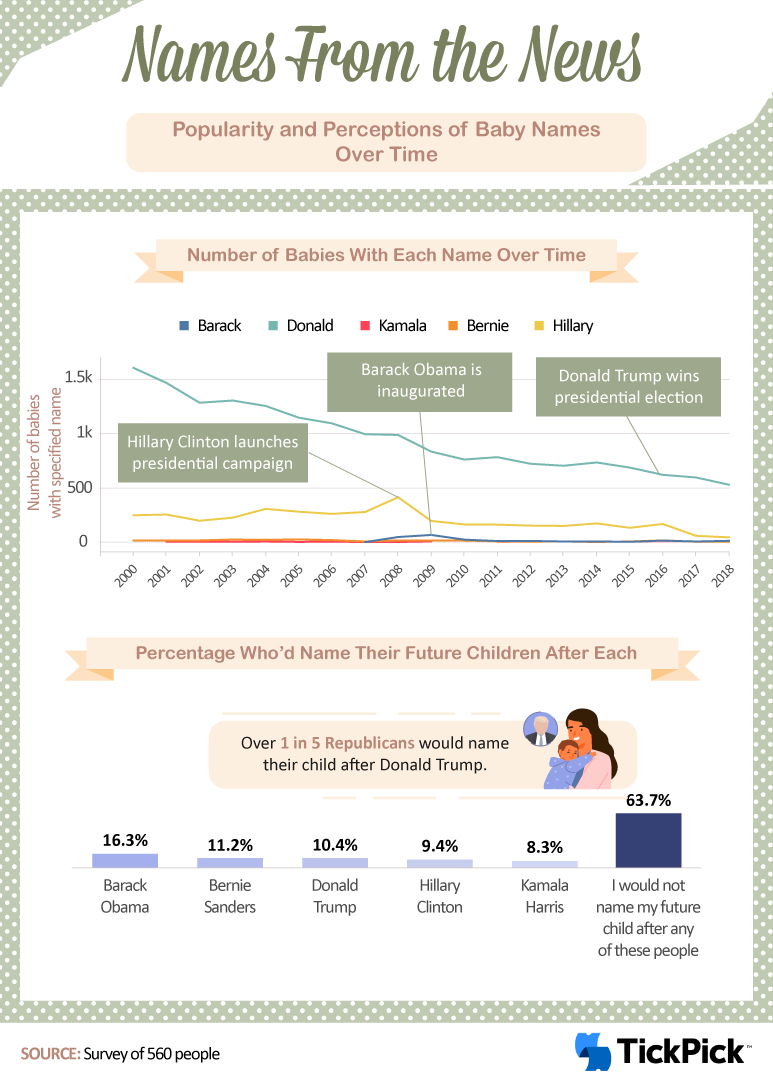 Barack – a very rare name – saw a small bump in use after he was inaugurated in 2009, and 16.3% of respondents said they would consider naming a future child after him, as well. This was a more likely namesake than Bernie Sanders, Donald Trump, Hillary Clinton, and Kamala Harris. Nevertheless, a whopping 64% of respondents across all political parties wanted to avoid naming their children after political figures altogether.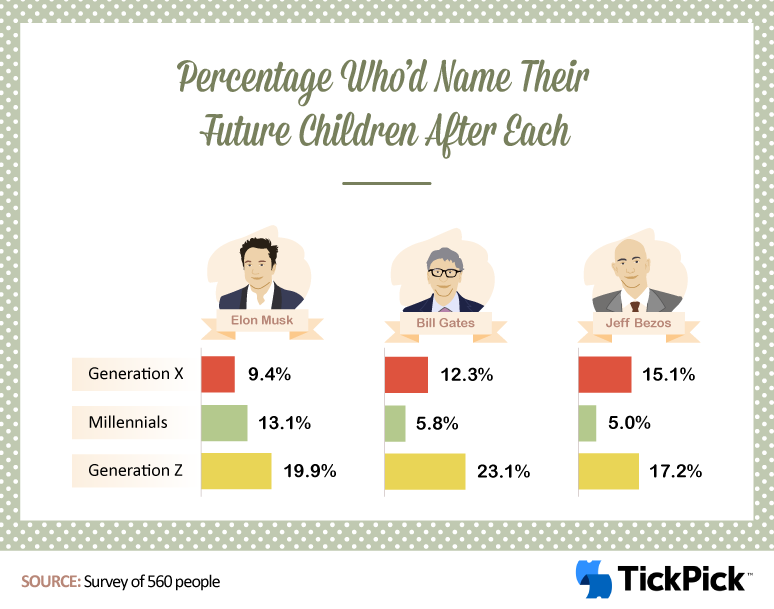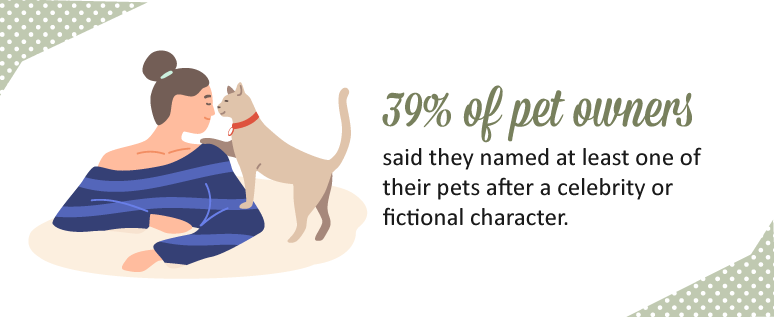 Next, we asked respondents whether they would consider naming their children after Elon Musk, Bill Gates, or Jeff Bezos. Gen Z, or respondents born after 1996, most often chose Bill Gates. Older respondents, on the other hand, were most likely to consider Jeff Bezos as inspiration for their own flesh and blood. And the generation right in the middle, millennials, chose Elon Musk more than the other two.
Game of Names
The "Game of Thrones" fandom was hardcore. So hardcore, in fact, that only 23 percent – less than a quarter – of GoT fans said they definitely wouldn't name their future child after any of the characters.
In terms of the overall impact on baby names, Arya Stark essentially took the name Arya from obscurity to utter stardom. After the show's first season premiered in 2011, the name's been on the rise. In total, babies born with the name Arya have increased by 520% since "Game of Thrones" premiered. Though the name Daenerys hasn't become nearly as popular as Jon or Jaime, 1 in 4 female GoT fans would be willing to name their future child Daenerys. And this is even after her fiery ending!
You're a Wizard, Baby
"Game of Thrones" may be the most popular TV series we looked at, but Harry Potter's overall fandom has surpassed that of GoT in terms of time. The unparalleled popularity of the Harry Potter franchise may have stirred up a few popular naming trends as well – but not necessarily because of the main characters. Luna Lovegood, Harry Potter's quirky Ravenclaw friend, influenced more parents than Harry himself. After Luna's first appearance on screen in 2007, the name went from being very unusual to a name that's more common than George and Lily.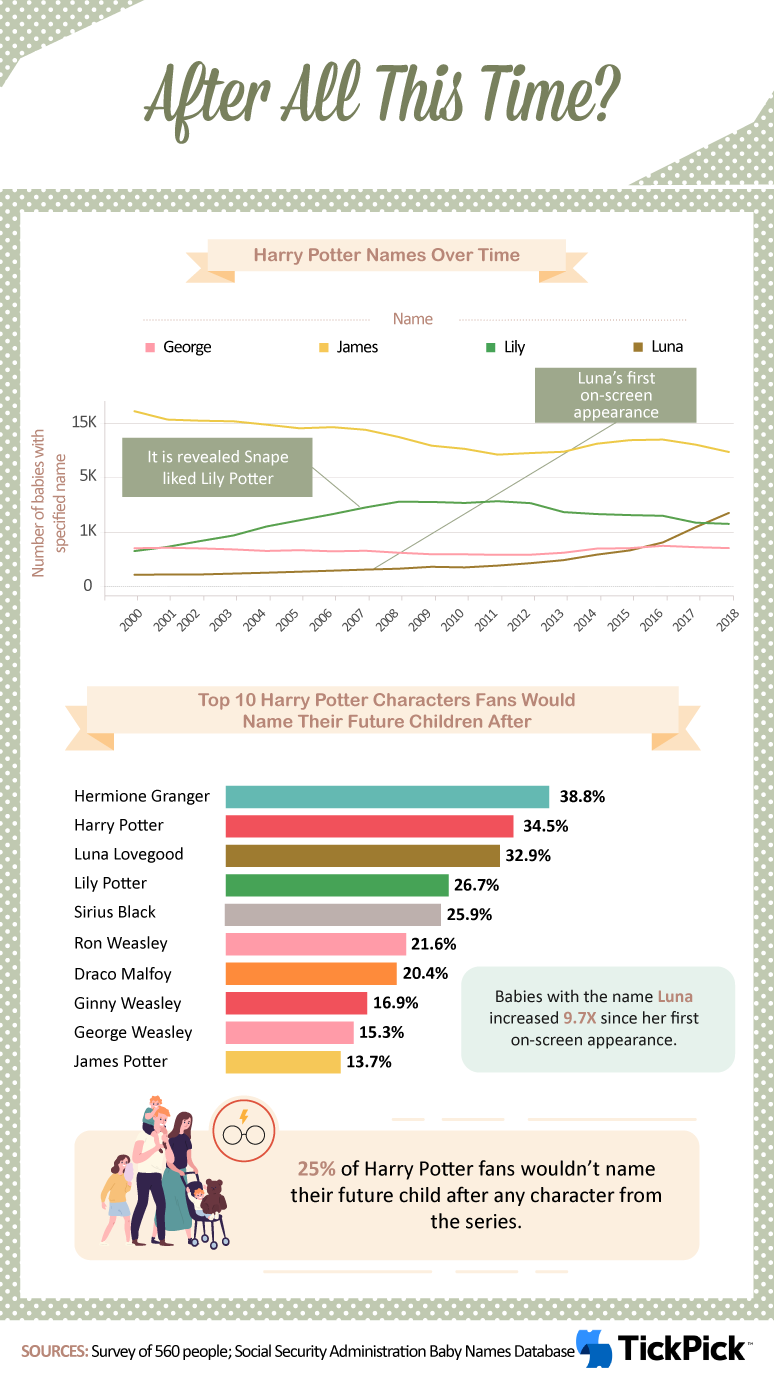 Three-quarters of fans said they would consider naming their future children after a character from the Harry Potter series. Most often, their hypothetical child would be named after Hermione Granger (38.8%), followed by Harry Potter (34.5%) or Luna Lovegood (32.9%)
The Name of the Game
Parenting is already tough, and one of the first major decisions of what to name your child can feel as if you're determining the direction of a person's life. This might be why the data revealed parents were so open-minded and willing to name their children after their heroes.
Whether in concert, on a football field, or gracing the big screen, watching these celebrities sing, play sports, or act could end up being an incredibly special pastime for a parent and child. If you are looking to see your heroes in action,be it on stage or on the field, make TickPick.com your first stop. At TickPick, there are no frustrating additional fees or confusing steps to take when planning your special day or night out at your next big event.
Methodology and Limitations
To gather the data shown in the above study, two separate surveys were run, and data from the Social Security Administration regarding historical baby name records were collected. The first survey was regarding who you'd be willing to name your future children after, and only people who did not have children, but planned on having them, or planned on having more children, were allowed to continue with the survey. There were 560 participants in the first survey: 100 from Generation X (with a 10% margin of error); 250 millennials (with a 6% margin of error); and 210 from Generation Z (with a 7% margin of error).
The second survey was comprised of questions about whether parents had named their children after any celebrities and whether they had named any of their pets after celebrities or fictional characters. Only participants who had already had children and weren't planning on having more were allowed to participate in this survey. There were a total of 316 participants in this survey: 116 were baby boomers (with a 9% margin of error), and 200 were from Generation X (with a 7% margin of error).
All survey data rely on self-report, which can be host to issues such as telescoping and exaggeration. To combat these issues, an attention check was used in both surveys to help ensure only respondents who were paying full attention were allowed to finish the survey.
Fair Use Statement
Picking a baby name can be tricky, so share the knowledge! The data in this study can be shared online for noncommercial purposes as long as you make sure to link back to this page.