Like language, music is a cultural building block. But where do our music tastes come from? According to musicologist Nolan Gasser, musical preferences correlate with our upbringing. While we are all born with the capacity to understand complex rhythms, how we choose to explore music may have to with the role our parents play in influencing our tastes.
To better understand how parents influence their children's music tastes, we surveyed more than 490 parents and more than 500 people who reported on their childhood experiences. We asked parents how they tried to influence their children's music tastes, and we determined whether Mom and Dad were successful in guiding their kids' listening preferences.
Childhood Musical Influence
Who is responsible for the tunes we enjoy getting down to? Exes and friends often receive the credit for developing our musical palette, but an appreciation for music starts when we're babies.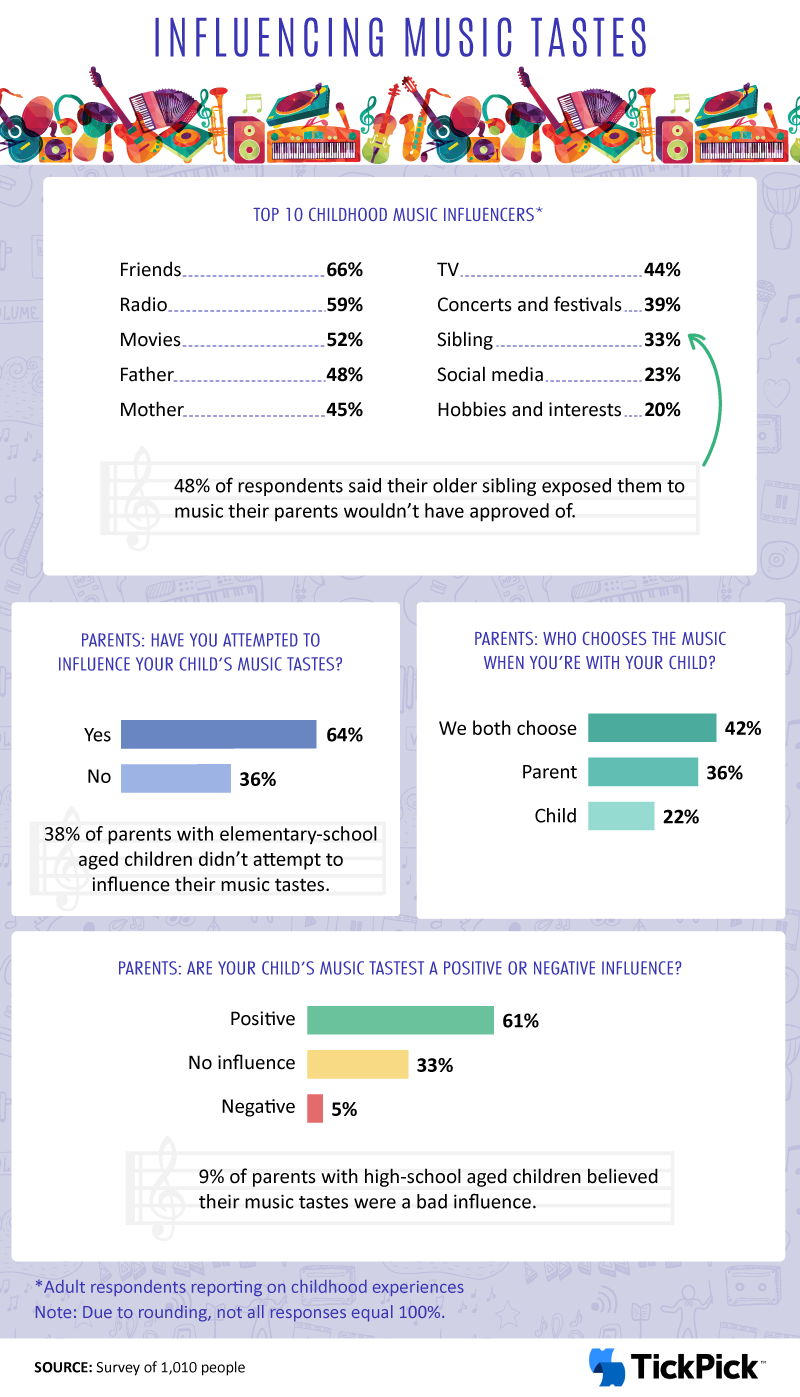 Parents made the top five list for childhood musical influencers. According to our findings, 48% of fathers and 45% of mothers exposed their children to music. Friends were the No. 1 tastemakers, but radio (59%) and movies (52%) also participated in helping develop people's childhood music tastes.

When you grow up in proximity to someone, you're likely to pick up on one or two of their habits. But did parents try to influence their children's musical tastes? Yes! Sixty-four percent of parents said they attempted to influence the music their child enjoys. And 61% must think they did a great job – the majority of parents believed their child's music had a positive influence on them.
How Parents Influence
Child rearing is a hands-on affair. Teaching kids how to be likable, for example, has to do with emotional maturity, something they learn through close interactions with their parents during playtime. Developing a child's musical tastes is no different.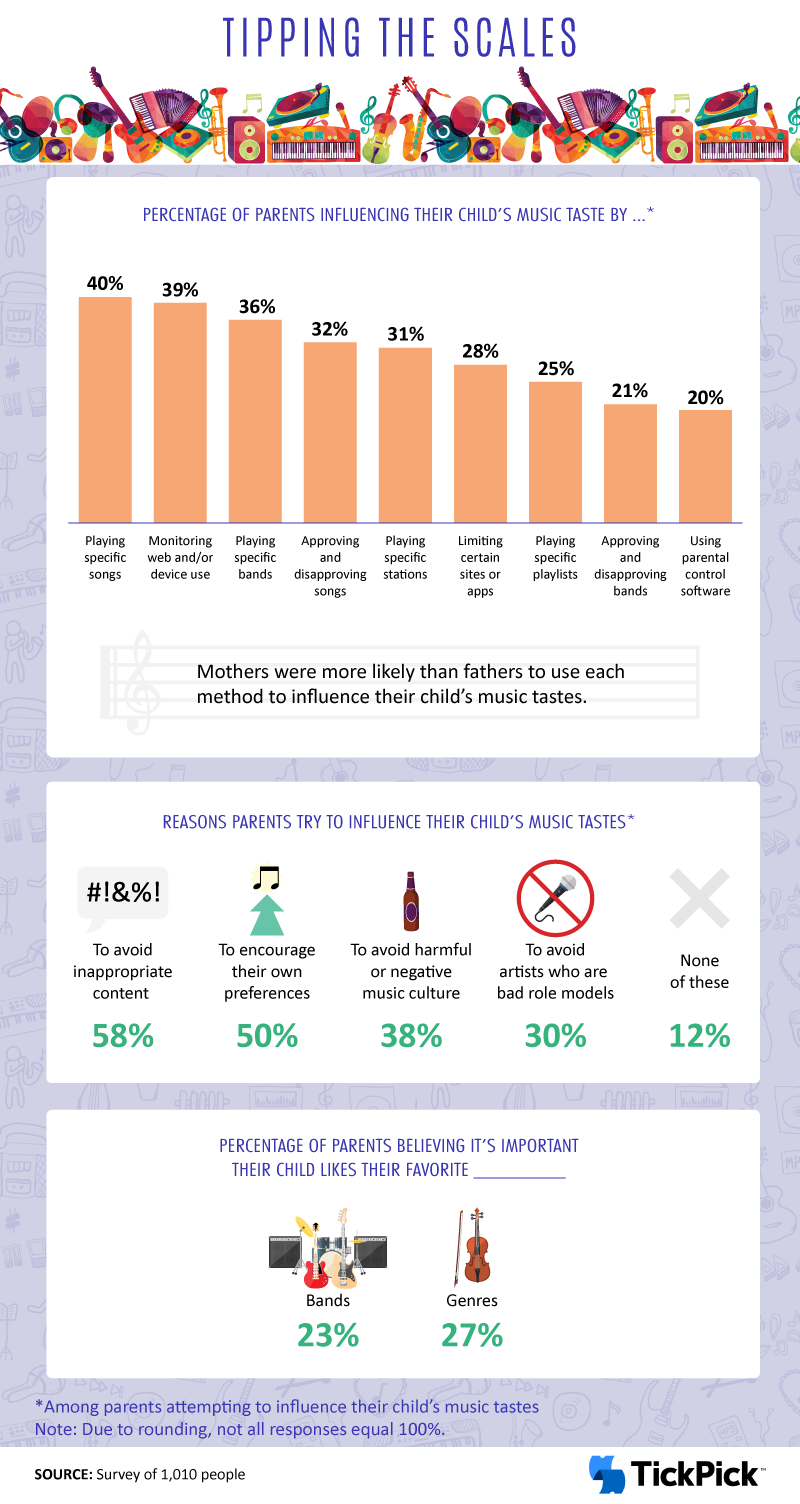 Most parents influenced their children's musical tastes by taking the lead – they played specific songs for them (40%). Others played specific bands (36%), stations (31%), or playlists (25%). While some parents went the protective route, limiting what their children were allowed to listen to, it was not as popular.

Thirty-nine percent of parents monitored web and/or device use, but only 20% used parental control software. This may be a good thing because parental control software is likely to break the trust between teen children and their parents. At 58%, the majority of parents were concerned with the appropriateness of the music their children listen to, but deciding to guide their tastes instead of imposing on them may keep the relationship intact.
What Do Your Kids Get Down to?
Music benefits brain development, but some musical content contains strong language. The majority of parents in our study (87%) knew if their child listens to explicit music.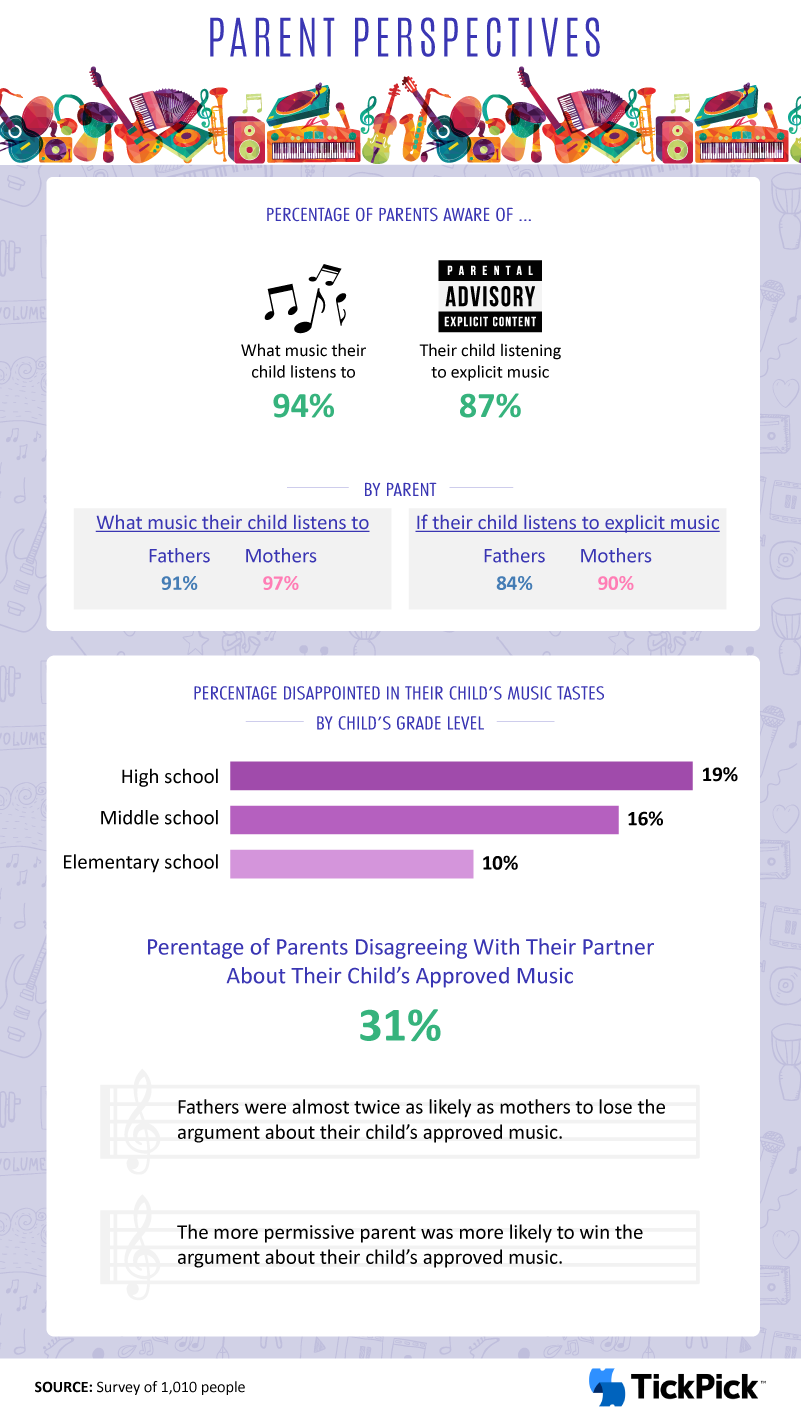 Are parents aware of the type of music their children listen to? Overwhelmingly, 91% of fathers and 97% of mothers knew what played in their children's headphones. While moms (90%) were more aware that their children listened to explicit music, 84% of fathers also knew.

First comes knowledge, then comes disappointment: Nearly 1 in 5 parents were disappointed in the music their children listened to while in high school. We're not sure when the disagreements happened, but nearly 1 in 3 parents argued about the music their kid could listen to.
Flip the Turntable
Now that we're aware of the impact parents have on their children's music tastes, let's look at things from a different perspective. Do children approve of their parents' musical preferences? We hope so because our musical palettes form in response to what moms and dads approve.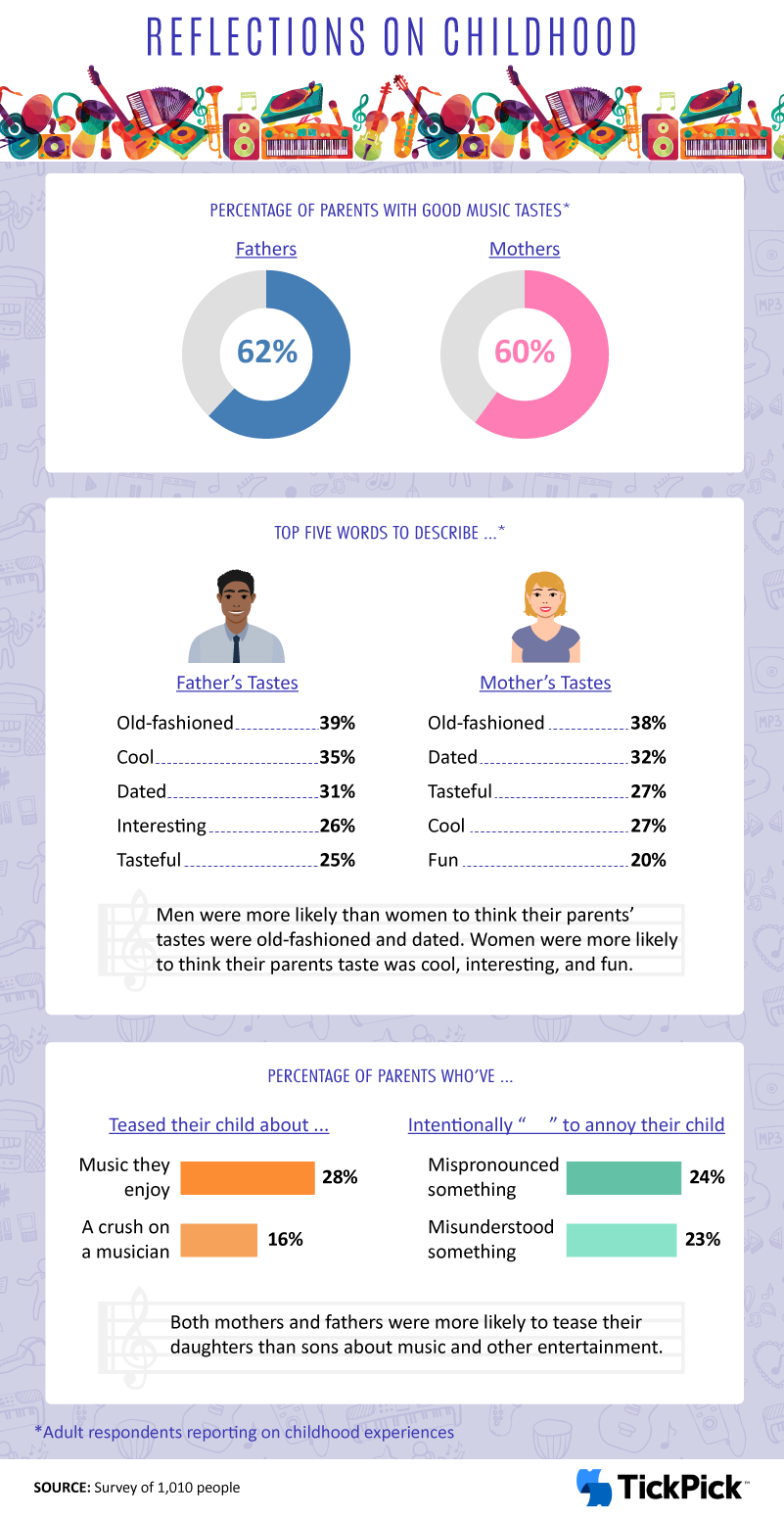 According to the people who reported on their childhood, nearly 2 in 3 parents had good taste in music. Men were more likely to believe their parents' musical tastes were old-fashioned or dated, but women tended to think their mom and dad's music was tasteful, cool, and fun. Although daughters were kind in describing their parents' musical preferences, mothers and fathers were more likely to tease them about their taste in music.

Influence by Musical Genre
Are parents who listen to a particular music genre more likely to make an impression than others? Pop, rock, and oldies are the most popular genres across the globe. There's little chance parents aren't responsible for the oldies making the top three.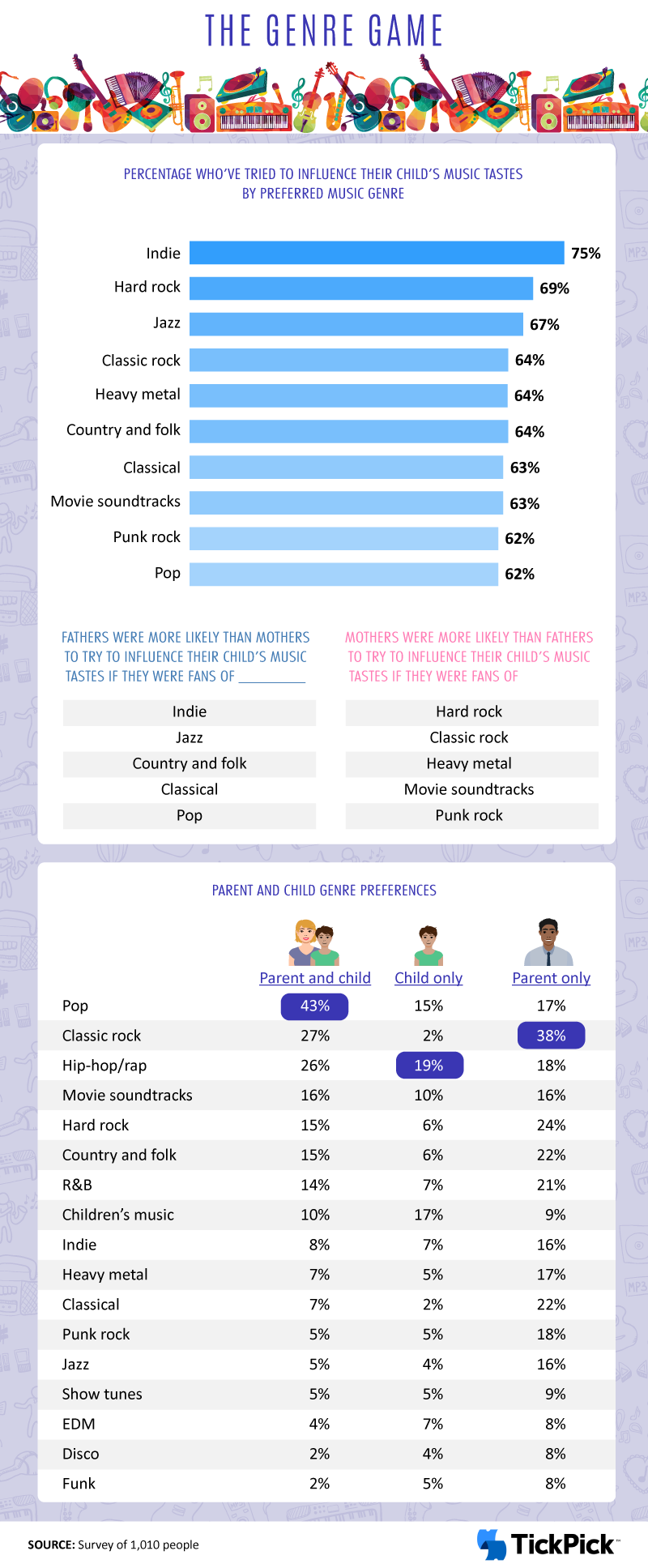 While parents who listened to pop and punk rock music were the least likely to try and influence their children's music tastes, indie listeners topped the list – 3 in 4 parents who enjoyed indie tried to make indie lovers out of their children. Parents who listened to hard rock, jazz, classic rock, and heavy metal were also likely to have tried to influence their children. And that may have a lot to do with the mother's music tastes. Moms who enjoyed hard rock, classic rock, heavy metal, movie soundtracks, and punk rock were more likely than fathers to try to influence their children.
Despite all of that influencing, pop remained the most preferred genre among children and parents at 43%. Classic rock followed suit, with 27% of children and parents reporting a preference for it. Disco and funk hit the charts for the least preferred parent and child genres: Only 2% of parents and children favored these music styles.
Pass on the Beat
Most of us are not talented like Dylan Beato, a child who has developed "perfect pitch," which means he can identify individual notes even in complex chord progressions. But our research shows that parental influence determines our musical tastes. So it's likely that Dylan has perfect pitch because his father Rick reinforced his musical development, even in the womb.
It's never too early to help your children form their musical preferences. Take the time to explore your favorite genre with them at home, then expose them to concerts. TickPick is happy to help you find the musical experience that best suits you and your child, and there are no hidden fees involved.
Methodology and Limitations
We surveyed 1,010 people using the Amazon Mechanical Turk platform. 492 respondents were parents who reported on their parenting experiences, and 518 respondents reported on their childhood. 166 parents reported about elementary school-age children, 154 parents reported about their middle-school-age children, and 172 parents reported about their high school-age children. Among parents, 205 were male, 286 were female, and one did not identify as male or female. Among respondents who reported on their childhood, 243 respondents were male, 273 were female, and two did not identify as male or female.
These data rely on self-reporting, and strict statistical testing has not been performed. Our margin of error was 3% with a 95% confidence interval. To ensure respondents took our survey seriously, all respondents were required to identify and correctly answer a decoyed attention-check question.
Fair Use Statement
We know that feeling: You hear a good beat or read dope content, and you've just got to share it with everyone you come across. So, go ahead, share our findings and graphics, but only for noncommercial use. And when you do share, please cite the authors and link back to this page.