Nothing sets a sexy mood quite like a soundtrack, and no musical experience equals the environment of a festival. If you're willing to put aside certain notions of privacy, it's not difficult to see why music festivals facilitate romantic connections – fleeting though they may be. Combine a collective appreciation of tunes with excessive intoxication, and you're bound to get some hookups, even if the attraction doesn't last through the end of the set.
Find the hunky tank-top-wearing bro of your dreams? Make the most of the makeout, and then don't feel bad about "accidentally" losing him in the crowd once the encore's over. Fall for the young lady covered in body glitter? Have fun pulling sparkles off your outfit later. Festival sparks have been known to sometimes last far longer. For all you cynics out there, "Coachella couples" are a thing.
But the "free love" vibe isn't for everyone, especially if you're perturbed by the body odor festivalgoers can acquire after days spent dancing in the sun. How many who attend these raucous events actually hook up with another attendee?
Sex by the Main Stage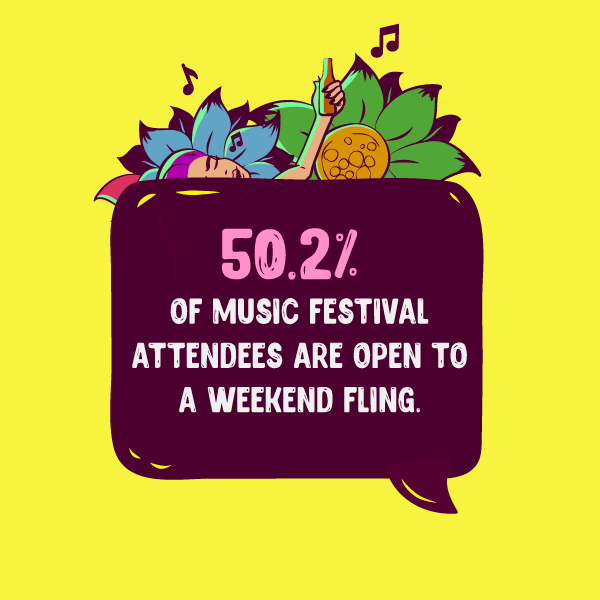 Half of them actually. We surveyed more than 1,000 past festivalgoers about their willingness to get hot and heavy with someone else in attendance. If they'd done so already, we got them to spill the juicy details to learn just how often romance goes down in the crowd. Keep reading to learn the down and dirty details of music festival romance.
More than a third of the festivalgoers reported getting it on while in attendance. But when we segmented our responses by the specific festival attended, we found massive variations, among the events. On the high end, more than 30 percent of Electric Forest attendees had sex while at the festival – due to the event's onsite camping and wooded location, there are some relatively discrete opportunities for intimacy. Bonnaroo also boasts a beloved camping culture, which might explain how more than a quarter of attendees found a way to get romantic.
Conversely, less than 15 percent of iHeartRadio attendees did the deed while there: Perhaps because it takes place in an arena, security stops things from getting too sexy. Similarly, South by Southwest occurs across dozens of private venues, none of which can be too thrilled about the prospect of strangers getting bold in their bathrooms.
Beats and BJs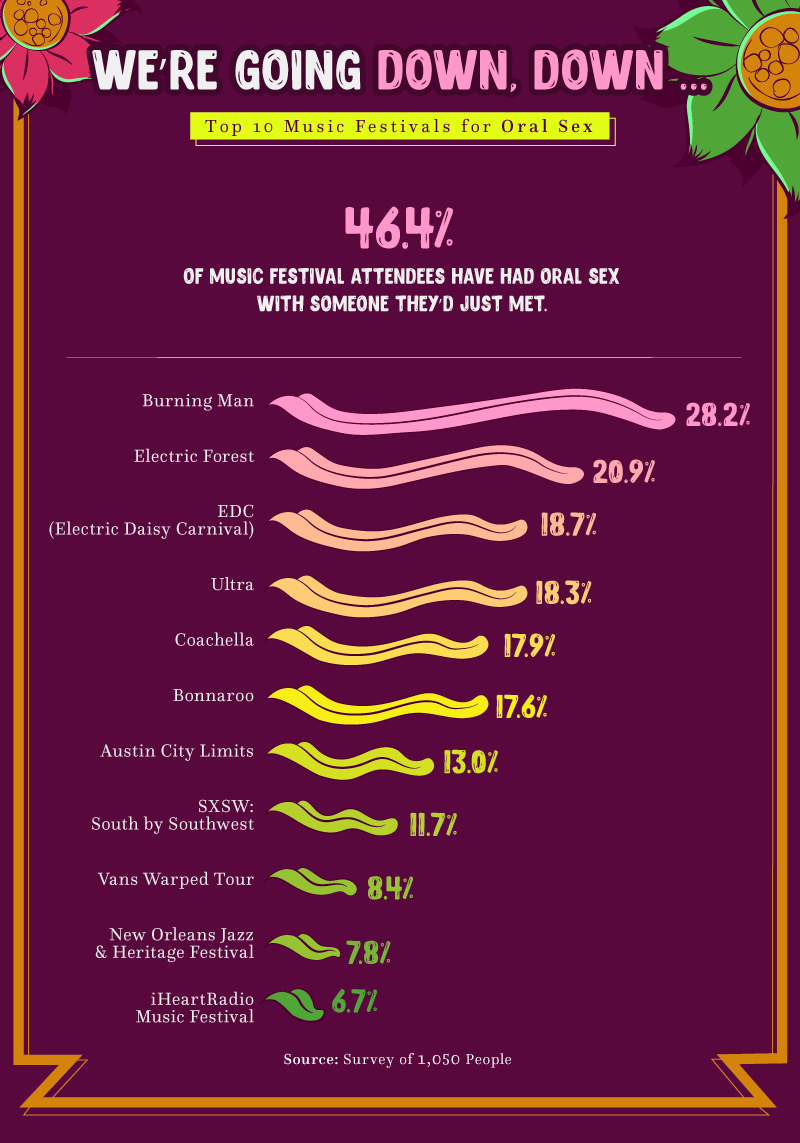 If you thought intercourse was surprisingly common at festivals, oral sex occurred even more frequently. Over 46 percent of festival attendees had oral sex during the event – with someone they'd just met. Leading this category was Burning Man, which is widely known for its sex-positive ethos and "Orgy Dome," but also quite serious about promoting a culture of respect and consent. Electric Forest neared the top of the list for oral sex as well, although it was actually less common among attendees at that particular festival than intercourse.
Third place went to another electronic music festival: Electric Daisy Carnival. EDC recently introduced a camping option for its attendees, which may even elevate the festival's number of sexual encounters. Conversely, many events had quite low rates, including the Vans Warped Tour. This festival is one of many confronting incidents of sexual harassment at its shows and actively works to create a safer environment for female fans. Many have argued clear and firm standards of festival conduct should be communicated and enforced, and safe spaces must be created for women.
Top Festival Sex Spots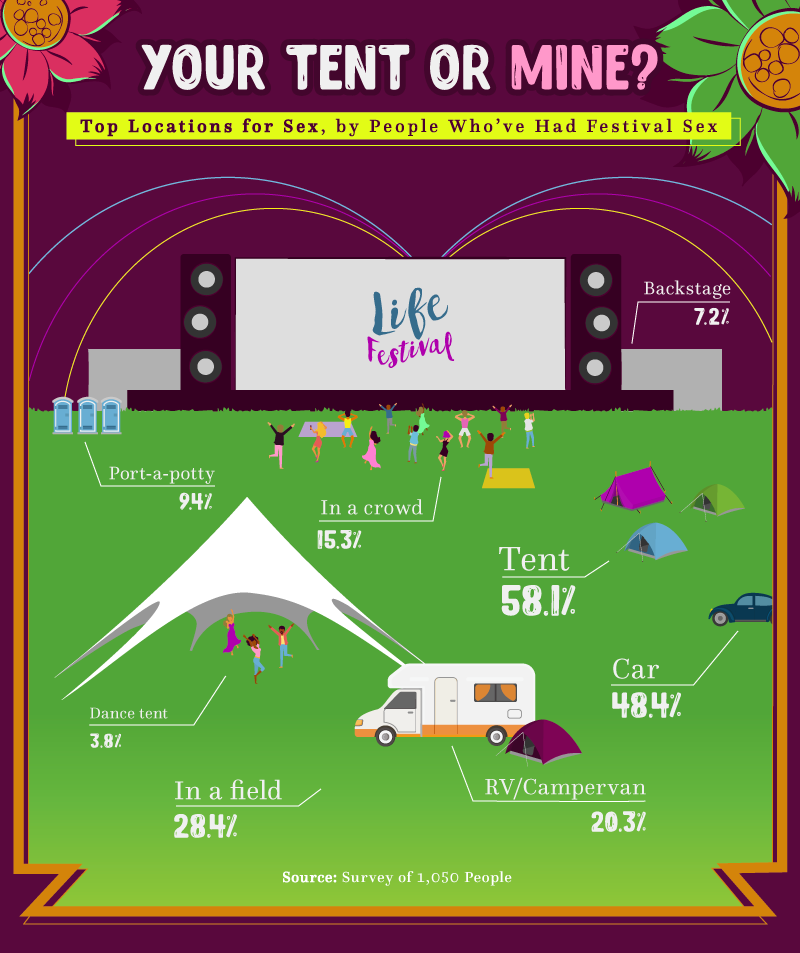 If you were wondering how festivalgoers manage to get down amid massive crowds, we had the same question. Thankfully, only 9.4 percent resorted to sex in a port-a-potty – although that figure still seems roughly 9.4 percent too high. More popular options included tents, where nearly 6 in 10 respondents got together, and cars, where 48.4 percent did the deed. Over 20 percent made use of more spacious digs, having sex in an RV or campervan, instead. For those not initially keen on the idea, perhaps a couple of days in a field can make a Winnebago start to look pretty romantic.
Speaking of fields, 28.4 percent got down and dirty in the open air. Others preferred the cover of the crowd, with more than 15 percent attempting intercourse while jammed among other bodies. Then there was the supercool backstage sex contingent, although these respondents didn't disclose how they gained entry to that exclusive area. Some festivals have so many varying levels of access that the right wristband will take you to some relatively private places – although it's probably considered disrespectful to miss an artist's performance while getting it on behind the scenes.
Top Festival Sex Positions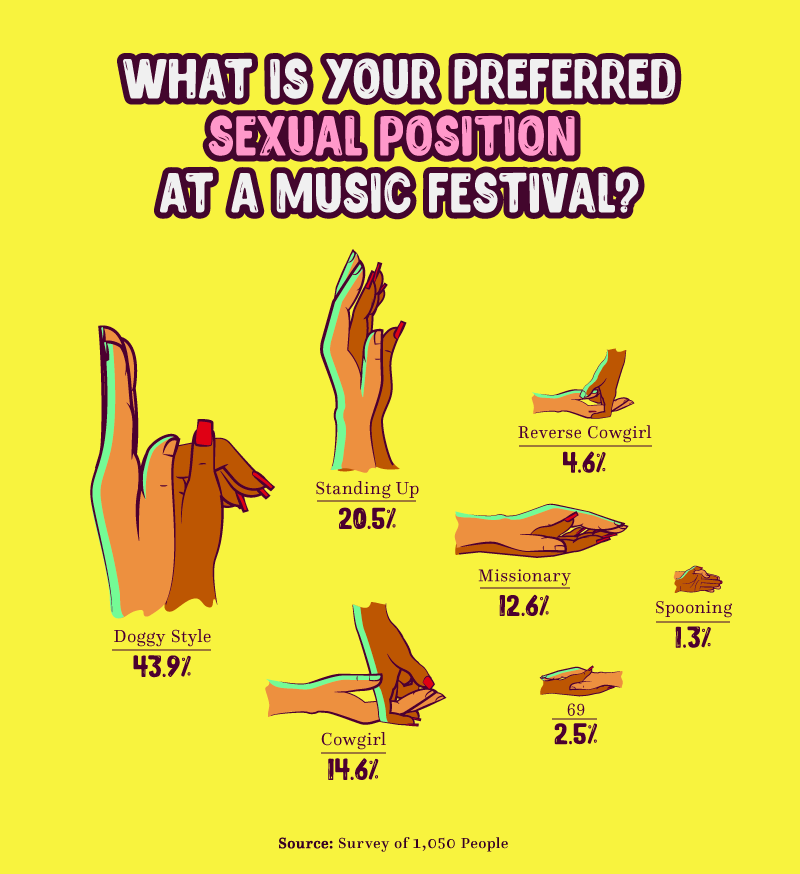 Interestingly, doggy style was the preferred sex position among our festival lovemakers, far outpacing the traditional missionary approach. Second place went to standing up, which does have its advantages in many of the locations discussed above – lying down in the middle of the crowd seems downright dangerous.
Tales of Getting Physical at the Festival

Many of these real accounts provided by our participants speak entirely for themselves – except the hammock-under-the-stage-for-Bassnectar story (like, how?). From getting it on in the crowd to taking things back to the tent, it's clear these flings have a way of escalating quickly. In fact, most of these narratives entail little to no courtship: Spontaneity is part of the experience. So if you've ever felt this kind of festival hookup isn't possible for you, maybe it's time to reconsider. From what we can tell, these stories took our participants completely by surprise as well.
A Safe Festival – For All Fans
There's nothing wrong with a casual fling inspired by the festival experience. But no matter the location, one thing must come first before all sex and romance: consent. Before you get caught up in the moment with your partner, pause to communicate with each other. After sharing enthusiastic and affirmative consent, you're free to create some wild festival stories together. And, you know, enjoy the music as well.
For the ideal festival or concert experience, you'll need the fairest prices possible with zero hidden fees. That's where TickPick comes in handy, with transparent and fee-free bidding on the best tickets available. To see what a ticket site built for fans looks like, check us out today.
Methodology
For this campaign, we surveyed 1,050 people from Amazon's Mechanical Turk about hookups at music festivals. If participants failed an attention check question or entered inconsistent data, they were disqualified. Music festivals that didn't have at least 15 attendees were excluded from our findings. All respondents had attended a minimum of one music festival throughout their lifetime.
The presented data relies solely on self-reporting. Self-reported data are typically paired with several issues. Some of these issues include but are not limited to: telescoping, exaggeration, attribution, and selective memory.
No statistical testing was performed for this study, so the claims presented above are based on means alone. This report is purely exploratory, and future research attempts should approach this topic more rigorously.
Sources
Fair Use Statement
You're welcome to share our findings and graphics with your own audience for noncommercial purposes. When you do, please just link back to this page to attribute us appropriately. We're not exactly Burning Man, but we definitely care about doing sharing right.