For many young athletes, playing professional sports is a dream that will never come to pass.
In fact, less than 1 in 10 NCAA baseball players will play in the pros, while other leagues have significantly worse success rates. Seven percent of NCAA players will make it to professional hockey, while only 1.6% of college athletes will go on to play professional football, and 1.2% will become professional basketball players.
However, in some cases, you don't need to play collegiate sports to get professionally drafted. While players need to be at least three years removed from high school to be considered for the NFL, the NBA just requires that players turn 19 years old in the calendar year they're drafted and one year removed from graduating high school. In the NHL, players have to be between the ages of 18 and 20 to be eligible, and in the MLB, players are allowed to enter the draft right out of high school.
But what do fans think about these rules? For a closer look at draft eligibility in the NBA and NFL, we surveyed over 1,000 sports fans about the three-year rule in the NFL and one-and-done in the NBA. Read on to see what we uncovered.
Rules Recap
Since 1990, the NFL has mandated that players be at least three years removed from high school to be eligible for the draft. Even then, it's not common for players with just three years of collegiate experience to declare for the draft. In 2017, just 95 NFL hopefuls declared as underclassmen (up from 40 in 2007). However, if players have graduated from college, their draft eligibility is only good for the year following their college graduation.
In the NBA, things are slightly different. Players can qualify for the NBA draft as long as they're at least 19 years old, but one year removed from having graduated high school. This is referred to as the one-and-done-rule, and players who fall into this category are often referred to as one-and-done players.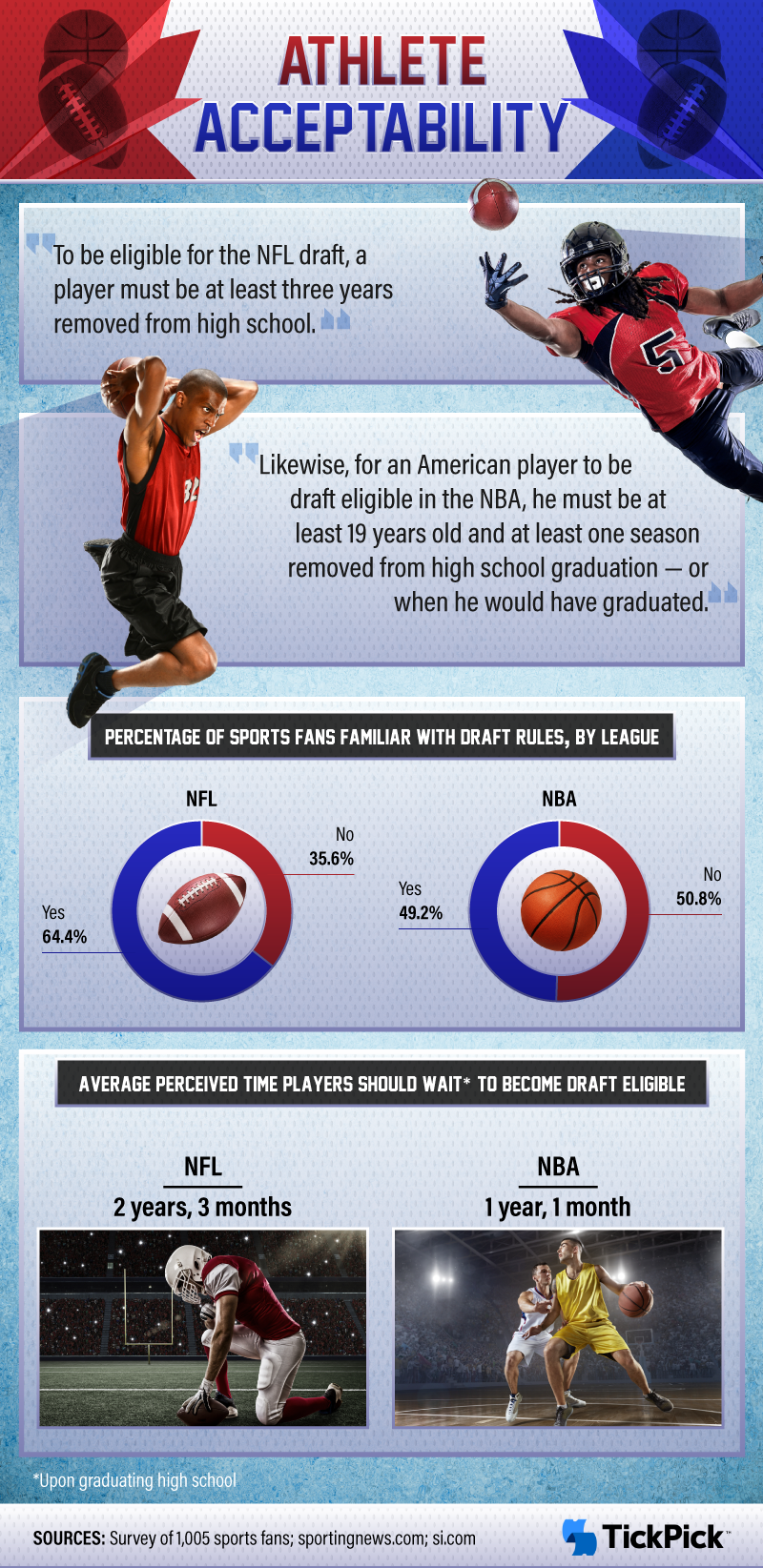 Over 64% of survey respondents were familiar with the NFL draft rule requiring players to wait three years after graduating high school to be eligible. In contrast, however, fewer than half of basketball fans were familiar with the NBA's one-and-done rule.
Participants also thought the average athlete should be required to wait over two years to be eligible for the NFL draft and just over one year after high school to be eligible for the NBA draft.
When young athletes are forced to wait a year after high school and opt to play a year in college programs, they run the risk of injury, hurting their chances of ever playing in the NBA or being drafted with a higher valuation. If, as some fans suggest, a player is already talented enough, what's really stopping them from going right to the pros?
Gridiron Guideline
In 1990, the NFL became the last professional sports organization in the U.S. to lift its ban on underclassmen from draft eligibility. At the time, commissioner Paul Tagliabue warned against the dangers of forfeiting a player's last year of college and aired concerns over a professional career that might start and end faster than most players expected. The three-year rule allows players in their junior (or redshirt sophomore) year to declare for the NFL draft without completing or graduating from college.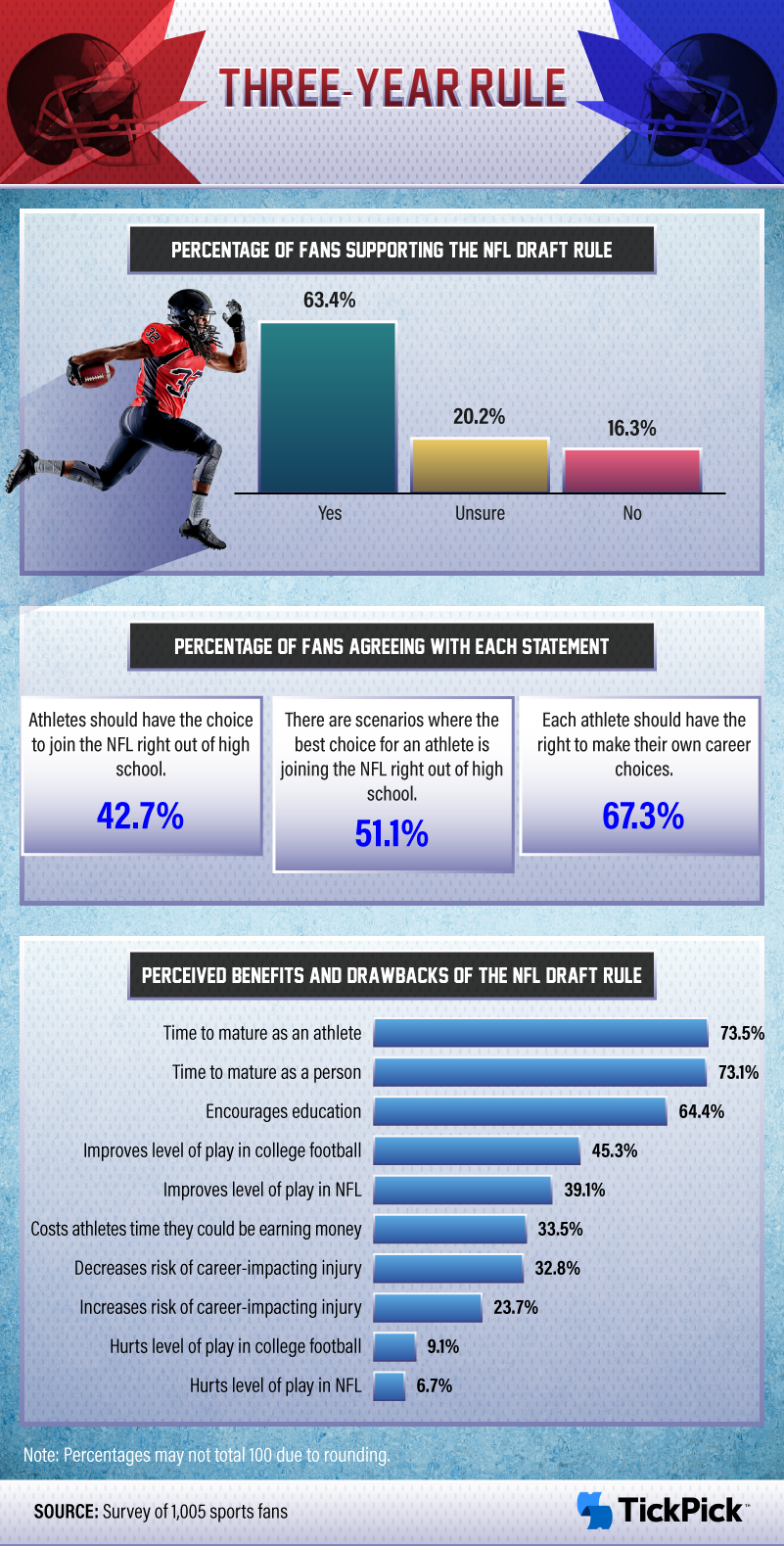 When asked for their perspective, nearly 2 in 3 sports fans voiced their support for the NFL's three-year draft rule. However, 1 in 5 fans were neither supportive nor unsupportive, and another 16% were unsupportive of the rule.
Interestingly, though, around 67% of fans believed athletes should have the right to make their own career decisions, and 51% agreed there are scenarios where joining the NFL right out of high school is best for an athlete. Meanwhile, nearly 43% of fans said athletes should have the choice to join the NFL right out of high school.
In response to the three-year rule, almost 74% of fans believed the eligibility requirements give players time to mature as athletes, and nearly as many agreed those three years give them time to mature as people. In addition to encouraging education (over 64%), fans also believed the three-year rule helps to improve the level of play in college football (around 45%) and the level of play in the NFL (39%).
Ballin' Bylaw
In 2006, the NBA implemented a rule change that bars athletes from entering the draft immediately out of high school. Between 1975 and 2005, 40 players were "prep-to-pro" athletes, never playing in the NCAA or spending time in college.
In addition to requiring at least one year to lapse after graduating high school, the 2006 rule specified that players be at least 19 years old during the calendar year of the draft to be eligible. As a result, some players commit to just one semester in college, while others chose to play a year internationally.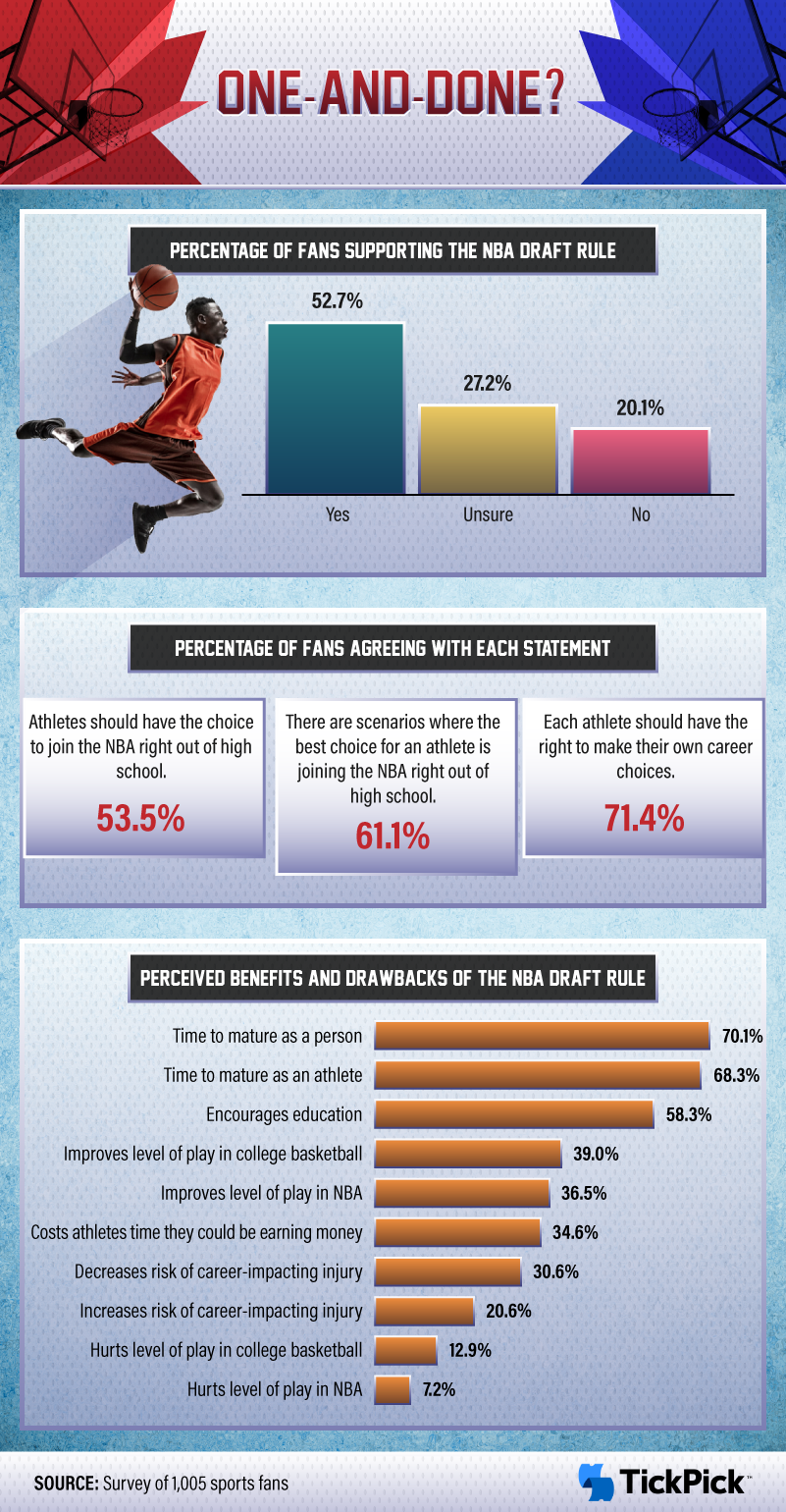 More than half of fans surveyed supported the NBA's rule on draft eligibility, while 1 in 5 opposed the one-and-done rule. Twenty-seven percent of fans had no opinion on draft eligibility.
Additionally, more than half of fans believed a player should have the choice to join the NBA directly out of high school, like LeBron James, rather than playing for a year in a college program or choosing to wait it out internationally. Another 71% of fans agreed players should be able to make these decisions for themselves, followed by 61% who suggested there are scenarios where the best thing for an athlete is to join the NBA immediately after high school.
While many fans (roughly 70%) agreed the NBA draft rule gives players time to mature as people and athletes, nearly 35% said the rule costs athletes money they could be making as professionals and increases their risk of a career-impacting injury (almost 21%).
High School Draftees
The NBA's one-and-done rule has been in place since 2006, but it's hard to deny the success of prep-to-pro athletes.
Although LeBron James might be the most notable, fans may recognize other prep-to-pro players – including Kobe Bryant, Dwight Howard, Shaun Livingston, Eddy Curry, Tyson Chandler, Kwame Brown, and Darius Miles – who've contributed to three first-round draft picks, two Rookie of the Year awards, three Most Valuable Player (MVP) awards, eight All-Star game selections, and eight All-Time NBA draftees.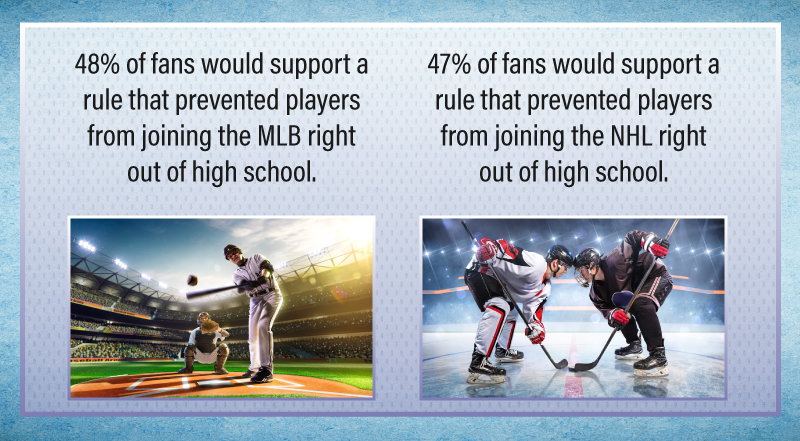 While fans were generally supportive of the three-year rule in the NFL and the NBA's one-and-done rule, they were less likely to support similar stipulations in the MLB or NHL. As we found, just 48% of fans supported adding a draft rule to the MLB, and 47% of fans supported adding similar stipulations to the NHL.
On the Outside Looking In
Although it may not always be obvious, professional sports leagues, including the NFL, do try to enhance player safety, such as by requiring new uniforms and identifying where and how players are allowed to be contacted by opposing teams.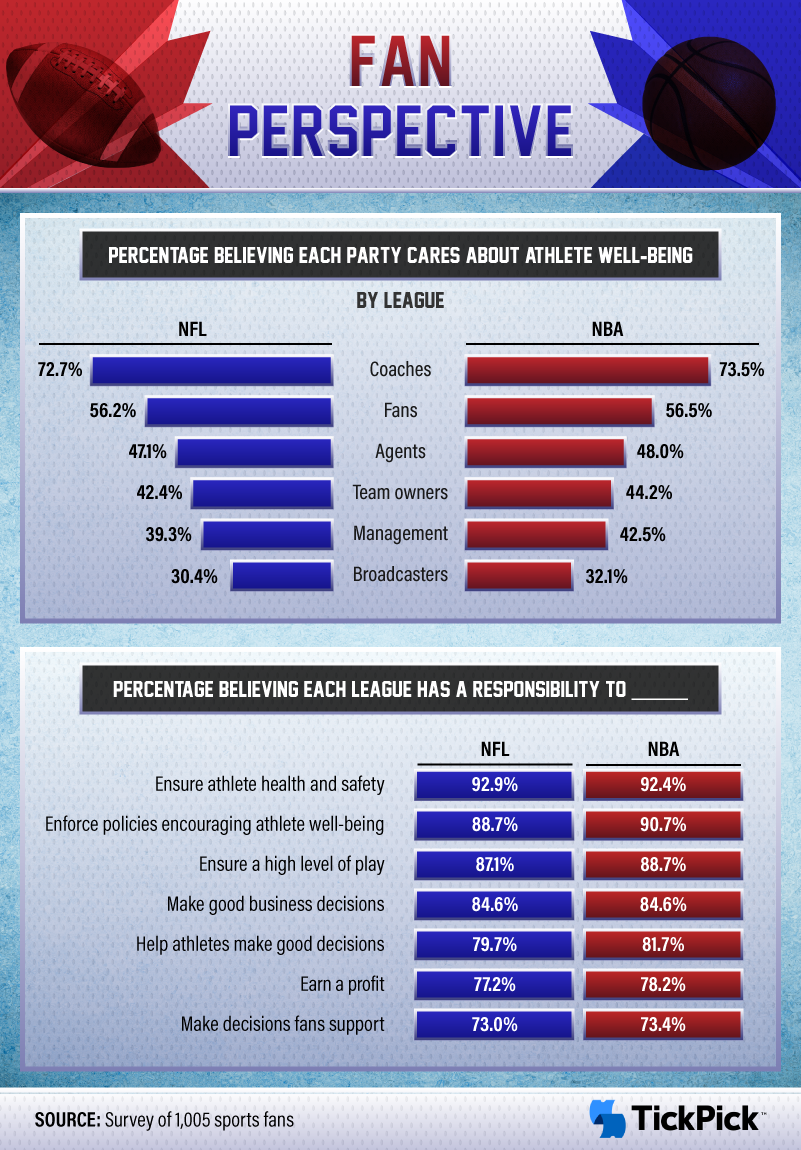 As we found, roughly 73% of sports fans believed coaches care more about a player's well-being in the NFL or NBA, followed by fans, agents, and team owners.
Ninety-three percent of sports fans also believed the NFL and NBA must ensure the health and safety of their athletes, in addition to enforcing policies that encourage their well-being (nearly 89% in the NFL and about 91% in the NBA) and a high level of play (roughly 88%). Over 77% of fans agreed the NFL and NBA have a responsibility to earn a profit as well.
Changing the Tide
When it comes to draft rules in professional sports, nothing is set in stone. The NBA's one-and-done rule could come to an end soon, again allowing players to enter the draft right out of high school. As most sports fans agreed, athletes should have a say in how their careers progress, but withholding them from professional play may help them mature as players and people, even if it costs them money by forcing them to wait a year after high school rather than going directly to the pros.
At TickPick, we want you to be able to see your favorite players, no matter what league they're in. From the NBA and NFL to Broadway and musical concerts, we have every ticket you need with no hidden fees. And in the TickPick marketplace, prices are set by the fans, with no buyer fees. Get your tickets now by visiting us at TickPick.com today.
Methodology and Limitations
We compiled results by administering online surveys to 1,005 sports fans via Amazon's Mechanical Turk. To qualify for the survey, respondents were required to be fans of at least one of the four major sports leagues: NFL, NBA, MLB, and the NHL. Definitions of the rules were provided to respondents, and they were encouraged to reference them at any point while taking the survey. Of the 1,005 fans surveyed, 50% were female, 49.8% were male, and 0.2% identified as neither male nor female. Respondents ranged in age from 18 to 78, with an average of 38 and a standard deviation of 12.
An attention-check question was used to swiftly identify and disqualify respondents who failed to fully read the questions and their respective answer choices. The poll had a margin of error of plus or minus 3%, with a 95% confidence interval. The main limitation of this study is the reliance on self-reported responses. Like with all surveys, this questionnaire is subject to but not limited to attribution, exaggeration, telescoping, and recency bias. An effort was made to minimize these effects during the survey design.
Fair Use Statement
Do your readers have an opinion on the one-and-done rule or the way players are drafted into professional sports? Get the conversation started by sharing the results of this study for any noncommercial use. We only have one rule of our own –include a link back to this page to give credit to our contributors.