Different music genres often have their own cultures among fans. Country music has its cowboys, reggae reflects its Jamaican roots, and most modern rap has African-American origins. These music styles express distinct sounds, lyrics, and attitudes toward sex as well.
Even if you're not exclusively interested in a particular genre, you may have one song that hits the spot. Or maybe you've created one of the many sex playlists on Spotify. But how does the music you listen to affect your sexual preferences, attitudes, and fetishes? To find out, we surveyed 1,010 people, all who enjoy listening to music and are sexually active. Continue reading to see what their music and sexual preferences revealed.
Top of the Charts
Complete sexual satisfaction may be more difficult to find than the sexual encounter itself. After all, only 57% of sexually active people were satisfied with their sex life. The likelihood of sexual enjoyment, however, changed depending on the genre of music respondents enjoyed.
Country music, which originated both in the Southern and Western U.S., often explores sex in terms of connection and intimacy within a partnership. Deana Carter's "Strawberry Wine" references her "first taste of love," with "memories [that] last." Faith Hill's "Breathe" describes a "slow and steady rush," while Dierks Bentley describes his bed as "sweet surrender" in his song "Come a Little Closer." These romantic takes on intercourse may have contributed to country fans being the most likely to be satisfied with their sex life.
Pop fans, on the other hand, were the least likely to be satisfied in the bedroom. One hypothesis is that pop music skews toward a younger demographic, who may have yet to develop a clear understanding of sexual satisfaction. Another theory relates to the sexual norms and expectations created by the genre. Songs like Ariana Grande's "Side to Side" reference the inability to walk after sex, while lyrics by singers like The Weeknd often get too explicit to transcribe. Repeated references to sexual pain, conquests, and aggression may create a misalignment between reality and expectations in the bedroom.
Genres of Sex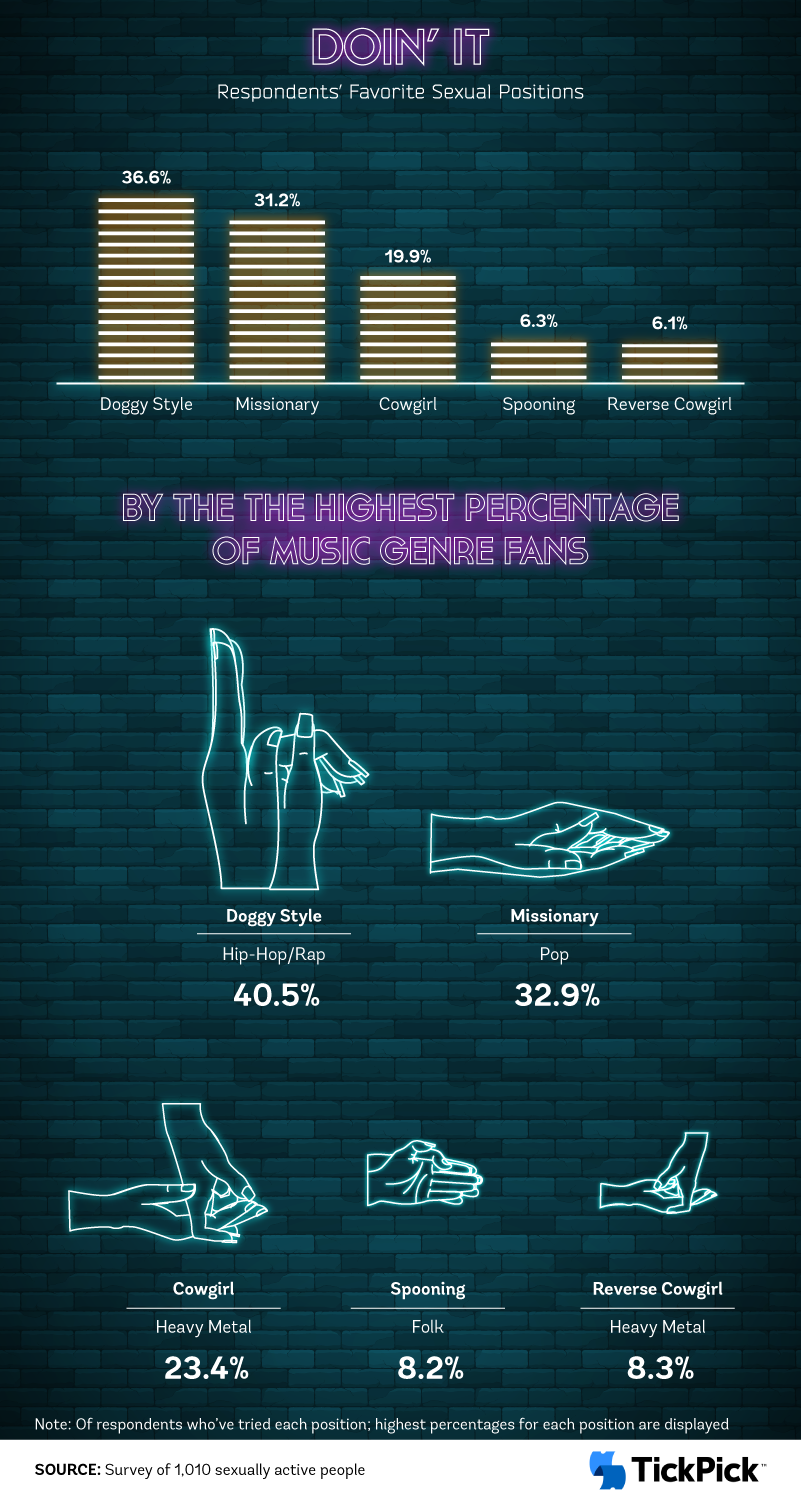 Being on top of the music charts or your partner doesn't always tell the full story: The position is more telling. By far, respondents' favorite sexual position was doggy style, which was favored 36.6% of the time.
Most fans of doggy style, however, were also fans of hip-hop/rap. In fact, over 40% of hip-hop/rap fans said their favorite position was doggy style, a higher percentage than any other genre studied. Countless rappers, from Wiz Khalifa to Wyclef Jean, have mentioned it. Snoop Dogg even named his debut album "Doggystyle" –likely a nod to more than just his namesake.
Pop fans particularly took to missionary. John Mayer references the position with a romantic touch in "Your Body Is a Wonderland," singing "I'll never let your head hit the bed/ Without my hand behind it." Although other music fans preferred different positions, pop with missionary and rap with doggy style were the strongest, by far.
Mutual Music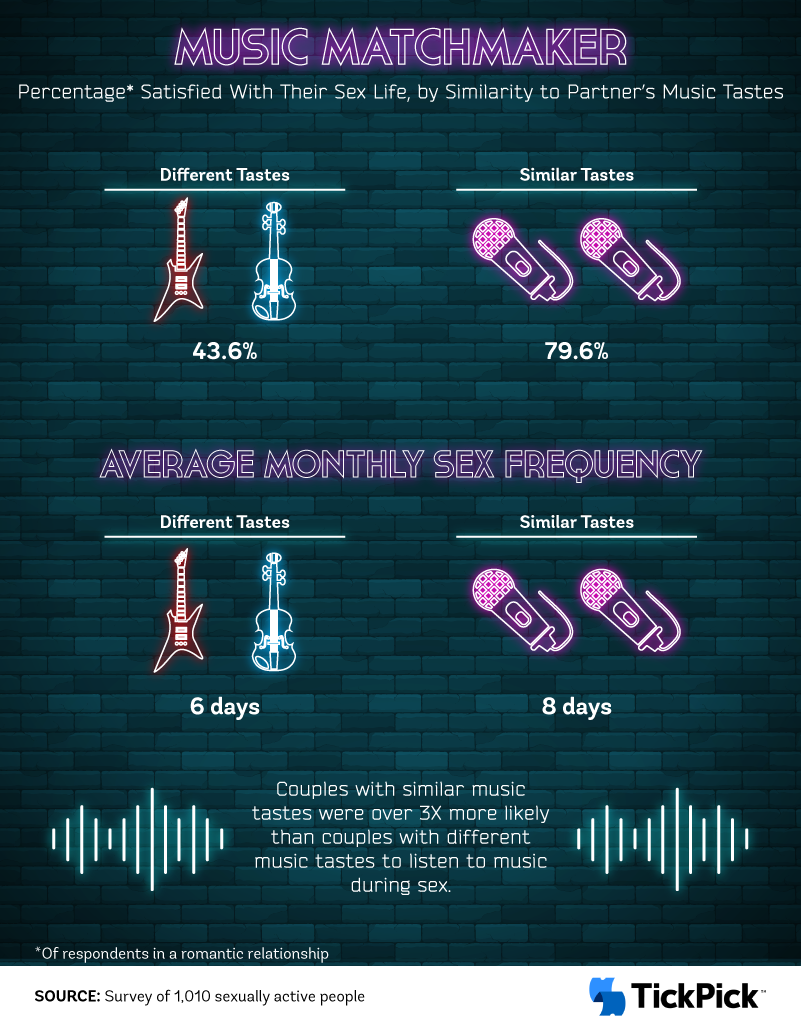 Of course, it doesn't just matter what you like. A potential partner's needs and preferences must be considered as well. Sharing musical tastes, as it turns out, may lead to mutual sexual attraction and enjoyment. Nearly 80% of people with similar musical tastes to their partner were satisfied with their sex life, compared to just 43.6% of those with different music tastes. In other words, people who enjoyed the same music also enjoyed better sex.
Frequency of sex was also impacted when partners enjoyed similar music. Those with similar music tastes had sex an average of eight times per month, while diverging musical interests corresponded with just six times each month. Moreover, partners who shared similar music preferences were over three times more likely to listen to music during sex, suggesting a positive correlation between background music and sexual satisfaction.

For those who still care for their partner despite musical differences, modern technology may come in handy. Seventeen percent of Apple AirPod owners had sex while wearing them. The wireless earphones could offer simultaneous enjoyment of wildly different music tastes, although this is just one scenario.
Fans of Freak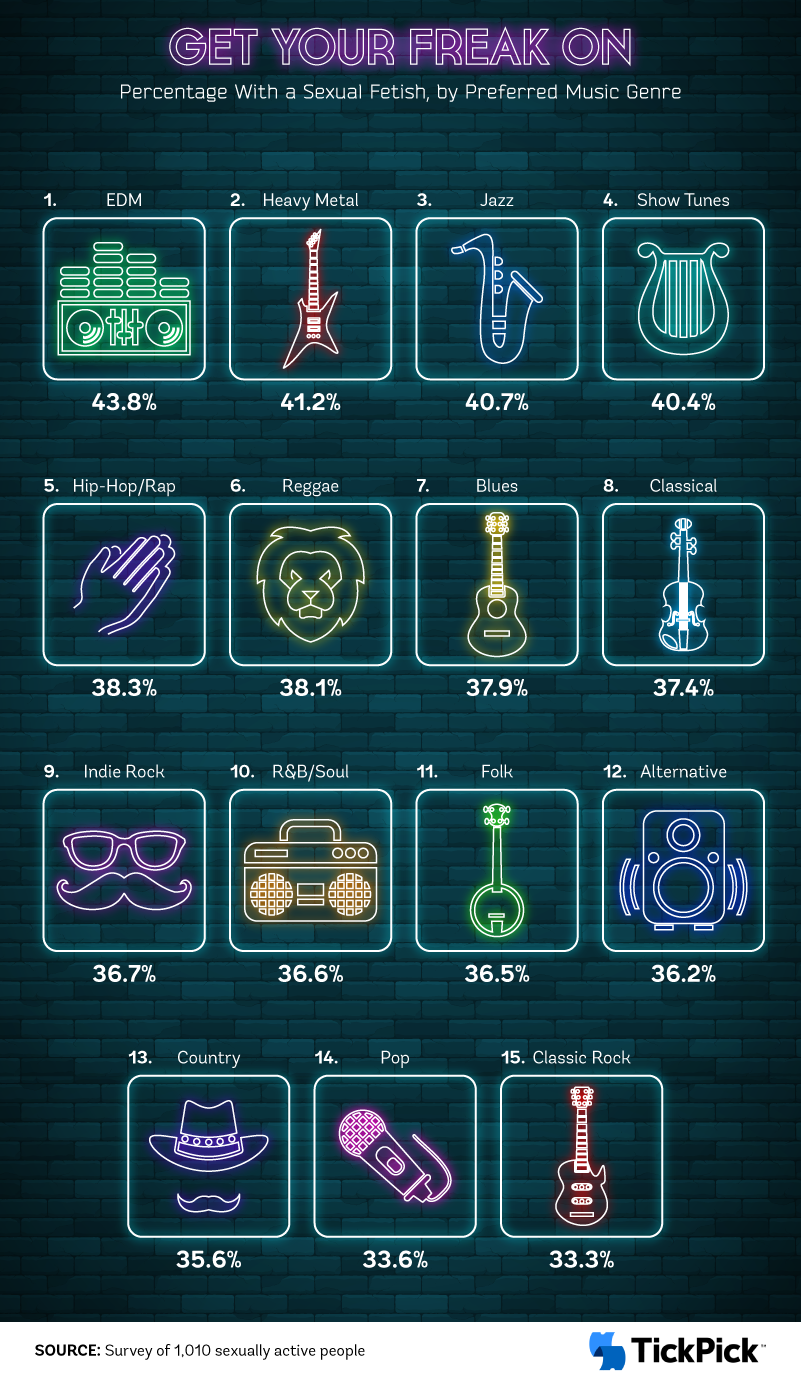 A fetish is defined as "an object or body part" whose presence induces sexual gratification. While AirPods may be a new one, others were much more popular among sexually active people. Sexual fetishes were particularly popular, however, for fans of electronic dance music (EDM). Nearly 44% of EDM fans admitted to having at least one sexual fetish, with a strong preference toward lingerie, anal, and feet.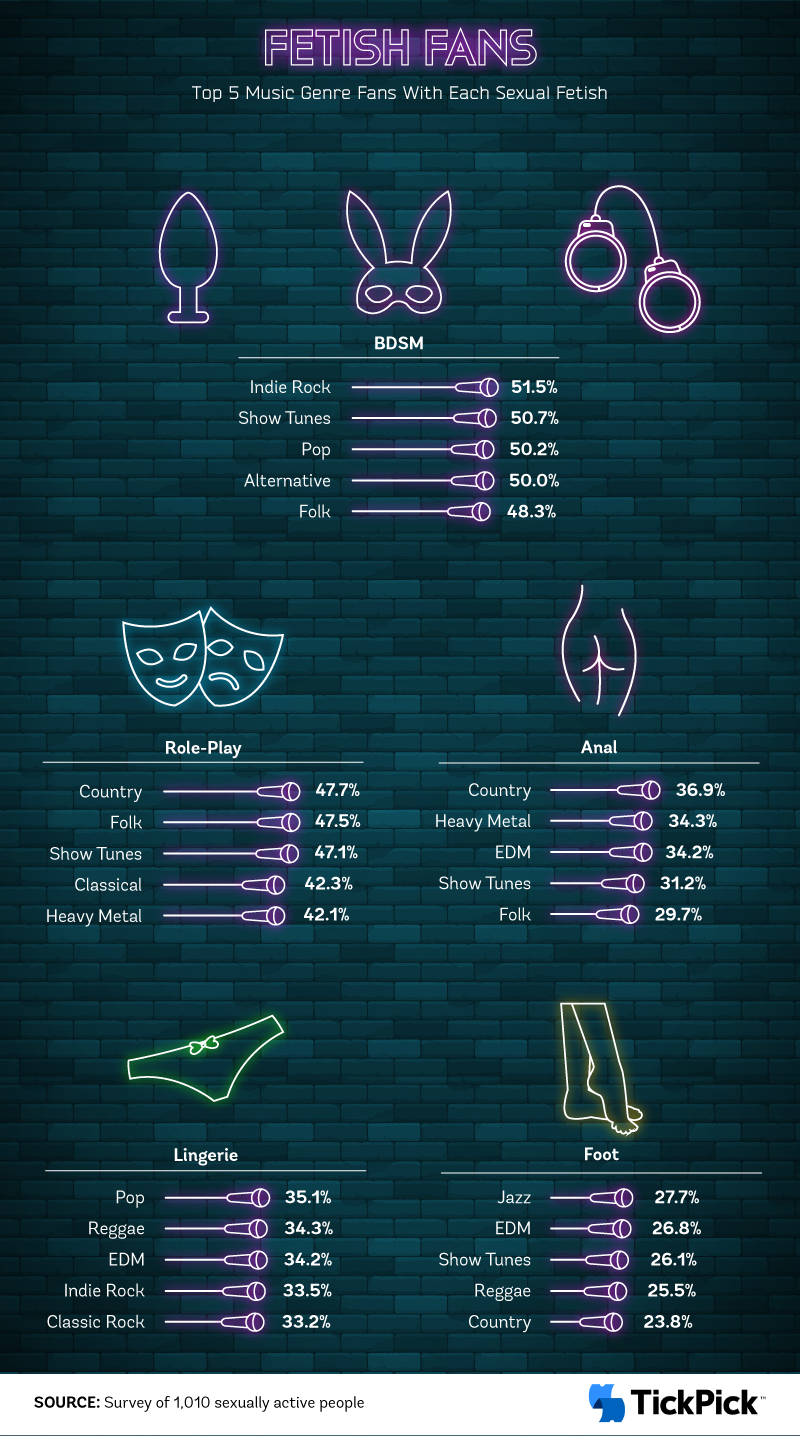 The heavy interest in lingerie may partly explain the unspoken dress code for today's most popular music festivals. Searches like "festival lingerie" yield over 7,000 boutique results on Etsy alone. Pop music fans (35.1%) were also fans of lingerie and share many of the same festivals as EDM fans, including Coachella.
Country music fans were also the most likely to enjoy role-playing (47.7%) and anal (36.9%). Knowing their likelihood to rank their sexual satisfaction highly, their specific interests in the bedroom are worth a second look. It certainly makes you wonder what it means to "save a horse (ride a cowboy)" instead.
Respondents least interested in any fetish? Classic rock fans. More than half of this group are reportedly over the age of 45, so perhaps age factors into fetish inclinations. Classic Rock's most popular sex songs (e.g., AC/DC's "You Shook Me All Night Long") certainly reference satisfying sex, although often without specifics regarding positions or fetishes.
The Sounds of Being Careful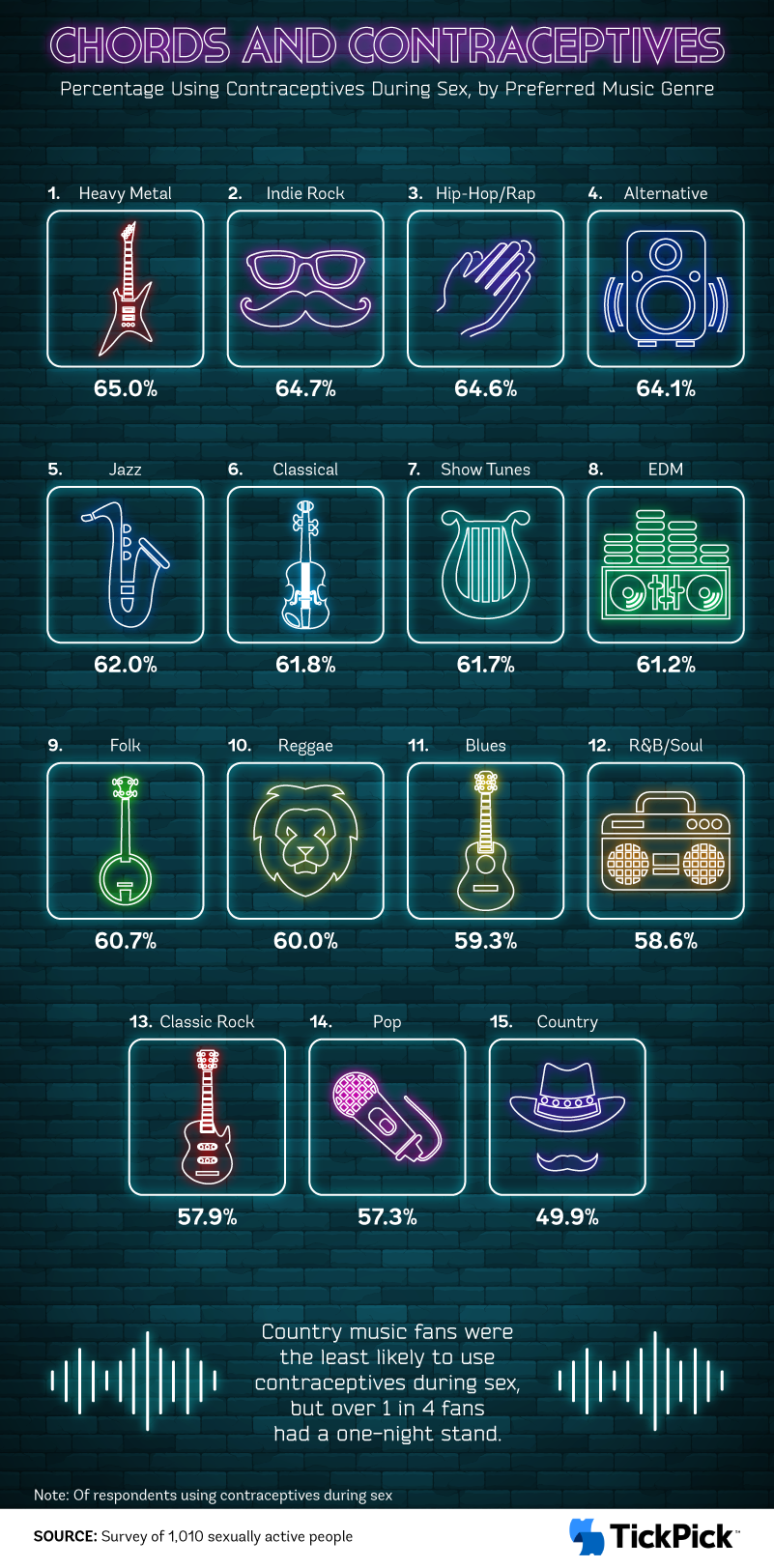 Hip-hop, indie, alternative, and heavy metal fans were the most sexually responsible, with at least 64% of each fan group claiming to use contraceptives during sex.
In perhaps the most unsettling revelation of data, the same music fans who were the most satisfied in bed were also the least likely to use contraceptives. Only 49.9% of country fans used contraceptives during sex. In fact, this was the only music fan group to drop below 50%. Recall that country fans reported a particular affinity for anal. Because this type of intercourse does not run the risk of pregnancy, participants may forget to mitigate their risk of STDs and forego contraceptives. Even more shocking was that over 25% of these same country fans admitted to having one-night stands.
Music for Thought
Of all the ways music may influence your life, you may not realize its connection to sex. The songs, artists, and playlists you have on repeat can actually impact your attitudes and expectations in the bedroom. Of course, this influence can extend beyond sexuality and into everyday life, often creating strong fan cultures.
If you want to meet fellow fans of your preferred genre, a concert by your favorite musician would be a great place to start. At TickPick, you can gain access to everything from pop to country performances, all without the hidden fees of other vendors. Stop by to find your next exciting event!
Methodology and Limitations
For this project, we surveyed 1,010 people online via Amazon's Mechanical Turk. Of the 1,010 participants polled, 54.6% were male, 45.0% were female, and 0.4% identified as neither male nor female. Additionally, 59.2% of the sample identified as millennials; 28.8% were a part of Generation X; 10.4% were baby boomers; and the remaining 1.6% belonged to either Generation Z or the silent generation. To qualify for the study, participants were required to be sexually active and enjoy listening to music. Those who weren't sexually active or didn't have an opinion on music were ejected from the survey. An attention-check question was used to catch and disqualify participants who weren't properly reading each question. To be considered a fan of a specific music genre, we used a 5-point Likert scale to determine the extent to which participants liked each genre. Respondents who indicated that they "like" or "strongly like" a genre were bucketed together and labeled as fans.
The main limitation of this project is that the survey results rely on self-reported data. Like most survey methodologies, respondents may have shown bias in their answers depending on their mood while taking the survey or due to recent events that occurred in their life. That said, self-reported answers are subject but not limited to: exaggeration, attributing, telescoping, and various biases.
Sources
Fair Use Statement
The impact of music on sex can be quite surprising. If our results rang true for you or if you know someone who might be interested in the topic, you are free to share this article for noncommercial purposes. Just be sure to link back to this page so that its authors can receive credit for their research.